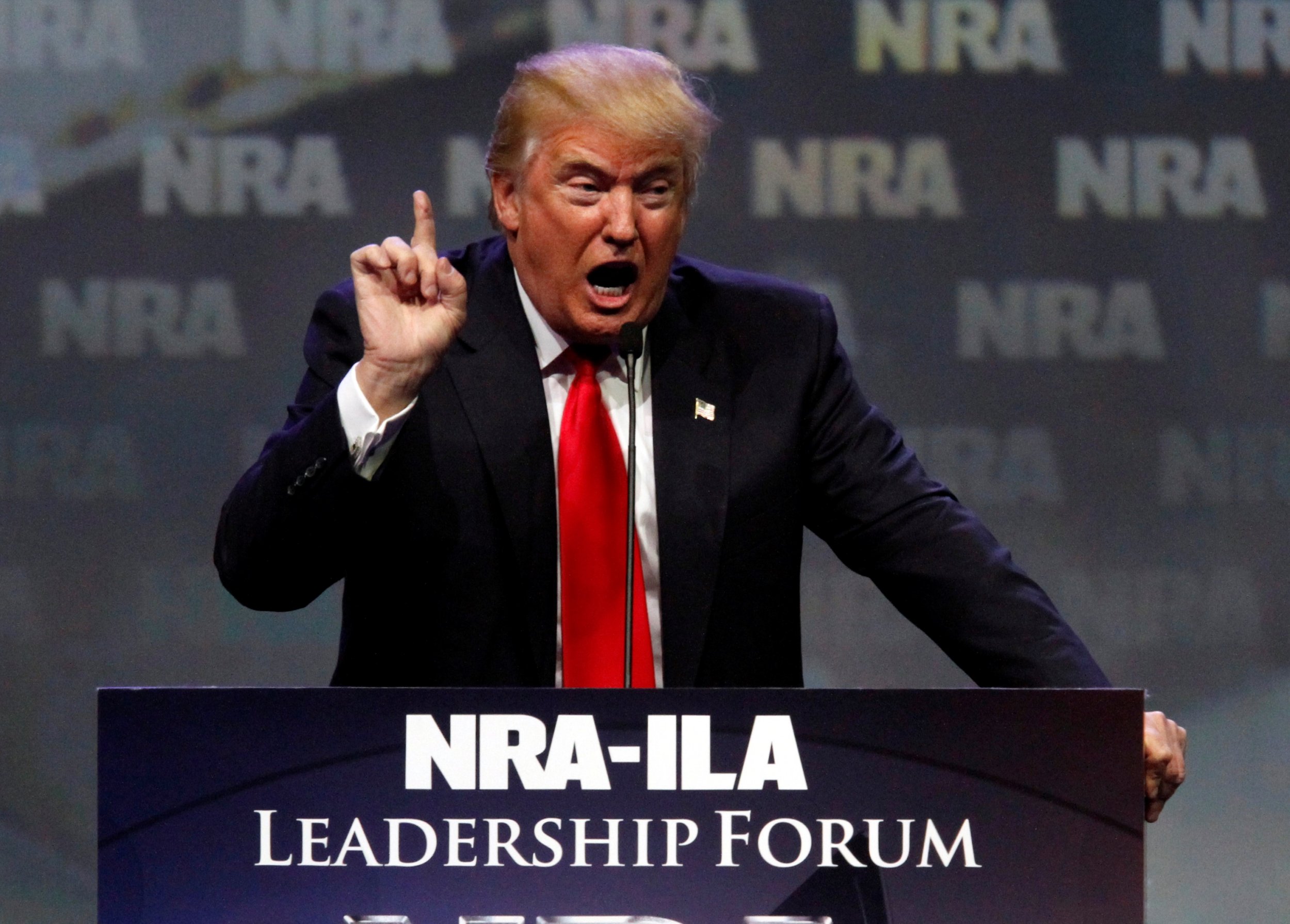 While speaking to thousands of National Rifle Association members at their annual convention Friday, Donald Trump reiterated the notion pushed by the gun rights organization and other pro-firearm activists: arming civilians could end mass shootings in the United States.
The GOP front-runner cited November's coordinated terrorist attacks in Paris and December's fatal shooting in San Bernardino, California, as examples of how civilians with guns could have prevented mass killings. "They just stood there and just shot everybody. No guns on the other side, folks," he said. "If you would have had guns on the other side...I promise there wouldn't have been 130 people killed and hundreds of people lying in the hospital to this day."
"It might not have happened, because if they knew there were guns in the room, it might not have happened," he suggested.
He continued this line of reasoning while speaking at the event in Louisville, commenting on the mass shooting in San Bernardino, where 14 people were killed December 2 at a facility for developmentally disabled individuals. "I tell you again, same story. If we had guns on the other side, it wouldn't have been that way. I would've, boom," he said, gesturing as if he were shooting a gun, to applause from the audience.
Trump's reasoning is in line with that of the NRA, which officially endorsed the candidate for president moments before he took the stage at the group's annual leadership forum Friday. With six months remaining until the general election, the organization's backing came early in the campaign season. In 2012, the NRA waited until October 4, almost exactly a month before the presidential election, to endorse Republican nominee Mitt Romney. And in 2008, it was October 9 when they endorsed John McCain, less than a month before he was defeated by then-Senator Barack Obama.
After the December 2012 massacre at Sandy Hook Elementary School, where 20 first-graders and six educators were shot dead in in Newtown, Connecticut, NRA Executive Vice President Wayne LaPierre said, "The only thing that stops a bad guy with a gun is a good guy with a gun."
Related: Trump in 2012 on Sandy Hook Shooting: 'Obama Spoke for Me'
In a somewhat incongruous remark during his 30-minute speech, Trump referenced his two sons' lifetime membership to the NRA and their weapons arsenal. "They have so many rifles and so many guns, sometimes even I get a little bit concerned. I say, 'That's a lot,'" he said, to the crowd's delight.
It would seem Trump and the NRA would have a rocky relationship, given the New York billionaire's previous support for an assault weapons ban and longer waiting periods for gun purchases, which he wrote about in his 2000 book, The America We Deserve. He also previously called out Republicans who "walk the NRA line" and "refuse even limited restrictions" on firearms laws.
But Trump has been known, and criticized, for changing his views on several issues. Members of his own party are split on the presumptive nominee, mostly because they disagree with his economic and foreign policy platforms—or his lackthereof. Several prominent Republicans, including Romney and House Speaker Paul Ryan, have recently said they aren't ready to stand behind Trump, the presumptive nominee, ahead of the November general election. Ryan highlighted that Republicans want a president who is enthusiastic about conservative principles.
During much of Friday's address, Trump took jabs at Hillary Clinton, the Democratic front-runner who he is pivoting toward facing in the general election. Both Trump and Clinton are fewer than 100 delegates short of clinching their respective party's nomination.
"Crooked Hillary Clinton is the most anti-gun, anti-Second Amendment candidate ever to run for office," he told the crowd. "She wants to abolish the Second Amendment, she wants to take your guns away, she wants to abolish, just remember that."
Clinton has the support from strong advocates for gun-control prevention, including U.S. Senator Chuck Schumer of New York, former U.S. Representative Gabrielle Giffords and the Brady Campaign to Prevent Gun Violence. She will speak Saturday in Fort Lauderdale at an event for the group founded by the mother of Trayvon Martin, for parents of children killed in gun violence. Martin was an unarmed black teenager who was fatally shot in February 2012.
The contrast—Trump speaking at the NRA forum and Clinton visiting with families of gun-violence victims—shines a light on the country's division on the hot-button issues of guns and firearms policies, which range from campus carry laws to universal background checks.
Trump also used his time in front of thousands of NRA members to tout his plans to eliminate gun-free zones in schools and on military bases and, in the first hour in the Oval Office, to "unsign" Obama's executive actions on gun laws. In an effort to curb gun violence, Obama in January disclosed his plan to streamline the federal background checks system.
This fall, in the first presidential election since the massacre at Sandy Hook, residents in Maine and Nevada will vote on whether to expand criminal background checks to all gun sales in their states. Earlier Friday, Congressman Pete Aguilar, whose district includes San Bernardino, called on Americans to continue working for the change they wish to see in gun laws.
"Donald Trump and Republican candidates," he added, "continue to spew ridiculous rhetoric that attempts to rationalize that the Second Amendment and common sense gun reform are mutually exclusive. They are not."
The NRA's LaPierre and Chris Cox, the organization's executive director, also focused their addresses on Friday on portraying Clinton as an enemy to the Second Amendment. They warned NRA members that the future of the U.S. Supreme Court also rests on the election. Republicans continue to refuse to provide Judge Merrick Garland, Obama's nominee to the high court, with a hearing or nomination, and have stated that the justice to replace the late Justice Antonin Scalia should be chosen by the next president.