Mehmet Oz Touts 'America-First Agenda' at Rain-Soaked Rally in Pennsylvania
A Save America Rally at which former President Donald Trump spoke Friday appeared early on to be suffering from poor attendance amid a soaking rainstorm as Trump tries to garner support for Dr. Mehmet Oz, who shared his "America-first agenda," but is characterized by some Republicans as an "unpopular" candidate.
"PA Trump rally tonight for Mehmet Oz one of the lowest attended I've ever seen. Bad weather and Oz is very unpopular with MAGA base," tweeted Republican lawyer Ron Filipkowski.
Oz, endorsed by Trump on April 9, has come under fire by members of the Republican Party for being a "RINO," the abbreviation for "Republican in Name Only."
When the heart surgeon running for the Senate nomination took the stage ahead of Trump's expected appearance, he spoke of his values.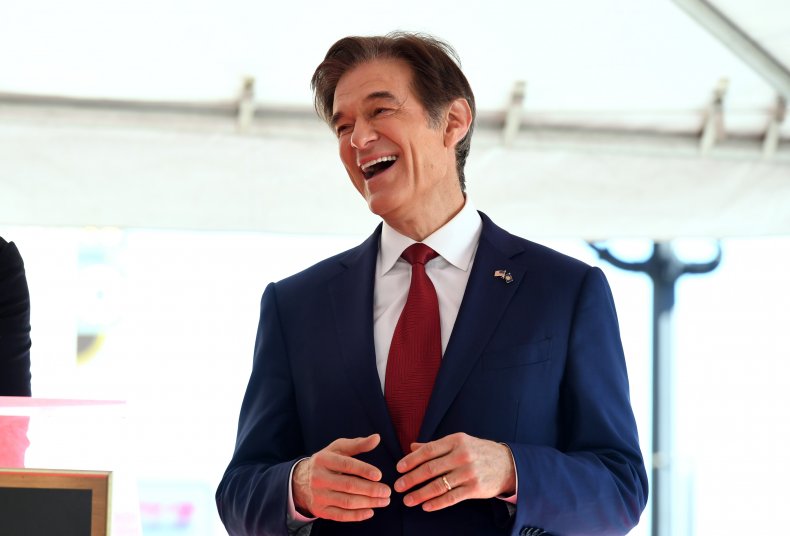 "Life. Life starts at conception," Oz said, addressing abortion. "I'm a heart surgeon. I value it." His other key values were the Second Amendment, which is "there to protect the First Amendment," and the "pursuit of happiness."
"Each of you has the right to determine how your life's going to be lived," Oz told the crowd.
Oz said he and other Trump-endorsed candidates are hated by "the establishment" for caring about America first, and that cowards need to speak up on issues such as transgender athletes. "Biological men should not play women's sports," Oz said.
The rally follows Trump-endorsed candidates winning primaries in Indiana, as well as in Ohio, where J.D. Vance secured the GOP Senate nomination.
Vance was in attendance Friday, where he focused on similarities between Ohio and Pennsylvania. "So much of what happened to Ohio ... happened right here in Pennsylvania," Vance said. "Our idiot leaders decided we didn't need to make things in the country anymore."
He blamed "the Chinese and Mexicans" for "devastating" communities like his own in Ohio, taking American jobs and manufacturing "cheap plastic garbage" in return. "I'm sick of it and I think you are, too," he said. "I'm sick of the Chinese buying up American farmland and single-family homes."
Filmmaker Dinesh D'Souza spoke on his recently released "2000 Mules" documentary, telling the crowd that "Democrats on the left rigged the 2020 election."
"The truth is on our side," D'Souza said. He claims more than 2,000 "mules," or "paid political operatives hired by left-wing organizers," were deployed by Democrats in key states to rig the vote.
The rain in western Pennsylvania was relentless ahead of the rally. More than an inch had fallen in the region by evening, and it was expected to continue through Saturday, according to the National Weather Service in Pittsburgh.
"The Trump & OZ rally is literally a mud pit right now. I can't stop laughing. Thank you, Pennsylvania. I'm so proud of my state. Like a herd of pigs in a pen & rightfully so," Twitter user Kyla in the Burgh wrote.
Statistics on the attendance for Friday's rally were not available.
Newsweek reached out to Trump's media office for comment.