Trump Shares DeSantis 'Grooming' Accusation Just as Governor Defends Him
Former President Donald Trump boosted an accusation that Florida Governor Ron DeSantis was guilty of "grooming" underage girls shortly after DeSantis defended the former president over the "Russia collusion hoax."
DeSantis, who is widely viewed as Trump's likely 2024 GOP presidential primary opponent despite not officially announcing his candidacy, took part in a roundtable discussion about "media defamation practices" on Tuesday morning.
During the discussion, the governor referred to special counsel Robert Mueller's investigation into allegations that Trump's 2016 campaign team colluded with Russia as the "Russia collusion hoax," echoing a phrase that is often repeated by the ex-president himself.
Within hours, Trump went on a rampage against DeSantis in a series of Truth Social posts. In two posts, Trump shared an image that purportedly showed the governor drinking alcohol with teenage girls that he was responsible for teaching at a high school in Georgia.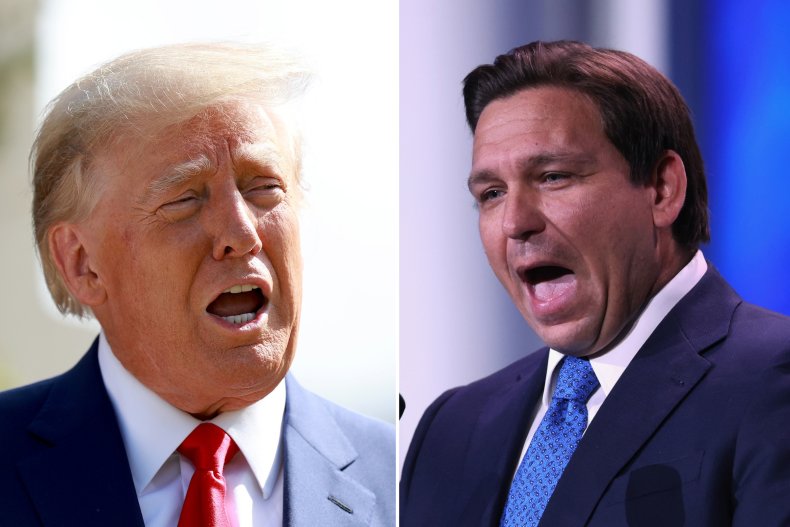 The image, which has not been independently authenticated by Newsweek, appears to have first been published by Hill Reporter in October 2021.
A version of the image shared by Trump on Truth Social featured the caption,"Here is Ron DeSanctimonious grooming high school girls with alcohol as a teacher."
The former president commented, "That's not Ron, is it? He would never do such a thing!" While sharing the picture a second time, he added, "No way?"
Some on social media were quick to point out that the Florida governor and his team had previously pushed rhetoric baselessly claiming that LGBTQ people are guilty of "grooming" children.
"Ron DeSantis has waged a hateful war against the LGBTQ community and frequently called all of us 'groomers,'" writer and actor Benjamin Siemon tweeted. "That Donald Trump is now insinuating DeSantis is a pedophile is truly delicious and deserved."
"Ron DeSantis accuses people of grooming children for simply acknowledging that LGBT people and their relationships/marriages exist, so this tactic by Trump seems fair," tweeted user @libglobm00se.
Others lashed out at Trump for sharing the meme, or suggested that the former president himself could be guilty of "grooming."
"Trump is falsely accusing DeSantis of pedophilia," right-wing commentator Ian Miles Cheong tweeted. "It is only fair to point out the fact that he traveled on Epstein's Lolita Express seven times. It is also fair to point out that Trump lied about the number of times he traveled on that plane."
"I'm no longer a Trump fan," tweeted @tmmdaytontexas. "So much so I will not vote for him if he wins the Republican primary. I'll vote Libertarian or write in DeSantis."
Trump shared another Truth Social post on Tuesday that accused the Florida governor of not supporting Trump's border wall in 2018, prompting the former president to suggest that he regretted his endorsement of DeSantis.
"Wow, if I knew that I wouldn't have Endorsed him (and he would have had to quit the race, down 35 points!)," Trump wrote while sharing the post.
The former president shared additional posts that blasted DeSantis for denouncing "Trump's obsession with election fraud" and saying that he was "glad" violent January 6 rioters were arrested following Trump's 2020 loss to President Joe Biden.
While DeSantis defended Trump over the Russia investigation during his roundtable on Tuesday, the discussion also featured attorney Libby Locke, who is currently representing Dominion Voting Systems in a defamation lawsuit against close Trump ally Mike Lindell.
DeSantis referred to Locke as "an extraordinaire when it comes to First Amendment defamation" during the discussion.
Newsweek has reached out to the office of DeSantis for comment.