Donald Trump has described his shock at the shooting of former Japanese Prime Minister Shinzo Abe.
Abe, 67, is reported to be in a grave condition following the shooting at a political campaign event in the city of Nara.
Abe is the longest serving prime minister in Japanese history after leading the country between 2006 and 2007 and again between 2012 to 2020.
"Absolutely devastating news that former Prime Minister Shinzo Abe of Japan, a truly great man and leader, has been shot, and is in very serious condition," Trump said in a statement.
"He was a true friend of mine and, much more importantly, America. This is a tremendous blow to the wonderful people of Japan, who loved and admired him so much. We are all praying for Shinzo and his beautiful family!"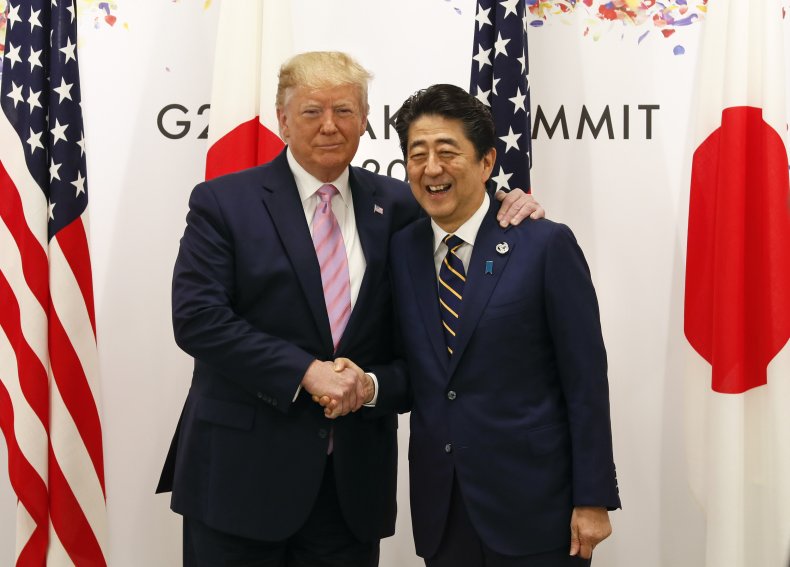 The White House has also said they are "shocked and saddened" to hear about the attack on Abe.
"We are closely monitoring the reports and keeping our thoughts with his family and the people of Japan," a spokesperson said.
Trump and Abe met several times while both men were in office and kept up the key alliance between Japan and the U.S.
In August 2020, just days after Abe stepped down as prime minister for health reasons, former White House spokesperson Judd Deere said Trump called Abe to him say he was "the greatest prime minister in Japan's history."
A 41-year-old man, identified by Japanese news corporation NHK as Yamagami Tetsuya, suspected of carrying out the shooting has been arrested.
Police say the suspect said he was "dissatisfied" with the former prime minister and intended to kill him. NHK reports, citing unnamed military sources, that Tetsuya previously worked for the Maritime Self Defense Force for around three years up until 2005.
Video from the scene shows security officials apprehending a man at the scene following the shooting.
Fumio Kishida, the current Japanese prime minister, described the attack as an "act of brutality that happened during the elections—the very foundation of our democracy—and is absolutely unforgivable."
Abe was in Nara on Friday morning to support a candidate in the city's upper house election.
Secretary of State Antony Blinken said he is "deeply saddened and deeply concerned" over Abe's condition.
"Our thoughts and prayers are with him and his family, with the people of Japan," Blinken told reporters prior to a meeting with Indonesian Foreign Minister Retno Marsudi in Bali.
"This is a very, very sad moment and we're waiting news from Japan."