'Shoot Down the Balloon': Trump Weighs in on Chinese Spy Orb
Donald Trump has called for a suspected Chinese spy balloon flying over Montana to be shot down.
Posting on his Truth Social website the former president wrote: "SHOOT DOWN THE BALLOON!"
The Pentagon announced it was tracking a "high-altitude surveillance balloon" on Thursday, which had entered Montana airspace after flying over Canada and parts of Alaska, and is "confident" it belongs to China.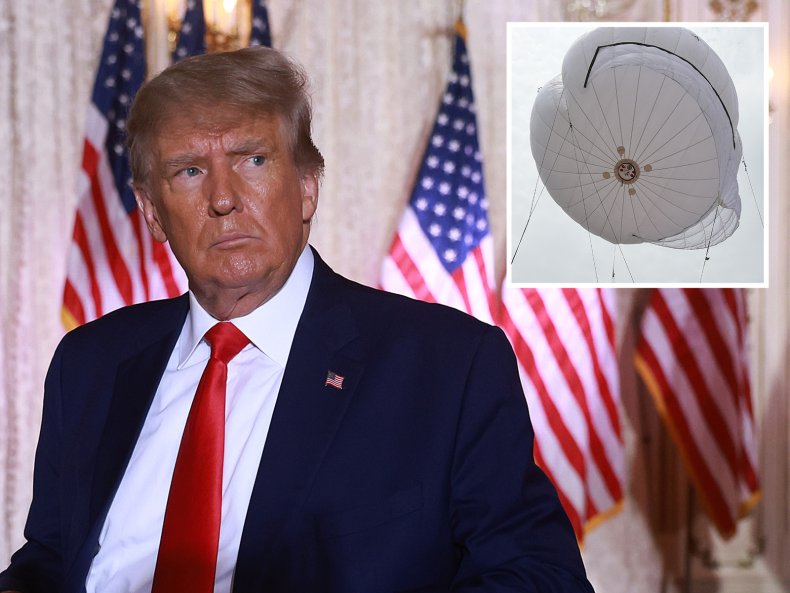 At a briefing on Thursday, a senior defense official said President Joe Biden had asked about military options but was advised against them because of the danger of falling debris to people on the ground.
"President Biden was briefed and asked for military options. Secretary [Lloyd] Austin convened senior DOD leadership yesterday, even as he was on the road in the Philippines.
"It was the strong recommendation by the Chairman of the Joint Chiefs, General Milley, and the commander of NORTHCOM, General VanHerck, not to take kinetic action due to the risk to safety and security of people on the ground from the possible debris field."
The United States Northern Command, or NORTHCOM, was formed in 2002 and "plans, organizes and executes homeland defense," according to its website.
The official said that the U.S. military believes the balloon has "limited additive value from an intelligence collection perspective."
Speaking at an impromptu press conference on Thursday, Pentagon spokesman Brigadier General Patrick Ryder said the balloon is "well above commercial air traffic and does not present a military or physical threat to people on the ground."
On Friday, the Chinese Foreign Ministry claimed the balloon was a civilian "airship," which had "deviated far from its planned course" due to high winds.
Newsweek reached out to the Chinese Foreign Ministry for comment.
A number of prominent Republicans have hit out at Biden for his reaction to the balloon and urged him to take a tougher stance.
Georgia Republican Representative Marjorie Taylor Greene tweeted: "Biden should shoot down the Chinese spy balloon immediately. President Trump would have never tolerated this. President Trump would have never tolerated many things happening to America."
She added in a later tweet: "Shoot it down! The official response saying shooting it down could harm people on the ground doesn't sell. In rural America, there aren't people everywhere. There's land."
Republican House Speaker Kevin McCarthy accused China of showing "brazen disregard for U.S. sovereignty," tweeting: "President Biden cannot be silent."
A number of U.S. nuclear weapons silos are based in Montana, sparking speculation they could be the target of the surveillance balloon.
Secretary of State Antony Blinken is due to visit Beijing over the weekend, marking his first trip to China since assuming his post.