Trump Campaign Officials Watched in Shock as the President and Bannon Tried to Destroy Each Other Wednesday
Donald Trump loyalists' reaction to the president's dramatic Wednesday split with former consigliere Steve Bannon ranged from open glee to caution to frankly steering clear of the political smashup.
The White House came to bury Bannon, not praise him, in the wake of Michael Wolff's explosive account of the longshot Trump campaign for the presidency. The book, Fire and Fury: Inside the Trump White House, quotes Bannon, the Breitbart News boss who worked on both the campaign and in the West Wing, as saying the president's son engaged in a "treasonous" 2016 meeting with a group of Russians. New York Magazine published bits of the book Wednesday and the political gossip immediately went viral, drawing responses from the White House and the twitterati.
The president quickly lashed back that Bannon had not only lost his White House job, but his mind—and some fans and family members were apparently thrilled to pile on.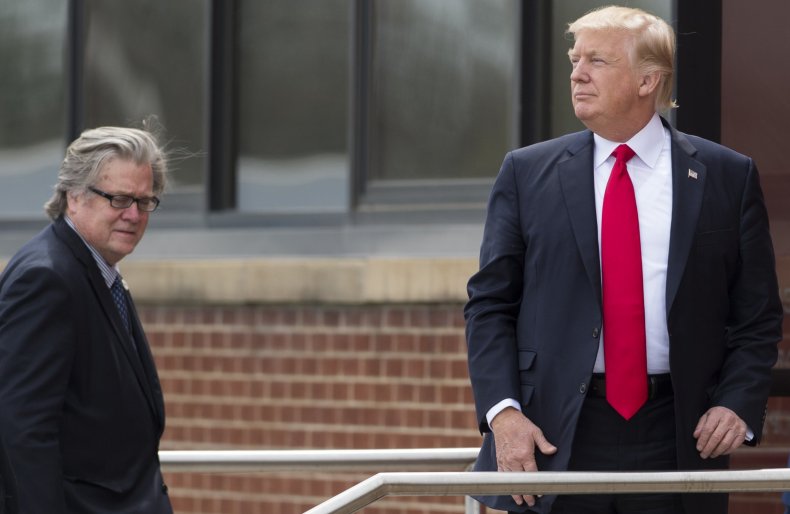 "Serious pro-Trump campaigns were already wary of associating with Mr. Bannon after the Alabama fiasco, but now he's radioactive," said Harlan Hill, a member of the advisory board for the president's re-election campaign, referring to Bannon's championship of losing Senate candidate Roy Moore in the December special election in Alabama.
"Mr. Bannon seems to be committing political suicide. President Trump is the undisputed leader of our movement [and] attacking him and his family makes ZERO sense," continued Hill, a political strategist. "The so-called 'Bannon wing of the Republican party'—if it ever really existed—was in critical condition after Alabama. Today, President Trump just took it out back and finished it off. He's the leader. Get on the team, or get out."
White House press secretary Sarah Huckabee Sanders did her level best during a press briefing to downplay Bannon's role in the administration. Donald Trump Jr. and Anthony Scaramucci, who (very) briefly served as the White House communications director before leaving after an obscene tirade against Bannon, engaged in a round of virtual back-patting.
Bannon and an aide didn't immediately respond to Newsweek requests for comment about the White House broadside. Several other prominent loyalists usually happy to share thoughts on the Trump administration and the Republican Party also said they'd prefer to take a pass. "Can only make it worse," one tersely emailed.
John Cardillo, communications director for the pro-Trump MAGA Coalition political action committee, was among those who had no issue coming down hard on the president's side.
"There is no side to choose. There is no dilemma here," he tweeted, calling the president and his son "patriotic class acts" and Bannon a man interested only in himself.
Others, like Michael Caputo, a former Trump campaign aide who has sought Bannon's support for a New York congressional candidate, tried to walk a line. "I'm a friend of the president and Steve Bannon, and I'm saddened to see this happen. I mistrust the author of this book, but I also fundamentally disagree with the comments the author alleges Steve made," Caputo said, specifying that he did not consider the younger Trump's meeting treasonous or unpatriotic.
"I stand with the president, always, but I hope the two can find a way to patch things up," Caputo said, adding, "I think Steve Bannon is irrevocably attached to the base, and that base is solely devoted to the president. This disagreement won't change those dynamics."
Other members of the Trump universe were glad to celebrate the great rupture, if only privately. "Divorce is always hard on friends. Bannon's days in the sun are over," one former Trump campaign official told Newsweek. "He opened his own mouth and pulled the trigger. Not very smart from a guy who thinks he's a genius."