Donald Trump Says Stop-and-Frisk Can Help Troubled Black Communities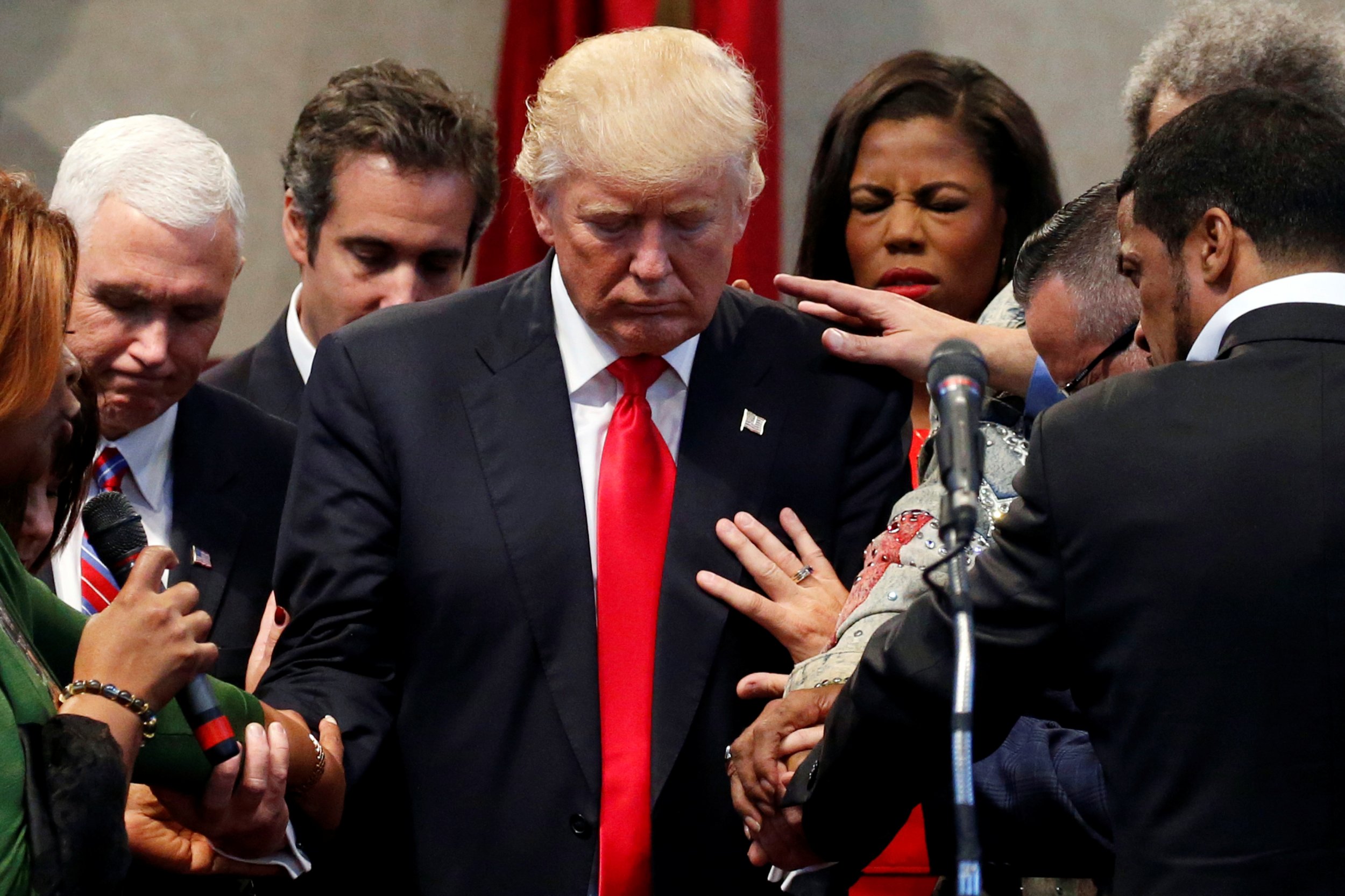 Updated | Donald Trump would combat violence in troubled black communities by encouraging or implementing stop-and-frisk, the Republican presidential candidate said Wednesday at the New Spirit Revival Center in Cleveland Heights, Ohio, an African-American church.
An audience member posed the question during the town hall–style event, filmed for the Fox News television show Hannity. "There's been a lot of violence in the black community," the person said. "I want to know, what would you do to help stop that violence, you know, black-on-black crimes?"
"I would do stop-and-frisk," Trump responded. "I think you have to. We did it in New York. It worked incredibly well, and you have to be proactive." He added, "In New York City, it was so incredible, the way it worked…. So I think that could be one step you could do."
Stop-and-frisk refers to the police practice of stopping and searching individuals suspected of criminal activity. Civil rights and police reform advocates say the practice unfairly targets people of color.
The New York City Police Department began scaling back its decades-old stop-and-frisk practice after a federal judge ruled it was unconstitutional in 2013. The judgment came after more than 4 million stops since 2002, according to an analysis by the New York Civil Liberties Union (NYCLU). Police use a similar tactic in other cities, including Philadelphia.
Years ago, Trump criticized the decision to scale back stop-and-frisk in New York City. "If Stop & Frisk is struck down by the pandering NYC politicians, increases in crime & eventual terrorist attacks will be on them," he tweeted in 2013.
Stop-and-frisk isn't just discriminatory, police reform advocates say, but also not necessarily useful. "The hard data belie any claim that stop-and-frisk was effective, and if subjecting...innocent New Yorkers of color to police stops is [Trump's] idea of successful law enforcement, he should take another look at the facts," says Donna Lieberman, executive director of the NYCLU. "Stop-and-frisk is a sure way to accomplish one thing: distrust between police and the communities they're supposed to protect. It doesn't target criminals; it targets and intimidates innocent people."
Hillary Clinton has denounced the practice, saying in April, "I do think the evidence people use to justify stop-and-frisk doesn't hold up under scrutiny."
The news website DNAinfo found that between 2002 and 2011, though the number of annual stop-and-frisks in New York City increased 600 percent, the number of shooting victims remained the same. (The NYCLU figures show the same increase in stops.) Only 6 percent of stops resulted in arrests, and 2 percent resulted in the recovery of weapons, the New York City Bar Association said in a report. The bar association said 85 percent of people stopped were black or Latino.
On Wednesday, it was unclear if Trump was suggesting he would implement a national stop-and-frisk program, or if he would simply encourage local police departments to do it. There are an estimated 18,000 police agencies in the United States, each with unique policies and procedures. Lieberman notes that a sweeping federal directive for local law enforcement would seem to go against the typical Republican aversion to oversight from Washington.
"Mr. Trump has no idea of what he is talking about," Darrel Stephens, executive director of the Major Cities Chiefs Police Association, whose members include chiefs and sheriffs from the 68 largest law enforcement agencies in the U.S., says by email. "Policing in America is a local government service with authority granted by the state. The president's views are certainly important, but a president cannot impose a policy like that being suggested by Mr. Trump."
The discussion of violence in predominantly black communities came after the fatal police shootings of Terence Crutcher in Tulsa, Oklahoma, last Friday, and Keith Lamont Scott in Charlotte, North Carolina, on Tuesday. Both men were black, and the incidents led to protests. In Charlotte, demonstrators injured 16 police officers on Tuesday, the police chief told reporters, and five demonstrators were reportedly injured. The chief said Scott had approached police holding a gun. A person was shot there by another civilian on Wednesday night and is in critical condition.
Though black people make up 13 percent of the population in the U.S., they are 15 percent of nonfatal violent crime victims and 49 percent of homicide victims, according to a 2007 report by the Bureau of Justice Statistics, its most recent report on the subject. As of 2011, 52 percent of homicide offenders are African-American.
Police reform advocates say people who bring up the black-on-black crime issue, as the audience member did on Wednesday, seek to draw attention away from the issue of police violence. "No one cares for black communities more than black people," Opal Tometi, co-founder of the formal Black Lives Matter movement, wrote in an email to Newsweek in August. "You don't hear terms like white-on-white crime, despite their high rates of crime in these communities."
Since August, Trump has tried to attract black voters with law-and-order messages at his campaign events. On Tuesday, he said, "Our African-American communities are absolutely in the worst shape that they've ever been in before, ever, ever, ever." He continued, "You get no education. You get no jobs. You get shot walking down the street." He typically concludes such comments by asking black voters, "What do you have to lose?"
Some African-Americans have criticized Trump's comments. Mark Thompson, a political and human rights activist and host of the Make It Plain podcast, told MSNBC on Tuesday, Trump "is criminalizing us."
This article has been updated to clarify the status of the person who was shot in Charlotte, North Carolina, on Wednesday night. The city initially said the person had died. It later said the person was not deceased.