Donald Trump Subtweeted at Bush Funeral? Ex-Canadian PM Brian Mulroney Mentions NAFTA, Environment in Eulogy
Canada's former Prime Minister Brian Mulroney appeared to take aim at the blaring policy differences between his friend, former President George H.W. Bush, and Donald Trump during a stirring eulogy on Wednesday.
Pointing to the former president's achievements when it came to addressing environmental issues as well as his work to promote free trade, Mulroney lauded Bush, who died at 94 last Friday, as a "genuine leader" who was "more courageous, more principled and more honorable" than all other presidents.
Journalist Daniel Dale, who is the Washington correspondent for the Toronto Star, were among those who posted to Twitter, saying that parts of the former prime minister's remarks appeared to be a "subtweet of Trump."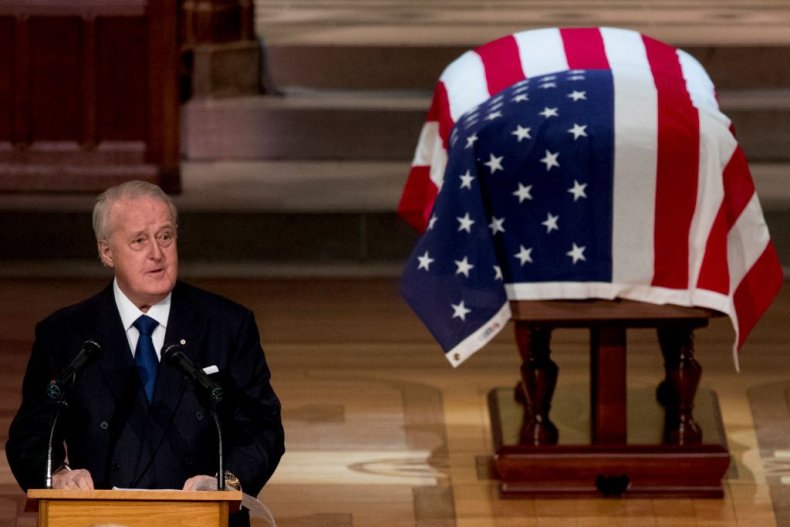 "President Bush's decision to go forward with strong environmental legislation, including the Clean Air Act … is a splendid gift to future generations of Americans and Canadians to savor," Mulroney said. "In the air they breathe, in the water they drink, in the forests they enjoy and the lakes, rivers and streams they cherish."
"There's a word for this," he continued. "It's called leadership."
Since taking office, Trump has pushed to dismantle environmental regulations, arguing that business interests are more important. He has also removed the U.S. from the landmark 2015 Paris Climate Accord. As of now, the U.S. is the only nation in the world that does not support the international treaty.
Mulroney also pointed to Bush's efforts to promote free trade on the continent, specifically through the North American Free Trade Agreement (NAFTA). The treaty between the U.S., Canada and Mexico "created the largest and richest free trade area in the history of the world," the Canadian leader, who helped push the pact forward, pointed out.
Trump, conversely, slammed the agreement as a "disaster" and pushed Washington's partners in Ottawa and Mexico City hard to negotiate the trade deal earlier this year. The president threatened to slap high tariffs on the long-time trading partners, publicly attacking Canada's Prime Minister Justin Trudeau and his trade negotiators before a new treaty was agreed upon. The three North American nations did finally reached a deal, rebranded as the U.S.-Mexico-Canada Agreement (USMCA), which was officially signed by all parties last Friday during the G20 Summit in Argentina.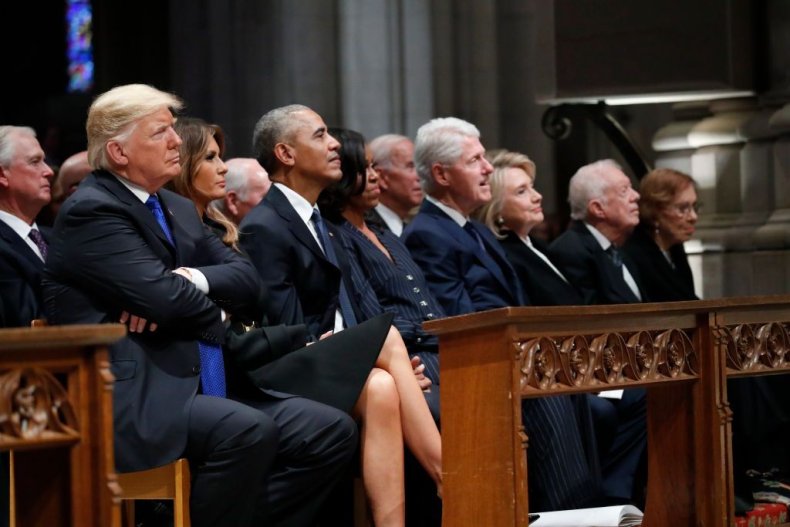 Seen by some as a attempt to contrast Bush's leadership style to that of Trump, the former prime minister also emphasized the respect and admiration Bush drew from leaders throughout the world.
"When George Bush was president of the United States of America, every single head of state in the world knew that they were dealing with a gentleman," he said. "A genuine leader. One who was distinguished, resolute and brave."