Donald Trump Touts Syria Map at Tank Plant, Says ISIS is Nearly Gone, a Group He Previously Called '100 Percent' Defeated
President Donald Trump on Wednesday repeatedly touted two maps he said showed the Islamic State's diminished areas of control over time in Syria, saying the militant group would be defeated very soon.
The president showed the graphic both at the White House and while speaking at a tank plant in Lima, Ohio. Trump said the top map displayed what areas the group, known as ISIS, used to control before he was in office and where it stands now.
"That's as of today, this is ISIS. There's none—the caliphate is gone as of tonight," Trump said, pointing to the bottom map while speaking in Ohio. "That's pretty good, right?"
Earlier in the day, Trump had said something similar about ISIS's imminent defeat while showing the maps to reporters at the White House. He said the map on the top featuring more red showed ISIS-controlled areas in Syria on election night in 2016 while the bottom map showed those areas now.
"There's a tiny spot [on the bottom map], which will be gone by tonight," Trump told reporters.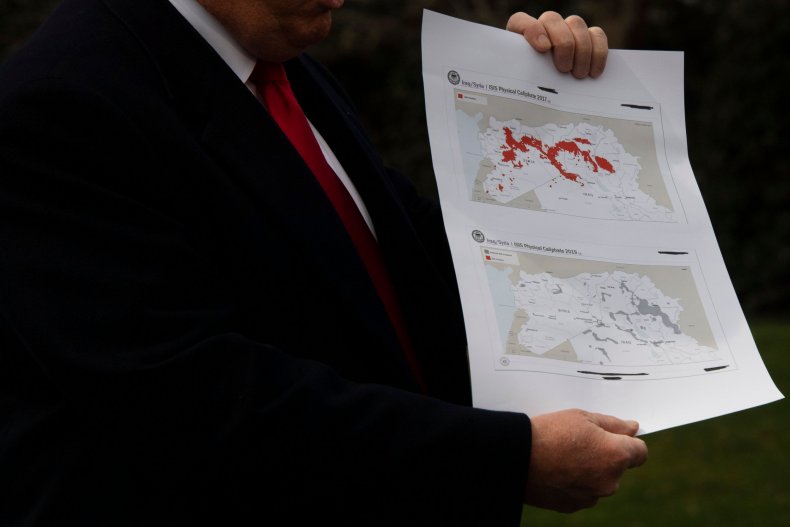 However, the president had said in February that ISIS was 100 percent defeated.
"You kept hearing it was 90 percent, 92 percent, the caliphate in Syria. Now it's 100 percent, we just took over," Trump said to troops in Alaska late last month. "Now it's 100 percent, we just took over 100 percent caliphate. That means the area of the land. We just have 100 percent."
The president has regularly gone back and forth on how much ISIS has been defeated. Just a few days after speaking in Alaska, for instance, Trump said at the Conservative Political Action Conference that "as of probably today or tomorrow, we will actually have 100 percent of the caliphate in Syria. One hundred percent."
The Associated Press reported on Tuesday that Syrian forces backed by the United States had taken control of an encampment held by ISIS in Baghouz. But the AP said the ultimate defeat of ISIS in Baghouz, the last Syrian village controlled by the group, had not yet been accomplished.