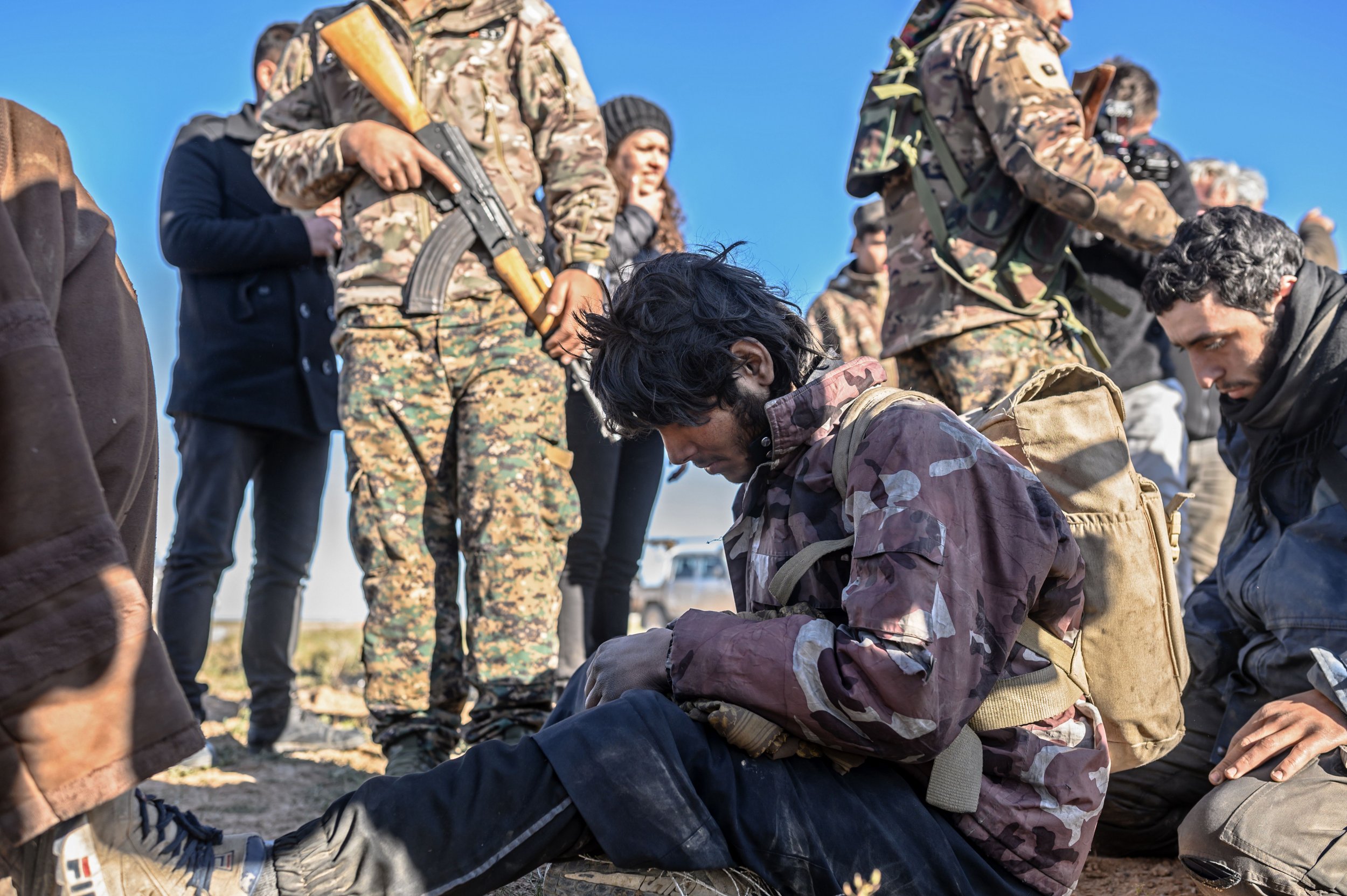 President Donald Trump declared total victory against the Islamic State militant group (ISIS) during a trip to a military base in Alaska, only for the final U.S.-backed fight to begin a day later.
Addressing troops at Joint Base Elmendorf-Richardson in Anchorage, Trump said Thursday that "we just took over—you know, you kept hearing it was 90 percent, 92 percent—the caliphate in Syria." He placed the figure at "100 percent," claiming to have defeated the jihadis in "a much shorter period of time than it was supposed to be."
The remarks came despite the Syrian Democratic Forces, a mostly Kurdish group spearheading the U.S.-led fight against ISIS in Syria, publishing a video earlier that day in which commander Mazloum Kobani forecasted a "total victory over ISIS in a week." On Friday, Syrian Democratic Forces spokesperson Mustafa Bali announced that the final push against the militants in their last pocket of control—the village of Al-Baghouz in the eastern province of Deir Ezzor—had begun.
Kobani tweeted that the "operation to clear the last remaining pocket of ISIS has just started at 18:00 this evening," then explained in Arabic how "after our forces completed the evacuation of civilians from Al-Baghouz, the liberation of our fighters who were abducted by ISIS, only the terrorists remain in Al-Baghouz, so our forces began to move in militarily and engage with terrorists to complete the liberation once and for all."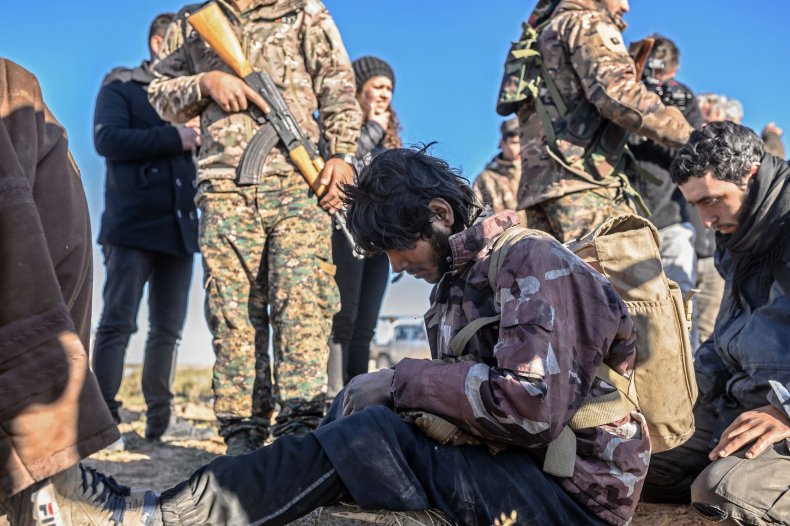 Trump inherited the anti-ISIS fight from former President Barack Obama, who had previously intervened in Syria by quietly providing support to opposition fighters battling to depose Syrian President Bashar al-Assad following a 2011 rebel and jihadi uprising. ISIS would spread there in 2013, a decade after Obama's own predecessor, President George W. Bush, invaded neighboring Iraq, stirring a Sunni Muslim insurgency.
When Trump assumed the presidency in early 2017, the U.S.-led coalition formed in summer 2014 was supporting the Syrian Democratic Forces as they led the charge against ISIS in its de facto capital of Raqqa, Syria, as well as backing Iraqi military and Iran-sponsored paramilitary forces trying to oust the same militant group from its largest city of Mosul, Iraq. Syrian troops and their allies were also battling ISIS at home, but in a separate campaign not supported by the U.S.-led coalition, which has accused Assad of human rights abuses.
The Syrian government, already backed by Iran and the various regional groups aligned with it, received a major boost in 2015, when Russia agreed to intervene on Assad's behalf. As the Syrian Democratic Forces launched their campaign to defeat the group in northern Syria, the pro-government followed up major victories against insurgents by sweeping across ISIS-held central Syria, with both sides meeting on opposite sides of the Euphrates river that divides the country.
Both sides have contributed extensively to the battle against ISIS, each robbing the group of tens of thousands of square miles. Between April 2016 and March 2017, a report by the U.K.-based IHS Jane Terrorism and Insurgency Centre found that the Syrian government had been the most engaged actor against ISIS during that pivotal period in the country's civil war, which was set to enter its ninth year.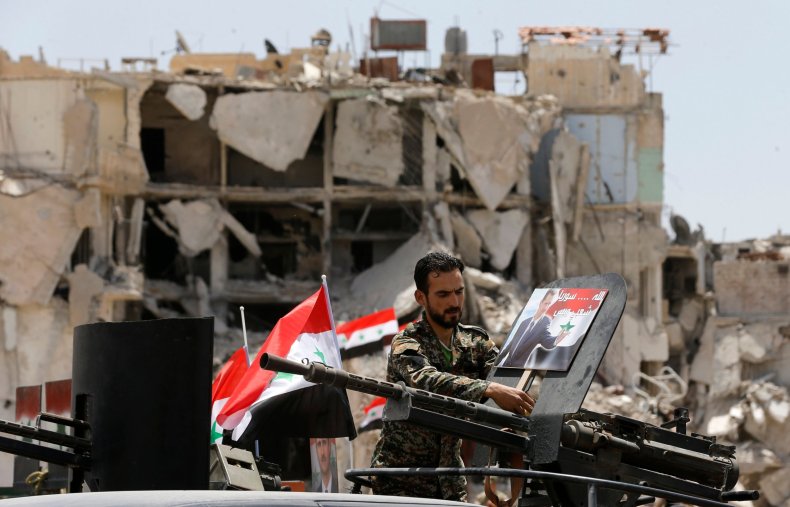 The Syrian Democratic Forces and the Syrian military have alternatively feuded and worked alongside one another, but the former has attempted to speed efforts to reconcile their differences since Trump announced a withdrawal of U.S. troops in December 2018. At that time, Trump also declared ISIS "defeated."
The move reportedly took the Syrian Democratic Forces by surprise and was followed by several high-level resignations in the Trump administration. The White House has yet to release an official timeline for the pullout, but Syria—which considers the U.S. to be an occupying force—has been joined by Russia and Iran in calling on the Pentagon for an immediate exit.
Last month, Trump told a gathering of the Global Coalition to Defeat ISIS that the battle against the jihadis was a "mess" before he came to office, and said it "should be formally announced sometime probably next week that we will have 100 percent of the caliphate."