President Donald Trump Tests Negative for Coronavirus, Says His Physician
The White House physician for Donald Trump said Saturday that the president tested negative for the coronavirus, which he underwent an exam for on Friday evening.
In a memo, Dr. Sean P. Conley wrote: "Last night after an in-depth discussion with the President regarding COVID-19 testing, he elected to proceed. This evening, I received confirmation that the test is negative."
"One week after having dinner with the Brazilian delegation in Mar-a-Lago, the President remains symptom-free," Conley added. "I have been in daily contact with the CDC and White House Coronavirus Task Force, and we are encouraging the implementation of all their best practices for exposure reduction and transmission mitigation."
It was reported that three people who recently visited the president's Mar-a-Lago resort in Florida have tested positive for coronavirus.
Earlier in the day at a press conference, the president told reporters that he was tested for the virus, following a coronavirus task force meeting.
"I had my temperature taken coming into the room," Trump said at the time. "I also took the test last night, and I decided I should, based on the press conference yesterday. People were asking did I take the test? I don't know whatever it takes--a day or two days. Whatever it is. They send it to a lab."
The president also explained why he shook hands with people, when a reporter asked about it and the "mixed messages" he's been sending.
"[Shaking hands] almost becomes a habit," he said. "Frankly, I was a non-handshaker for the most part. I never believed in shaking hands, once you become a politician. I notice it too. Political people come up to me too. They want to shake my hand, and I said, 'Well...'"
The president said he was trying to get out of the "natural reflex" of shaking hands "without thinking about it."
"We're all getting out of it. All of us have that problem. Somebody comes up to you, they put their hand out, you probably tend to just shake it," he said. "Shaking hands is not a great thing to be doing right now. I agree."
"We have to think about it, more and more," he said.
Trump said that Americans should consider stop shaking hands completely. "Possibly, that's something that comes out of this. Maybe people shouldn't be shaking hands for the long term," he said. "It does transmit flu and other things."
Earlier in the conference, Trump expressed excitement regarding the stock market's bounce back following his press conference in the White House Rose Garden on Friday. He also said the bill passed by the House of Representatives would allow for free coronavirus testing for all Americans that require it, and includes paid sick and family leave for those that need it. That legislation is awaiting approval by the Senate.
On Friday, Trump declared the U.S. in a national state of emergency. He explained actions taken to distribute government aid and contain the spread of the virus.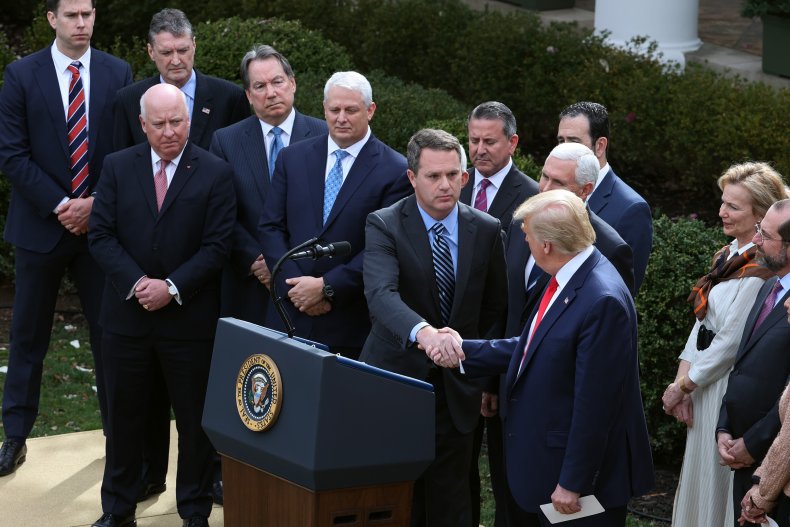 Later in the press conference, Vice President Mike Pence also announced that previously issued travel restrictions to Europe would be expanded to the U.K. and Ireland, beginning Monday at midnight.
Updated 7:47 PM ET, to say that the president tested negative for COVID-19, according to his physician.