Donald Trump Tests Positive for COVID-19: What is the Risk for Over-70s?
Donald Trump and Melania Trump have both tested positive for COVID-19, the President has revealed on Twitter.
"Tonight, @FLOTUS and I tested positive for COVID-19. We will begin our quarantine and recovery process immediately. We will get through this TOGETHER!" Trump tweeted in the early hours of Friday morning.
At 74 years old, the President is in a high-risk group, according to the Centers for Disease Control and Prevention (CDC). It notes that people aged between 65 and 74 are five times more likely to be hospitalized by COVID-19 than someone aged between 18 and 29, and 90 times more likely to die from the virus.
"In general, your risk of getting severely ill from COVID-19 increases as you get older. In fact, 8 out of 10 COVID-19-related deaths reported in the United States have been among adults aged 65 years and older," the CDC says.
Aged 50, First Lady Melania Trump is in an age group that is four times more likely to be hospitalized by the virus than 18 to 29-year-olds, and at a 30 times higher risk of death.
"The President's profile would classify him as vulnerable. He is aged 74, and reportedly overweight. Many people in their 70s will also have further co-morbidities that increase the risks of a more severe illness," Dr Michael Head, senior research fellow in global health at the University of Southampton in the U.K., said in a statement.
People with underlying health conditions are known to be more vulnerable to COVID-19, and Trump's latest annual physical exam, which was carried out in June, found that the president is obese and has high blood pressure. However, it declared that the President "remains healthy." He will also be able to rely on the best medical care possible.
"This evening I received confirmation that both President Trump and First Lady Melania Trump have tested positive for the SARS-CoV-2 virus," White House physician Dr. Sean Conley wrote in a letter confirming Trump's diagnosis.
"The President and First Lady are both well at this time, and they plan to remain at home within the White House during their convalescence.
"The White House medical team and I will maintain a vigilant watch, and I appreciate the support provided by some of our country's greatest medical professionals and institutions.
"Rest assured I expect the President to continue carrying out his duties without disruption while recovering, and I will keep you updated on any future developments."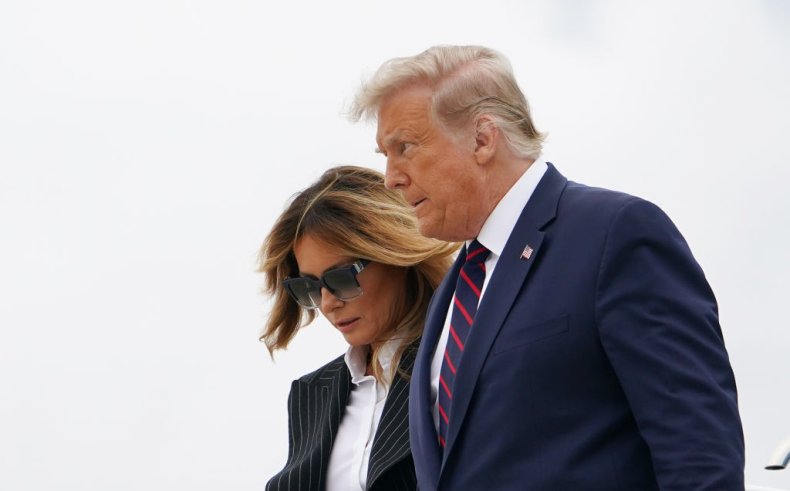 The news came shortly after Trump's close aide Hope Hicks, who accompanied him to the first presidential debate on Tuesday and also flew with the President on Air Force One this week, also tested positive for the virus.
Trump has repeatedly downplayed the seriousness of the COVID-19 pandemic, and just this week mocked presidential election rival Joe Biden for wearing a face mask.
It is not yet clear just how big an impact Trump's positive test could have on the election, which is scheduled for November 3, but it is possible that the President will have to withdraw from the two further debates with Joe Biden that had been planned.
The next debate is scheduled for which is scheduled for 15 October, before the third on October 22.