Tim Farron: Britain Must Not Turn a Blind Eye to Trump's Racist and Inhumane Policies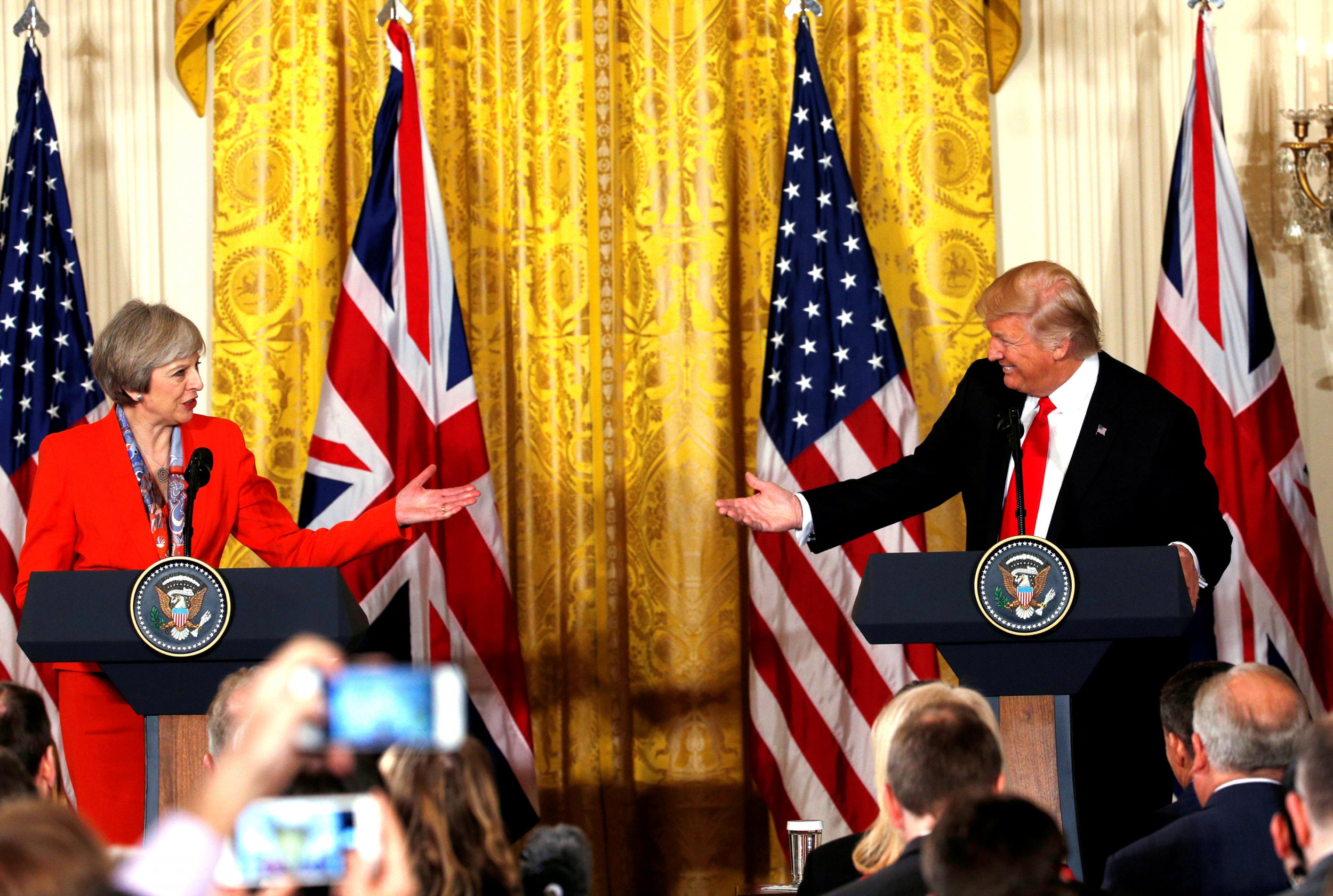 On Monday night I joined politicians from across the spectrum outside Downing Street in London to call for the Buckingham Palace red carpet to remain rolled up in the cupboard rather than rolled out for Donald Trump. Thousands came to join; it was a fantastic turnout.
Even widely admired American Presidents have previously waited a decent interval before they are invited on a state visit. But Prime Minister Theresa May, desperate for that post-Brexit trade deal after deciding to yank us out of the single market, was clearly so impressed with Mr Trump on her weekend meeting that she announced instantly that she would honor him with a State Visit.
I believe Mr Trump's journey to the White House was the most divisive, vulgar and illiberal presidential campaign in memory, and judging by his actions since, these traits are likely to continue during his presidency. This should worry everyone with a conscience, but it should worry a thoughtful government, too.
Naturally the U.K. must engage with the U.S. on matters of mutual concern, but Theresa May should not damage our national integrity and values by bowing to a bully strong on testosterone but a little weaker on principles.
Read more: Trump's immigration ban is a 'simple insult to a complex problem'
While it is right for the U.K. government to do business with Donald Trump as president, I am appalled by the Prime Minister's haste to roll out the red carpet and honour Mr Trump at a state banquet.
The prime minister should withdraw the offer immediately. Just as Theresa May seems to have no interest in winning over the 48 percent of the population who voted Remain in the Britain's referendum on EU membership, so she displays no awareness of the views of all those Britons who are shocked by the arrival of such a divisive figure in the White House.
The photo of Tony Blair in jeans chatting toothpaste brands with George Bush came to define his premiership, and now the photo of Theresa May holding hands with Donald Trump could be her defining image.
Trump has voiced support for the use of torture and has issued an executive order banning people from seven majority-Muslim countries from entering the States. We cannot turn a blind eye to these abuses of power. President Trump has turned his back on the culture, civilization and tolerance that have underpinned the postwar U.K.-U.S. relationship. Why would Britain celebrate such a setback for liberal understanding?
True friends are candid friends, and if we are America's closest ally we need to be truthful about the unacceptable nature of the new president's racist and inhumane policies.
Donald Trump is a successful businessman. In his book The Art of the Deal in 1987, he explained that the best time to do a deal is when the other guy is desperate.
It seems clear that having chosen to sever our ties with civilized democracies in Europe, our Prime Minister is now desperate for an agreement with the U.S., irrespective of whether it will do Britain any good and irrespective of whether it will damage Britain's record of standing up to persecution, racism and tyranny.
Theresa May should listen to the British people and rescind the offer of a state visit. We should be prepared to have business-like relationships with international leaders of all kinds, including Donald Trump. He should be welcome to visit the U.K. and to meet our prime minister, but he should not be feted and fawned over given that this would be depicted as the British people and the British state approving of him and his appalling actions.
Liberal internationalism has never been more under threat, and those who believe in an open, tolerant and united Britain should stand tall against the Trump-May bigoted Hard Brexit axis.
Tim Farron is leader of Britain's Liberal Democrat party.