Donald Trump Says His Rhetoric Has Been Toned Down but Now He 'Could Really Tone It Up' After Bomb Threats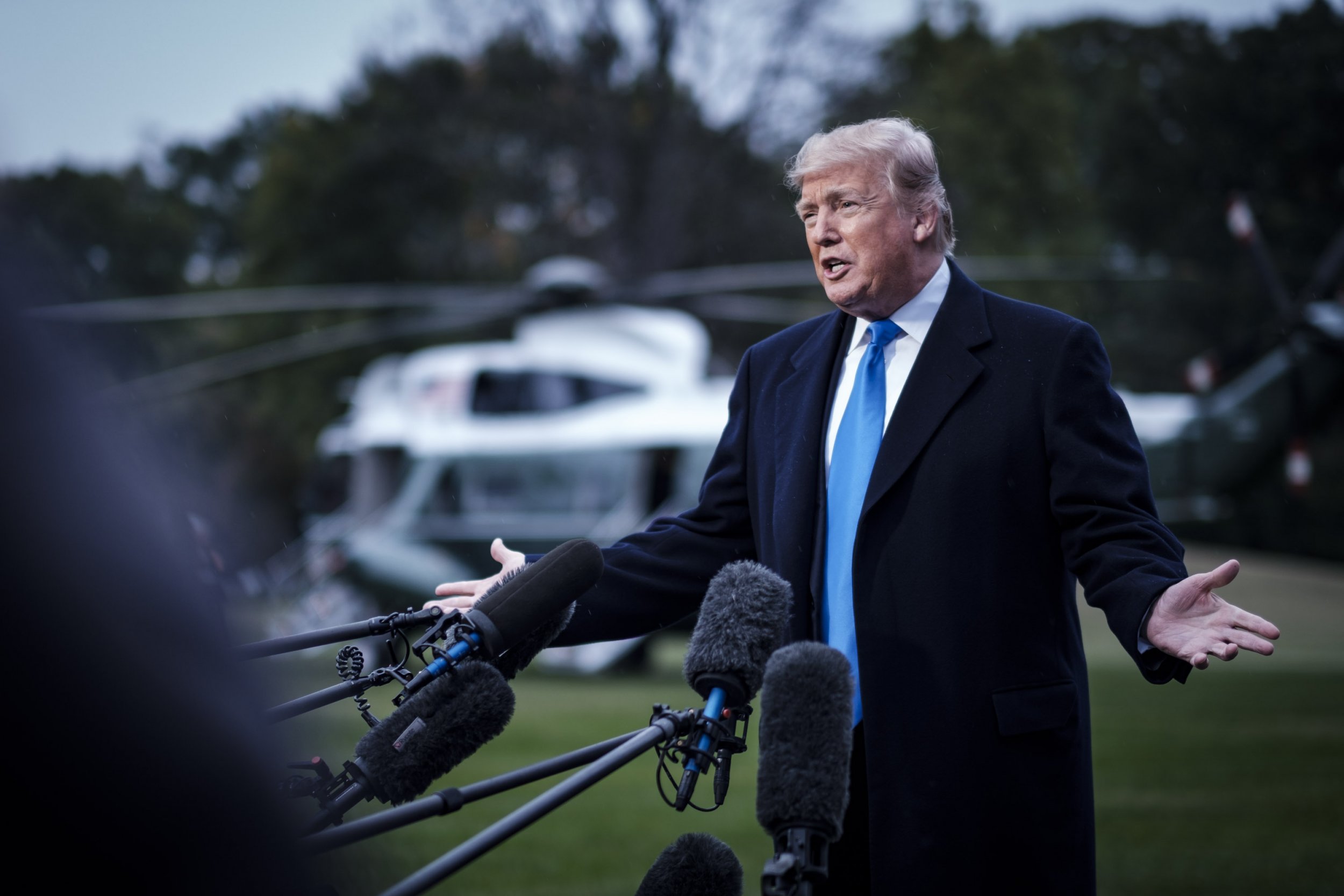 President Donald Trump on Friday declined calls to tone down his rhetoric in the wake of a series of bombs mailed to his political opponents across the country. Instead, Trump said that he could "really tone it up." Trump was speaking just hours after a suspect was arrested in connection with the pipe bombs mailed to more than a dozen people. The suspect's van and social media feeds showed off vitriolic support of Trump and opposition to leading Democratic figures.
In the wake of the bomb threats, which targeted former President Barack Obama and former Secretary of State Hillary Clinton, among others, Trump has faced widespread criticism for his rhetoric, which has included both celebrating and encouraging violence. But asked if he would pledge to tone it down in the next few days, Trump pushed back.
"I think I've been toned down, if you want to know the truth," he told reporters on the White House South Lawn. "I could really tone it up because, as you know, the media's been extremely unfair to me and to the Republican Party."
Trump continued: "I think the media's been very, very unfair in terms of the Republican Party and how it's been covered. They understand that. They write articles about that, many of them admit that, but the media has been unbelievably unfair to Republicans, conservatives and certainly to me. But with all of that being said we're winning so I like that."
Despite calling for unity since the attempted bombings began at the start of the week, Trump has continued to attack Democrats and the media. At a rally on Wednesday night, Trump said, "As part of a larger national effort to bridge our divides and bring people together, the media also has a responsibility to set a civil tone and to stop the endless hostility and constant negative and oftentimes false attacks and stories. Have to do it."
On Friday morning, he continued on the same theme.
"Funny how lowly rated CNN, and others, can criticize me at will, even blaming me for the current spate of Bombs and ridiculously comparing this to September 11th and the Oklahoma City bombing, yet when I criticize them they go wild and scream, "it's just not Presidential!" Trump tweeted.
Speaking on Friday afternoon, Trump said he would also not be reaching out to the Clintons, Obamas and others who were targeted by the attacks.
"If they wanted me to, but I think well probably pass," he said.