Will Trump TV Dethrone Fox News as the Voice of Right-Wing America?
Up next...Tucker Carlson, Sean Hannity, Laura Ingraham, Donald Trump?
Could Trump be planning a move into television following his loss to Joe Biden? It's something he's shown an interest in before.
A former TV host on The Apprentice and The Celebrity Apprentice, Trump has long railed against the mainstream media, and the term "fake news" will forever be associated with his tenure in the White House, as of course will his volatile relationship with the press.
Now that he has lost the 2020 presidential election, could "alternative facts" be coming to a station near you?
Trump made his anger at Fox's election coverage known last week when the network was the first to report that Arizona flipped blue.
Signaling the end of the love affair between Fox and Trump and his supporters, the network was subject to attacks and chants of "Fox News sucks" at polling stations were reported.
As the chances of a second term began slipping away from him, Trump even put in a personal call to Rupert Murdoch, who stood by the decision to call Arizona.
But Trump's dissatisfaction with Fox goes back further than the network's 2020 election coverage.
Sarah Ellison, a contributing editor at Vanity Fair and author of War at the Wall Street Journal guessed back in 2016 when it looked like Hillary Clinton was set for victory, that Trump was planning to cash in on a right-wing media empire.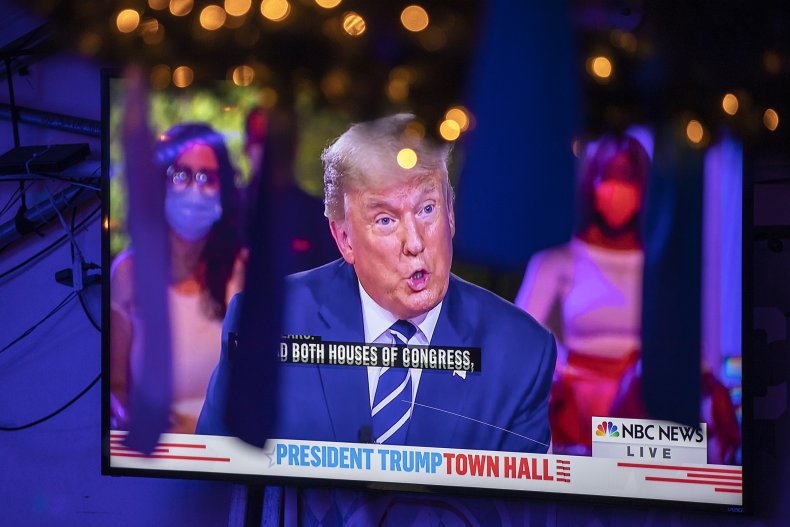 This raises the question of whether a potential Trump TV network will compete with Fox—or if the 45th president will join forces with the conservative network that has been allied with his administration for the past four years.
Trump has vocalized his desire to start a television network before. Speaking at a Medicare event in Florida in October 2019, Trump complained about CNN's coverage of his impeachment inquiry.
"We ought to start our own network and put some real news out there," Trump said (per CNN).
"We really are, we are looking at that. We should do something about it, too. Put some really talented people and get a real voice out there, not a voice that's fake."
He also tweeted in April that Fox News viewers want "an alternative."
Eric Deggans, a media analyst for NBC News and MSNBC TV, critic for NPR and author of Race-Baiter, How the Media Wields Dangerous Words to Divide a Nation, told Newsweek that it is "highly likely Trump would try to maintain his profile in politics and American life by moving to a prominent media platform if he loses the presidency."
"Trump has shattered a lot of norms, and if he did something like this, it would be another unprecedented action," Deggans said. "In the past, when Republican presidents have suffered defeats, they have mostly moved off the political stage—Gerald Ford, George H.W. Bush as the most recent examples. Even George W. Bush shifted into retirement mode after leaving office, his performance during the Great Recession making him mostly radioactive to Republicans seeking to win the White House again."
Deggans said that quiet retirement for Trump is unlikely because he "doesn't seem built that way."
"There are lots of media outlets which would see dollar signs in being the vehicle for his post-presidency plans," he added. "I don't see Trump starting his own channel, because that would take too much work and immediately put him at the rear of a very crowded field. I think it is much more likely he will cut a deal with an existing platform to be their biggest star and most important focus."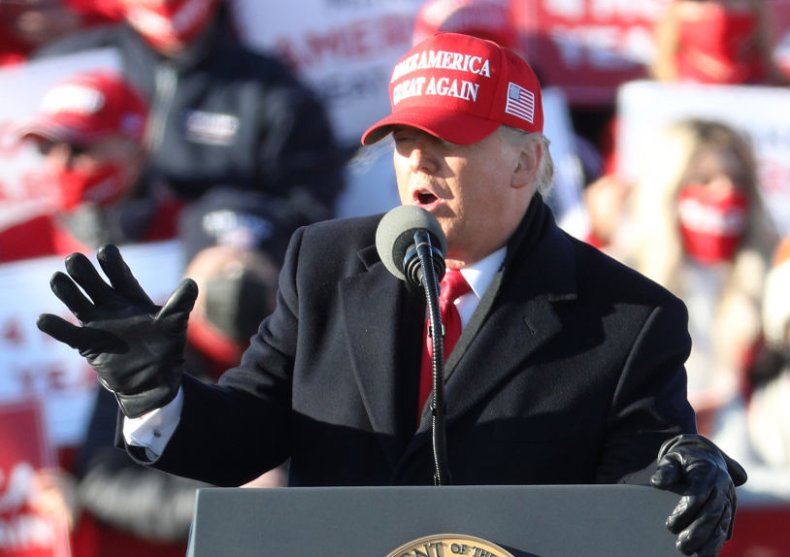 CNN's Chris Cillizza also predicted that Trump will need a "new act" now and no longer will be able to rely on the Trump band for income, so he will pivot toward television.
"Let's consider what we know about Donald Trump," Cillizza said. "Number one, he loves the national spotlight and won't want to give it up. Number two, he's long been obsessed with cable television. Number 3, his brand—which essentially amounts to his name and has always been the biggest money maker for his companies—will be significantly diminished in the eyes of Americans because of the actions he took, and the actions he didn't take, during his four years as president."
Cillizza added that Trump owns more than $400 million in loans and his revenue stream will be "severely constrained."
He added: "Trump will, in short, need a new act, and one that can provide him with money."
As for the much prophesized Trump TV, Deggans thinks that a Trump no longer in control of the White House wouldn't work for Fox News.
"I think Trump would insist on Fox News devoting itself to him in a way that may not be tenable for them," he said.
So where does that leave the Trump? Deggans thinks that he might move to a smaller, already established conservative network like One America News Network, Sinclair Broadcasting, Newsmax or Breitbart and "completely dominate its coverage."
"If that did happen, it would be another unprecedented situation," he said. "Fox News has been the pre-eminent voice for conservatives for much of its life, and it has helped unite the focus of conservative media messaging because of its influence.
"If Trump were to establish himself at a rival outlet, it could tip the balance of power in conservative media. That's why...it's very possible Fox News will move heaven and earth to cut a deal with Trump and keep him away from competitors."
If Trump does set up his own network, he may find that Fox's viewers want to stay put.
Research from Pew Research Center found that 65 percent of Republicans and Republican leaners said they trust Fox News as a source and that "no other source comes close to rivaling Fox News' appeal to Republicans."
Fox News owner Rupert Murdoch reportedly had resigned himself to a Biden victory. The Washington Post reported that the media mogul billionaire was concerned with Trump's downplaying of the coronavirus pandemic.
Jonathan Klein, a former president of CNN, told the Washington Post: "A Biden win would be great for Fox's business."
This is because Fox performs better in opposition to the government, when the anchors have a target in power to fight against, and take advantage of their audience's underdog complex.
One media expert told Politico: "He's going to do whatever it takes to stay in the conversation—and it's going to take being ever more outrageous to stay there."