'Fox News Sucks': Pro-Trump Protestors in Arizona Turn Against Network After Calling State For Biden
A crowd of around 200 people packed the parking lot outside of the Maricopa County Election Center in Arizona chanting "Fox News Sucks."
The pro-Donald Trump voters have turned against the network after it made the call for Arizona's 11 electoral votes to go to Democratic nominee Joe Biden Tuesday night. Many of the protestors demanded entry to the polling station in what was a tense situation as Trump could still possibly win Arizona.
Unofficial results suggested Trump lost by more than 100,000 votes in Maricopa County, Arizona's most populous county.
Conservatives and the Trump administration have railed against Fox News after the network called Arizona for Biden before any other network or news organization.
Trump campaign senior adviser Jason Miller calling Fox a "complete outlier" in its decision to call Arizona.
He tweeted Wednesday: "We only need 61 percent of the outstanding, uncounted Election Day votes in Arizona to win. These votes are coming from 'our counties,' and the 61 percent figure is very doable based on what our other Election Day votes are looking like. Fox News should retract their call immediately."
One clip doing the round on Twitter shows Gadi Schwartz of MSNBC at scenes of unrest at the Maricopa County Election Center.
Another video shows the crowd chanting: "Shame on Fox."
Another startling clip, per local publication AZ Central, shows protesters chant down a Fox 10 Phoenix reporter who is covering the situation.
Arizona is an open-carry state and some of the protesters were observed carrying firearms.
Per a statement sent to Newsweek Thursday morning, the Maricopa County Sheriff's office was "monitoring the crowd. At this time, the crowd is peaceful and there have been no arrest or citation issued."
Biden currently remains ahead of Trump in Arizona by over 60,000 votes at the time of reporting, but the race has been tightening as ballots have been counted. On Wednesday night, Arizona's secretary of state told CNN that more than a half-million votes remain uncounted and that the Maricopa County count could take a few more days.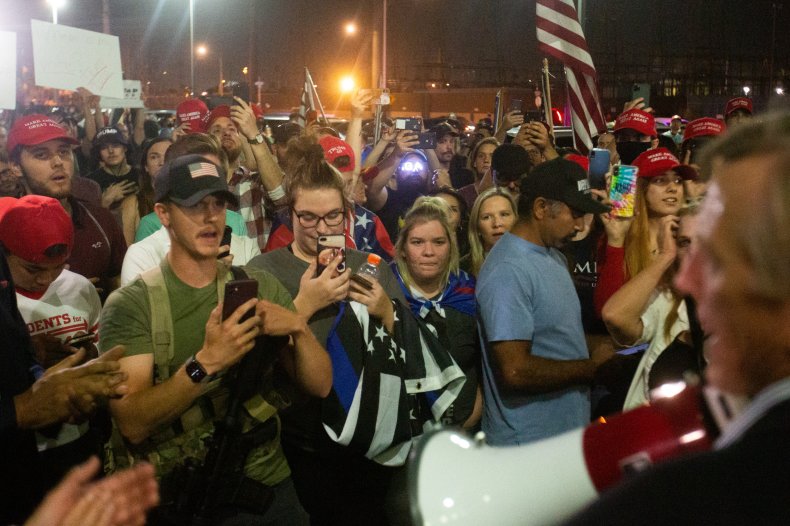 "Trump has been meeting the thresholds he needs to at least pull even," CNN said. "The biggest question is the composition of what's left." Both campaigns will have a strong sense of the makeup of votes still to come in, with analytics on previous voting data which, CNN says, the "Biden campaign says they feel good about."
While the protesters in Arizona have been shouting "Count the votes," hours earlier pro-Trump demonstrators chanted "Stop the count" at a tallying center in Michigan, where the president was ahead at the time.