President Donald Trump put out more than 100 tweets on Sunday, sharing attacks on the impeachment inquiry with his 67 million followers.
The commander-in-chief tweeted a total of 105 times yesterday, or a little more than four times per hour on average, with most of his activity taking place between 10 a.m. and 6.30 p.m. The majority of his posts were retweets of content posted by other Twitter users.
Trump's tweets and re-posts on the platform were largely aimed at the impeachment process and Democrats leading the inquiry, but CNN and MMA fighter Tito Ortiz were also mentioned by the president.
His attacks on the Democrat-led impeachment inquiry came ahead of key hearings scheduled for Monday that will see Democratic lawyer Barry Berke and his Republican counterpart Stephen Castor present opening statements for and against impeachment before the House Judiciary Committee.
Democratic counsel Daniel Goldman and GOP counsel Castor will then outline evidence for and against impeachment in front of the House Intelligence Committee. The presentations are due to be broadcast live from 9.00 am ET on the House Judiciary Committee's YouTube stream.
In a tweet about the impeachment inquiry posted Sunday morning, President Trump said: "Less than 48 hours before start of the Impeachment Hearing Hoax, on Monday, the No Due Process, Do Nothing Democrats are, believe it or not, changing the Impeachment Guidelines because the facts are not on their side. When you can't win the game, change the rules!"
The commander-in-chief also retweeted attacks on impeachment tweeted by GOP congressmen, including one post by Rep. Jodey Arrington calling the process a "charade" and another from House Republican Whip Steve Scalise suggesting the inquiry was a "scam."
Democrats spearheading the impeachment process against Trump were further targeted during the president's Sunday tweeting spree, with House Intelligence Committee chairman Adam Schiff dubbed "corrupt" and a "criminal" for releasing phone records in the panel's impeachment inquiry report.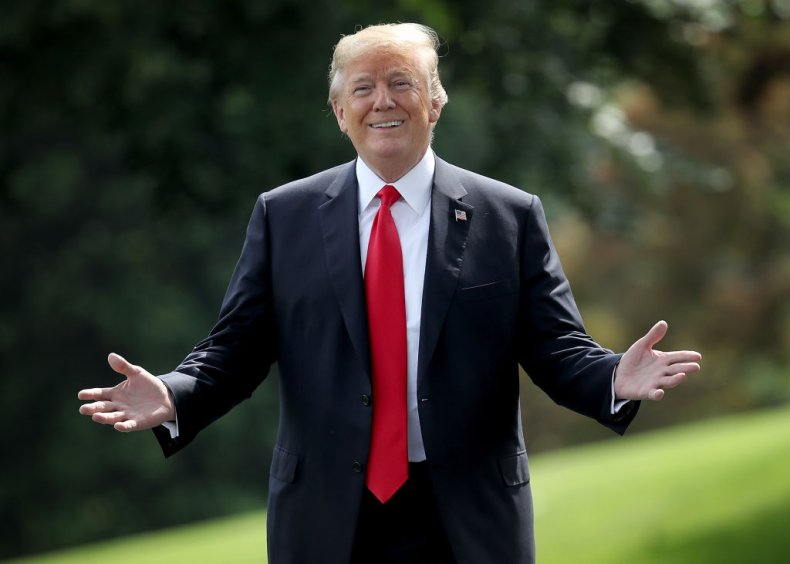 House Speaker Nancy Pelosi, who launched the inquiry on September 24, was also the subject of several retweets from the president.
Posts about the California Democrat shared by Trump included a Mark Levin tweet calling Pelosi's rule as Speaker "fascistic" and a Trump War Room tweet linking a Guardian op-ed that argued she was "bungling" the inquiry.
The president also took aim at CNN following reports of its poor ratings performance between November 25 and December 1, arguing that the network was a "ratings disaster" that had "lost all credibility."
Newsweek contacted the White House for further comment but did not receive a response at time of publication. The House Intelligence Committee, Judiciary Committee chairman Jerrold Nadler, Speaker Pelosi and CNN were also approached for comment.
President Trump's barrage of attacks on impeachment and Democrats leading the inquiry came after the White House sent a letter to Nadler on Friday attacking the impeachment inquiry while a senior administration official told Fox News it would not be participating in hearings
"Adopting articles of impeachment would be a reckless abuse of power by House Democrats, and would constitute the most unjust, highly partisan, and unconstitutional attempt at impeachment in our Nation's history," White House counsel Pat Cipollone wrote in his letter.
In an effort to draw people's attention to anything other than the latest impeachment inquiry hearing's today, Trump tweeted on Sunday that the Inspector General report into the FBI investigation of his election campaign would be released today.
"I.G. report out tomorrow," the president said. "That will be the big story!"
Earlier in his marathon day of tweeting, the president's attention was focused on mixed martial arts.
Congratulating Tito Ortiz on his Combate Americas victory against Alberto Del Rio on Saturday night, and beginning a long day of posting, the president tweeted: "Congratulations to @TitoOrtiz on tonight's huge WIN, a Great American Patriot!"
A chart tracking President Trump's total tweets per month since from 2016 to November this year, provided by Statista, can be seen in the graphic below: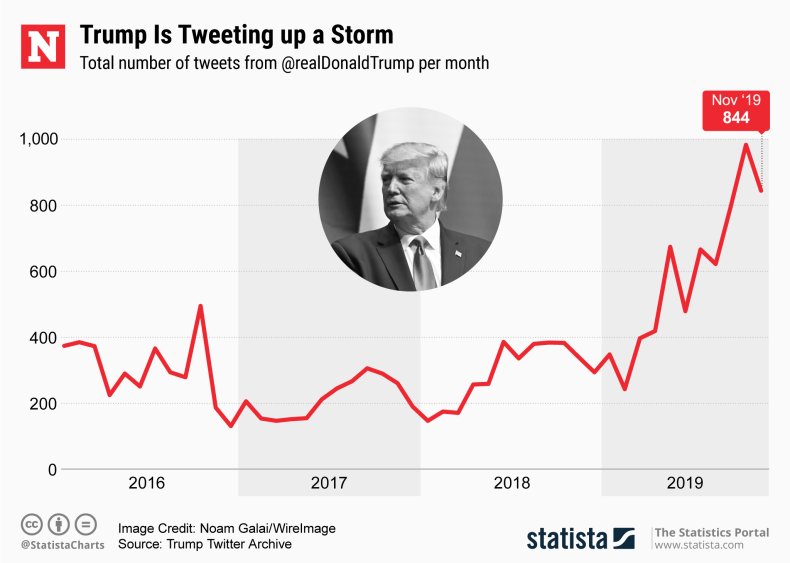 This article was updated to include an infographic.