Fox News Anchor Calls Out Trump Defense Secretary for Saying He'd Comply With Impeachment Inquiry, Then Stonewalling Congress
Fox News anchor Chris Wallace called out Donald Trump's Defense Secretary Mark Esper for saying in October that he'd "do everything" he could to comply with the impeachment inquiry against the president, but then refusing to do so.
In mid-October, Esper appeared on CBS News and Fox News, saying the Pentagon would "do everything" it could to cooperate with the investigation. But just days later, the Department of Defense sent a letter to the Democratic leadership in Congress refusing to comply with subpoenas. The letter cited a "number of legal and practical concerns" and said that the documents requested appeared to "consist of confidential Executive Branch communications that are potentially protected by executive privilege."
"When we last talked, a couple of months ago, you said you were going to do 'everything' you could to comply with congressional subpoenas of records about the cut-off– the withholding of [military] aid to Ukraine," Wallace noted this weekend in an interview with Esper on Fox News Sunday. "But two days after our conversation, the Pentagon stonewalled Congress, didn't release a single document. Are you comfortable with that as secretary of defense?" Wallace asked.
Responding, Esper argued that his general counsel had told him that "there were legal and technical issues related to the request that we simply couldn't honor."
Pushing back, Wallace asked: "Do you feel that Congress has a right to oversight into being able to see documents from the Pentagon about a program that was approved by Congress?"
"Well they do," Esper said, "but provided it's done the right and proper way." He argued that in general he's been known to be "transparent," and then repeated the line that there were "legal and technical issues" involved with his decision.
The Trump administration has been strongly criticized by Democratic members of Congress for its refusal to comply with subpoenas and document requests related to the impeachment inquiry. Democrats are currently drafting Articles of Impeachment against the president, and may include articles for "obstruction of justice" and "obstruction of Congress" due to the administration's efforts to stonewall the probe, as well as the investigation into Russian election interference by special counsel Robert Mueller.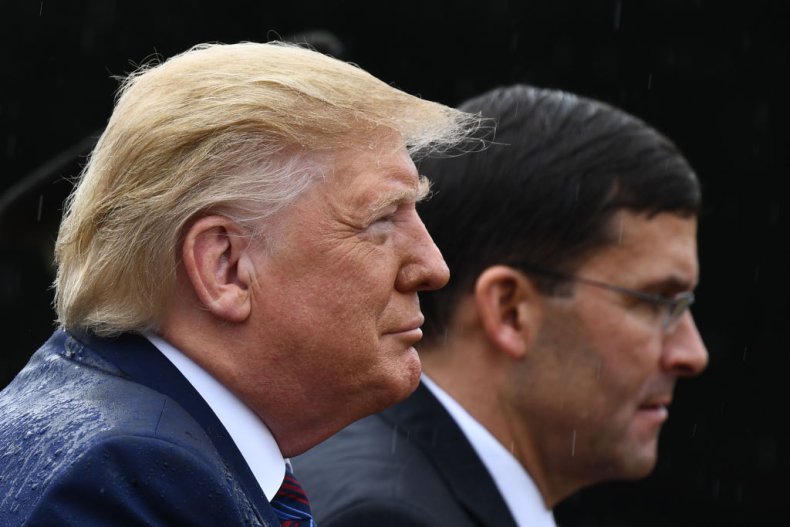 As the impeachment inquiry got underway in early October, White House lawyers sent a letter to investigators announcing the administration's refusal to comply.
"Never before in our history has the House of Representatives — under the control of either political party — taken the American people down the dangerous path you seem determined to pursue," counsel Pat Cipollone argued in the letter, as reported by NBC News. Trump has also repeatedly dismissed the entire investigation as "partisan" and a "witch hunt."
Maintaining the administration's refusal to recognize the inquiry's legitimacy, the White House again reiterated last week that it would not participate in the impeachment proceedings, calling them "baseless" and an "abuse of power" by Congress.
"Adopting articles of impeachment would be a reckless abuse of power by House Democrats, and would constitute the most unjust, highly partisan, and unconstitutional attempt at impeachment in our Nation's history," Cipollone wrote in his Friday letter.
During his interview with Fox News Sunday, Esper also commented on the shooting at a U.S. Naval base in Pensacola, Florida on Friday. Three people were killed in the attack – in addition to the gunman, a Saudi Arabian aviation student – and eight others were injured.
Esper said he had reached out to military leaders, telling them to ensure that they were taking "all necessary precautions" to ensure the safety of bases. He also said he asked for the beginning of a review on "screening foreign nationals" who come to training sessions at U.S. military bases.