Donald Trump Tweets Over 40 Times in Two Hours While Being Treated at White House for Coronavirus
President Donald Trump tweeted up a storm on Tuesday, posting to Twitter over 40 times within the space of two hours.
Trump is known for his prolific use of Twitter, using the social media platform to float ideas, reiterate talking points and harangue political enemies. In one single day in June 2020, Trump posted 200 tweets and retweets, a personal record. Trump's previous record, set during the January impeachment proceedings, was 142 tweets. According to the tracking site Factbase, Trump sent 74 tweets within the space of one hour in June, a personal best.
One of Trump's more intriguing tweets on Tuesday involved direct cash payments to Americans, which were proposed in a recent version of the Democratic coronavirus economic stimulus package.
"If I am sent a Stand Alone Bill for Stimulus Checks ($1,200), they will go out to our great people IMMEDIATELY," Trump tweeted. "I am ready to sign right now. Are you listening Nancy?" Trump tagged House Speaker Nancy Pelosi, Senate Majority Leader Mitch McConnell, White House Chief of Staff Mark Meadows, Republican House Minority Leader Kevin McCarthy and Senate Minority Leader Chuck Schumer in the tweet.
Meadows and U.S. Treasury Secretary Steven Mnuchin had been Trump's main coronavirus plan negotiators until Trump announced on Monday that talks would be halted until after the presidential election. Newsweek reached out to Pelosi's office for comment.
Trump alleged that Pelosi was "playing 'games'" when it came to sending stimulus payments to American workers. "They just wanted to take care of Democrat failed, high crime, Cities and States," Trump tweeted. "They were never in it to help the workers, and they never will be!"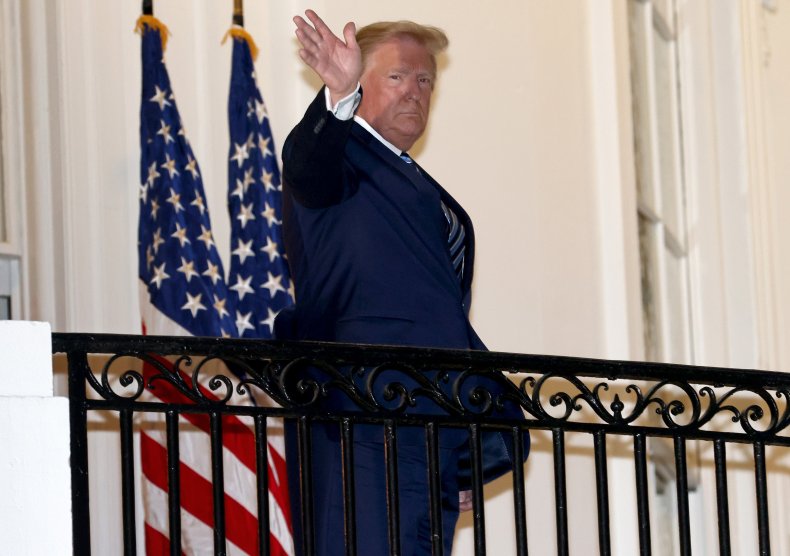 In his Tuesday tweets and retweets, Trump hit on familiar points, such as how allegations that his 2016 presidential campaign colluded with the Russian government were untrue.
"All Russia Hoax Scandal information was Declassified by me long ago," Trump tweeted. "Unfortunately for our Country, people have acted very slowly, especially since it is perhaps the biggest political crime in the history of our County. Act!!!"
Democratic presidential candidate Joe Biden responded to Trump's plethora of tweets with a Twitter post of his. "Get off Twitter," the video read. Biden's accompanying tweet said, "Please."
Some observers have wondered if the medication Trump has been taking for COVID-19 has affected his behavior. Dexamethasone, an anti-inflammatory steroid that Trump has received, has been known to cause side effects such as aggression and mood swings. After his release from the hospital on Monday, Trump said in a Twitter video that he felt "better than I did 20 years ago" after obtaining treatment.
Trump still plans on meeting Biden in-person on the debate stage in Florida in October although some medical experts believe he may still be symptomatic.
"I am looking forward to the debate on the evening of Thursday, October 15th in Miami," Trump posted Monday on Twitter. "It will be great!"