Internet Goes Crazy After Donald Trump Retweets Video of Jaguars: 'They Are Soooo Beautiful and Magnificent!'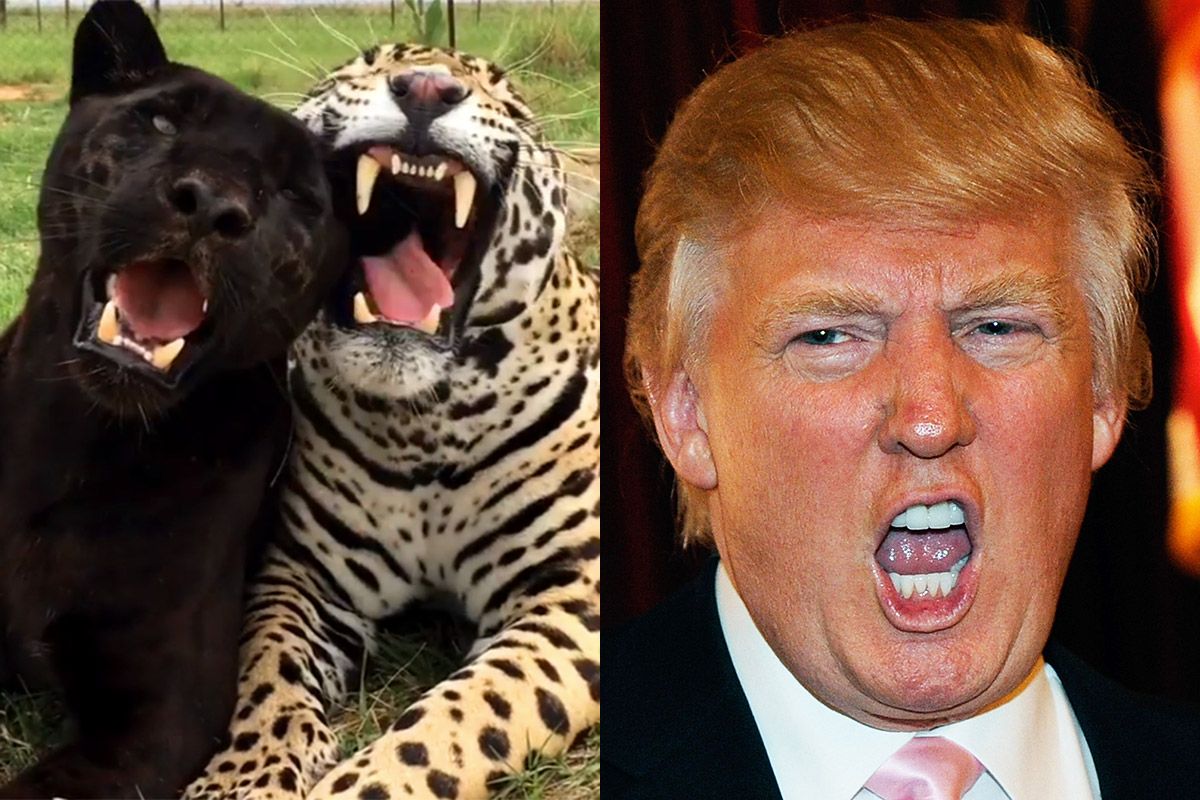 The president of the United States sent Twitter users into a frenzy yesterday after retweeting a social media update in admiration of two jaguars.
Sandwiched between tweets about alleged Russian collusion and an update from the White House about U.S. healthcare, Donald Trump shared the big cat update to his 58 million followers. It was recently posted by a popular wildlife Twitter account with the handle @planetepics.
Alongside the video, the caption read: "They are soooo beautiful and magnificent!" Trump himself did not comment on the short clip—which showed the animals relaxing in the sun.
The @planetepics tweet was posted February 10, but originally published to Instagram on November 29 last year by conservationist and rehabilitation expert Lisa Kytösaho, head of the Western Cape Cheetah Conservation. The initial posted gained more than 350,000 views.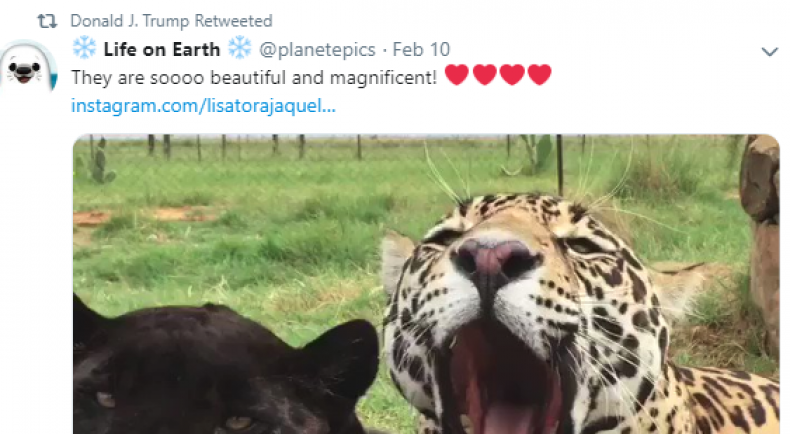 Unsurprisingly, Twitter users jumped on the fact that Trump's own two sons are known to be keen hunters. Photographs emerged back in 2015 showing Eric and Trump Jr. holding up a dead animal during a big game hunting trip which had taken roughly three years earlier.
As noted by Snopes, the fact-checking website, an article published by The Gothamist back in March 2012 reported the men were snapped beside a dead elephant, waterbuck and big cat.
In response to online criticism at the time, Trump Jr. hit back at "PETA crazies," in reference to the People for the Ethical Treatment of Animals, a non-profit rights organization. This week, several of the pictures resurfaced in the wake of the president's Twitter post doting over Jaguars.
"Why is Trump retweeting this when we've seen his family members hunting beautiful wild creatures?" one Twitter user wrote. Another added: "Trump's sons hunt beautiful, emotional animals like this, and of course Trump knows this. Donald Trump is disgusting." Other users suggested it may be linked to the president's admittance that he is not a dog person.
At a political rally in El Paso, Texas, on Monday the president told the crowd his opinions on having a pet dog. To cheers from the crowd, he noted that "Obama had a dog."
He said: "I wouldn't mind having one, honestly, but I don't have any time, I don't have any…how would I look walking a dog on the White House lawn? I don't know…it feels a little phony, phony to me. A lot of people say, 'Oh, you should get a dog.' Why? 'It's good politically.' I said, that's not the relationship I have with my people."
No-one knows the motive behind the tweet, slip of the thumb or intentional. Interestingly, Motherboard reported last year that Trump's much-discussed proposal to build a huge border wall could actually end up destroying the jaguar population in the U.S.