Trump Unveils New Nickname for DeSantis Ahead of Competing Campaign Stops
Donald Trump mocked Florida Governor Ron DeSantis with a new nickname on Saturday night as the pair prepare to campaign apart from one another in Florida ahead of the Midterm elections.
Trump will appear alongside Florida Republican Senator Marco Rubio in Miami on Sunday, while DeSantis will be in Sun City Center as part of his "Don't Tread On Florida" tour.
Ahead of his trip to Florida Trump appeared to take a swing at DeSantis, a potential rival in the race to be named the Republican nominee for the 2024 Presidential Election, during a rally in Latrobe, Pennsylvania.
The former president labeled his rival "DeSanctimonious" while discussing poll numbers that gave him a large lead over DeSantis and former Vice President Mike Pence.
He said: "We're winning big, big, big in the Republican Party nomination like nobody has ever seen before.
"Let's see, there it is, Trump at 71 [percent], Ron DeSanctimonious at 10 percent, Mike at 10 percent. Oh, Mike's doing better than I thought."
While it is unclear what poll Trump was referring to, Newsweek has found the majority of polls do favor Trump over DeSantis if the pair ran in 2024.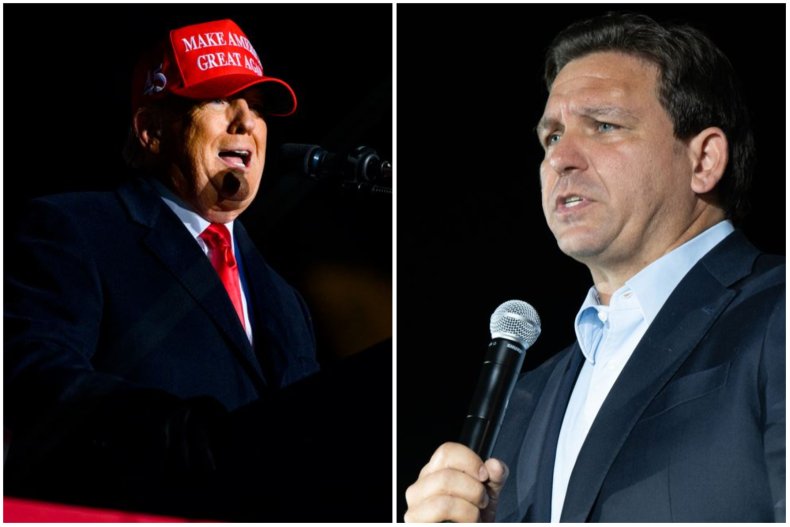 According to polling aggregator FiveThirtyEight, two recent polls by Big Village, carried out between November 2 and 4, gave Trump a lead of 53 percent to 30 percent and 56 percent to 27 percent, respectively.
FiveThirtyEight gave Big Village a "B" ranking and stated it had called 74 percent of races correctly.
But a Victory Insights poll carried out in DeSantis' state of Florida between October 30 and November 1 put Trump and the Governor neck and neck at 50 percent each. Victory Insights was not given a polling rating by FiveThirtyEight.
After using the new nickname for DeSantis, some conservatives voiced frustration that Trump would take a shot at the Governor so close to the crucial Midterm elections.
Matt Walsh, a host on the right-wing Daily Wire website, tweeted: "DeSantis is an extremely effective conservative who has had real policy wins and real cultural wins. Trump isn't going to be able to take this one down with a dumb nickname. He better have more than that up his sleeve.
"Also, nice job launching your public attack against the most popular conservative Governor in America three days before the midterms when we're all supposed to be showing a united front."
Conservative radio talk show host Mark Davis tweeted: "This is not going to go well. Not every Trump fan is a big DeSantis fan, but a broad conservative base that values both has zero desire for this ******* contest."
Thomas Gift, director of the Centre on U.S. Politics Room at University College London, told Newsweek that Trump's "DeSanctimonious" nickname is "classic Trump."
He said: "From 'Crooked Hillary,' to 'Low Energy Jeb' to 'Sleepy Joe,' Trump has a knack for smearing his opponents in a way that cuts to the core of the worst stereotypes about their identity."
Gift also said it was no surprise that DeSantis was polling well in Florida where he is popular, but said most Republicans felt Trump deserved a fresh shot at the White House.
He said: "Ron DeSantis is hugely popular among Republican voters, but given the choice between him and Trump, there's no contest: Trump is the Heavyweight Champion of the MAGA World.
"Many GOP voters think that DeSantis owes his career to Trump, and while they'd likely be happy to support him in a future election, don't think it's yet his turn.
"For the Republican base, their bottom line is this: Trump had the election stolen from him in 2020. So at the very least what he's owed is another chance to grab what's rightfully his in 2024.
"It's not surprising that DeSantis is polling well against Trump in Florida. As governor of the state, he has a "home field" advantage. Most Florida Republicans can't get enough of DeSantis's tough talk, his refusal to back down to Democrats, and his ultimate culture warrior posture that's locked and loaded to 'own the libs.'"
According to Mary Trump, the niece of the former president, Trump has a strong dislike for the DeSantis.
During her podcast The Mary Trump Show, a listener asked who she thinks her uncle would vote for in Florida's gubernatorial race.
Mary Trump said the former president would not vote for Democrat Charlie Crist before saying he may not vote at all.
She said: "I also know he hates Ron DeSantis. So I would not be surprised if Donald didn't vote for anybody. Because, you know, he's a baby."
Newsweek has contacted representatives of Trump and DeSantis for comment.