Ron DeSantis Likened to Prophet Sent by God in New Ad Praised by Wife
A new ad for Florida Governor Ron DeSantis' reelection bid appears to present him as a "fighter" created and sent by God to serve Floridians.
In the video, a narrator is heard telling what seems to be a continuation of the Bible's story of creation, in which God works for six days and then rests on the seventh. The ad's narrator begins by saying that on the eighth day, God "looked down" on his work and decided that he needed a "protector."
"So, God made a fighter," the narrator said as DeSantis is shown in the video. "God said, 'I need somebody willing to get up before dawn, kiss his family goodbye, travel thousands of miles for no other reason than to serve the people, to save their jobs, their livelihoods, their liberty, their happiness.'"
DeSantis' wife, Casey DeSantis, shared the ad on Twitter Friday morning and captioned the post: "I love you, Ron. On behalf of millions of people, never stop fighting for freedom."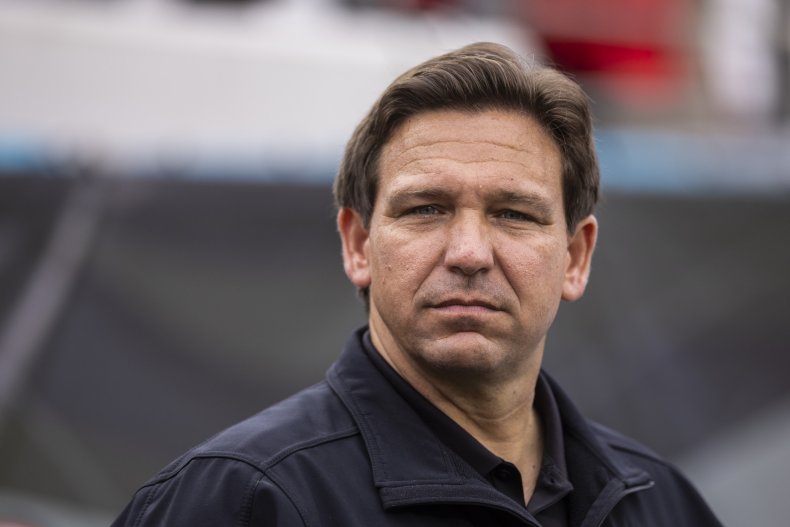 The ad was released in one of the final days before the November 8 midterms, when candidates seeking U.S. Senate, House, statewide and local offices will finally learn if their campaigns have been a success. The incumbent DeSantis appears poised to secure a win over Democratic gubernatorial candidate Charlie Crist, a former U.S. representative for Florida and former Florida governor. FiveThirtyEight's polling average currently shows DeSantis with a 10.3 point lead over his Democratic opponent, with 53.1 percent of support compared with Crist's 42.8 percent.
Throughout the rest of the ad shared by Florida's first lady on Friday, stills are shown of DeSantis as he makes speeches, spends time with his family, poses for pictures with constituents and meets with law enforcement, among other activities.
In these moments, DeSantis appears to be shown as the answer to the narrator's story about God needing someone "to be strong, advocate truth in the midst of hysteria, someone who challenges conventional wisdom and isn't afraid to defend what he knows to be right and just."
"God said, 'I need somebody who will take the arrows, stand firm in the wake of unrelenting attacks, look a mother in the eyes and tell her that her child will be in school. She can keep her job, go to church, eat dinner with friends and hold the hand of an aging parent taking their breath for the last time,'" the narrator says.
The message seems to point to DeSantis' pushback at restrictions amidst the COVID-19 pandemic. Last year, he signed legislation limiting COVID vaccine mandates across the state, and early this year positioned Florida as an "escape hatch" for mandates and restrictions in other states.
Ads are a key tool in campaign playbooks. However, the impacts of ads that are released late in the game before Election Day and as voting has already been taking place across the country may be limited, Dr. Rob Goodman, an assistant professor in Toronto Metropolitan University's Department of Politics and Public Administration, told Newsweek.
NBC's early voting tracker shows that more than 3,863,000 votes have already been cast in Florida alone.
But because former President Donald Trump and other Republicans have questioned the integrity of early mail-in voting, it's possible that "the audience of persuadable voters would skew more Republican than the overall audience as we get closer to the election," Goodman said.
Newsweek reached out to Crist's and DeSantis' campaigns for comment.
Update 11/4/22, 3:10 p.m. ET: This story has been updated with comments from Dr. Rob Goodman.