DeSantis Touts Florida as 'Escape Hatch' for Those Chafing Under 'Authoritarian' Mandates
Florida Governor Ron DeSantis highlighted his state as an "escape hatch" for those seeking to escape "authoritarian" mandates during his State of the State address on Tuesday, even as coronavirus continue to rise in the Sunshine State.
Throughout the COVID-19 pandemic, DeSantis rose to national prominence over his handling of the virus. He received high accolades from many Republicans while drawing ire from some health experts over his staunch opposition of mandates and shutdowns.
He boasted about these policies during his address, pointing to Florida as standing "strong as the rock of freedom."
"In Florida, we have protected the right of our citizens to earn a living, provided our businesses with the ability to prosper, fought back against unconstitutional federal mandates and ensured our kids have the opportunity to thrive," DeSantis said.
He said: "Florida has become the escape hatch for those chafing under authoritarian, arbitrary and seemingly never-ending mandates and restrictions."
DeSantis has been a vocal opponent of both mask and vaccine mandates. He banned schools from instituting mask requirements during the 2021-2022 school year and threatened to withhold the pay of school boards who defied his order to institute mask mandates.
He also sparred with the Biden administration over their vaccine mandate. He threatened to fine any cities and counties in the state that required government employees to be vaccinated $5,000 for each violation.
He used his speech on Tuesday to continue voicing his opposition to mask and vaccine mandates.
"Florida is a free state," he said during his address. "We reject the biomedical security state that curtails liberty, ruins livelihoods and divides society. And we will protect the rights of individuals to live their lives free from the yolk of restrictions and mandates."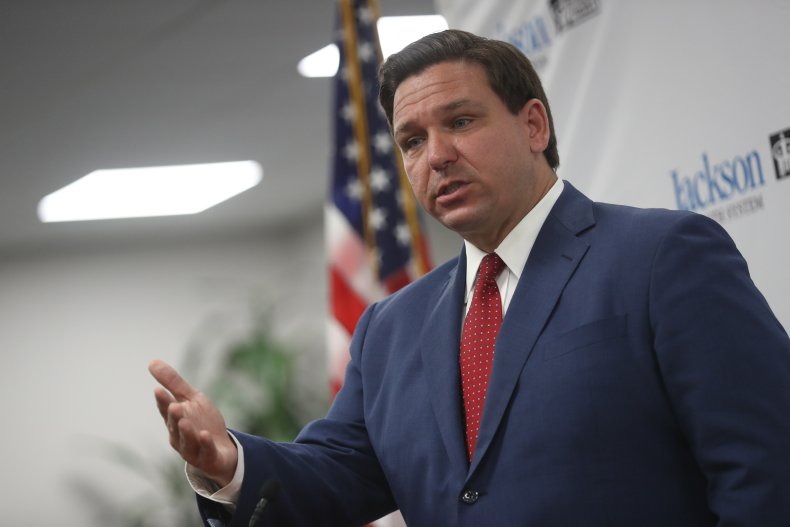 He touted that Florida's economy is the "envy of the nation" as job creation in the state exceeds the national average, as well as his administration's decision to re-open schools. He also blasted the decision for some schools across the United States to pivot to remote learning as cases again rise.
"In pockets across America, schools are closing once again," he said. "These closures are enormously destructive and will not be tolerated in the state of Florida."
Still, his handling of the coronavirus pandemic has faced criticism from some who point to Florida's high rate of infections. The state has one of the highest infection rates at 22,158 per 100,000 people, according to the Centers for Disease Control and Prevention. Only Alaska, Rhode Island, South Dakota and Tennessee have higher rates.
His remarks come as cases soar in the state and the U.S. due to the Omicron variant. On Monday, the state reported 49,548 new cases and 451,549 cases in the last seven days according to the CDC.
Updated 01/11/2022, 1:08 p.m. ET: This story has been updated with the latest number of cases according to the CDC.