Over 800 Florida Doctors Rip 'Reckless' COVID Response From Ron DeSantis
More than 800 Florida doctors have slammed GOP Governor Ron DeSantis, calling his recent response to the surge in coronavirus infections in the state "reckless" while urging him to end his opposition to mask mandates and protect Florida's children.
Public health officials and lawmakers—including Democrats and some Republicans—have criticized DeSantis' response to the rise in virus cases, particularly after he moved to ban local school districts from implementing mask mandates for teachers and students.
The U.S. Centers for Disease Control and Prevention has advised schools to require all students, teachers and staff to wear masks as classes resume this fall, given the surge in new infections driven by the virus's Delta variant.
"Physicians across Florida are concerned about Florida's children and their risk of COVID-19 infections," an open letter, signed by more than 800 physicians in Florida, says.
"As the virus burns through Florida, health care providers feel we are fighting this fire without any leadership from Gov. Ron DeSantis. Blocking communities from making local decisions to protect themselves with his top-down, one-size-fits-all edict will only make matters worse," the letter continues.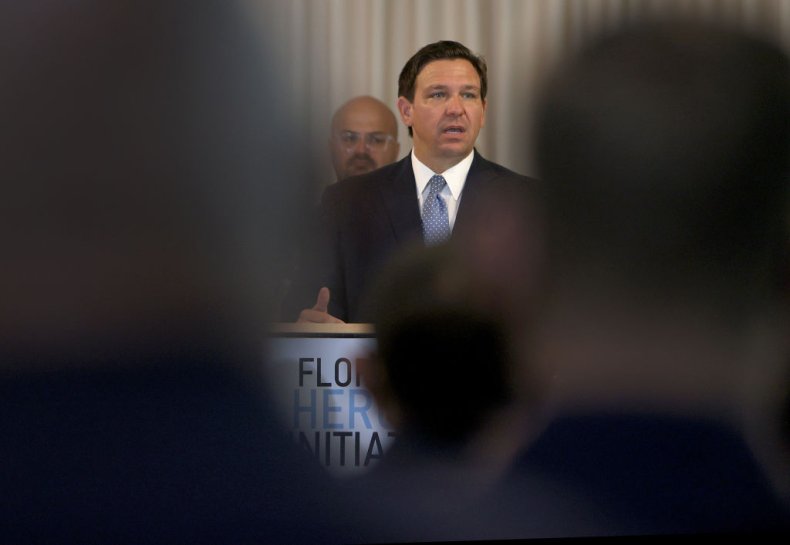 The letter goes on to highlight the significant surge in new virus infections Florida has seen in recent weeks. Florida continues to have the highest number of new daily infections, with a daily average of more than 21,000 reported on Thursday, according to a New York Times tracker.
More than 14,600 Floridians are hospitalized with COVID-19, with the state breaking hospitalization records for the coronavirus in recent days. Daily deaths have surged by more than 240 percent, with just over 160 average daily deaths as of Thursday.
The Florida doctors called on DeSantis to "immediately" do three things to address the public health crisis.
"One, Gov. DeSantis must repeal his reckless executive order and allow and encourage local school districts to implement safeguards that can minimize COVID-19 spread such as mask-wearing. Two, his administration must resume reporting COVID-19 daily data in full. And three, Gov. DeSantis must do much more to get vaccinations in people's arms," the doctors wrote.
Dr. Bernard Ashby, a vascular cardiologist in Miami who helped organize the open letter, told Newsweek that he considers it "highly unlikely" DeSantis will change his position. "I would love to have an audience with the governor, along with other health care professionals, to discuss the science regarding mask use and address any of his concerns," Ashby said.
"I view our effort as a continuation of our ethical obligation to promote the well-being of our patients," he continued. "Our public advocacy is very much a part of that obligation. We see that the health of millions of Floridians is being adversely impacted directly and indirectly by the lack of proactive mitigation measures by the governor. We couldn't just stand by while preventable illness and death continue to occur in our communities, especially amongst our most vulnerable."
Christina Pushaw, press secretary for DeSantis, noted that the doctors who organized the letter are from the Committee to Protect Health Care, a left-leaning advocacy group. She said that "there is clearly a political dimension to the organization."
Pushaw called the letter inaccurate. "The ban on mask mandates is not a 'one-size-fits-all edict.' Every parent in Florida has the freedom to choose whether their own child wears a mask to school or not. Governor DeSantis does not believe the government should make that decision for parents," she said.
"It is disappointing that the medical doctors who signed this letter would put politics over public health and narrative over facts," Pushaw added.
Even some prominent Republicans have criticized DeSantis' response to the outbreak in recent days. Senator Bill Cassidy, a Louisiana Republican, told CNN last Sunday that the Republican governor was going against conservative principles with his effort to block local school districts from implementing masking rules.
"I'm a conservative. I think you govern best when you govern closest to the people being governed. And if a local community is having—their ICU is full, and the people at the local schools see that they've got to stay open, because otherwise children miss out for another year of school, and they put in policy, then the local official should be listened to," said Cassidy, who is also a physician.
The GOP senator asserted, "I do disagree with Governor DeSantis. The local official should have control here," he said.
Update 8/13/21, 3:30 p.m.: This story has been updated with a comment from one of the doctors who helped organize the open letter and a comment from Ron DeSantis' press secretary.