Video of Trump Telling Zelensky To 'Get Together' With Putin Resurfaces
A video of former U.S. president Donald Trump hoping Ukrainian President Volodymyr Zelensky and Russian President Vladimir Putin can resolve their issues has resurfaced on social media.
The video, from the United Nations General Assembly Meeting in 2019, shows the then-president answering questions while sitting next to Zelensky.
"I hope that you and President Putin can get together and solve your problem. That would be a tremendous achievement and I know you are trying to do that," Trump said.
During the short nine-second clip which has been viewed over 1.6 million times, Zelensky does not react to Trump's words.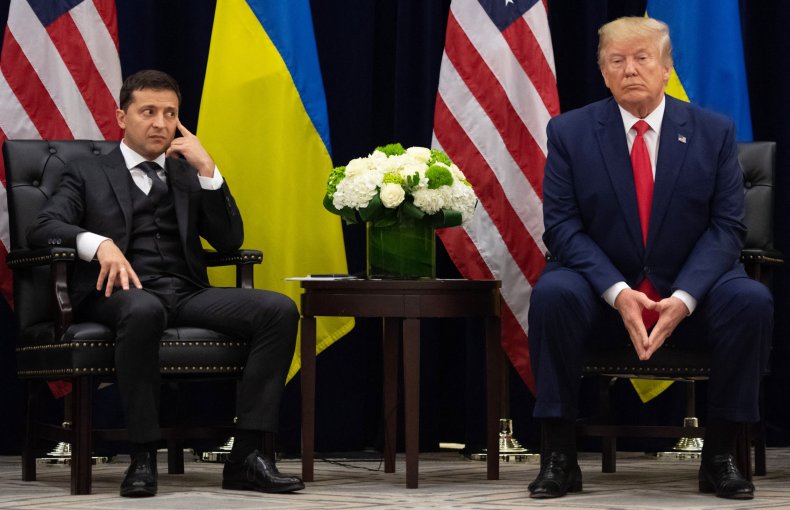 While speaking to reporters during a Q&A, Trump also highlighted how his administration had provided weapons to Ukraine and called on European nations to offer more money and support to the country.
"We are working with Ukraine and we want other countries to work with Ukraine," Trump said.
"When I say work, I am referring to money, they should put up more money. We put up a lot of money.
"I gave you anti-tank busters that frankly… President Obama was sending you pillows and sheets and I gave you anti-tank busters. A lot of people didn't want to do that but I did it."
Earlier during the Q&A, Trump said: "The United States helps Ukraine but I think other countries should help Ukraine much more than they are doing.
"Germany and France, the European Union, they really should help you a lot more.
"I think together we will work on that. They have to feel a little bit guilty about it because they don't do what they should be doing.
"[Ukraine is] very important to the European Union, you are very important strategically.
"I think they should spend a lot more helping Ukraine and they know that also."
Zelensky thanked Trump for his words but clarified that Ukraine didn't need help, it needed support.
Most recently, the former U.S. President has said he hopes Russia and Ukraine can come to an agreement.
On the 55th day of Russia's invasion, Trump called for a stop to the war that has killed over 2,000 Ukrainian civilians, according to the United Nations.
The former president has fallen short of sharing his ideas on how to end the conflict.
"It doesn't make sense that Russia and Ukraine aren't sitting down and working out some kind of an agreement," Trump said in a statement Monday." If they don't do it soon, there will be nothing left but death, destruction and carnage.
"This is a war that never should have happened, but it did. The solution can never be as good as it would have been before the shooting started, but there is a solution, and it should be figured out now—not later—when everyone will be DEAD!"
Newsweek has contacted Trump's office for comment.