Donald Trump Wants 'Anonymous' Author Miles Taylor to Be Prosecuted
During his second Wednesday rally in the battleground state of Arizona, President Donald Trump told a rally crowd in Phoenix that Miles Taylor, the former Department of Homeland Security Chief of Staff who revealed himself Wednesday as anti-Trump writer Anonymous, should be prosecuted.
Taylor penned a 2018 op-ed in the New York Times under the Anonymous pseudonym in which he said there was a resistance movement against Trump within the White House. Taylor was also the author of the 2019 book A Warning which purported to describe the inner workings of Trump's administration. In his author bio, Taylor described himself as an "unidentified senior official" in the White House.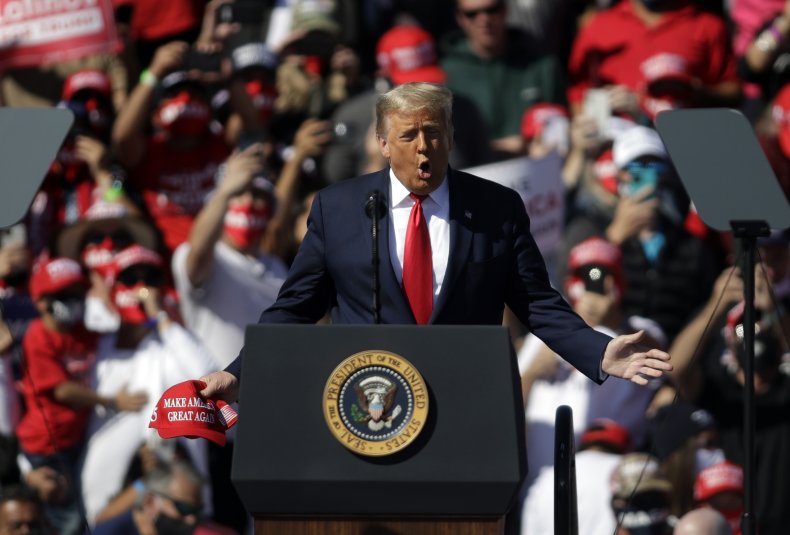 Trump lashed out at Taylor during the rally, calling him a "sleazebag who's never worked in the White House."
"I'll tell you what," Trump added. "This guy, in my opinion, he should be prosecuted."
Newsweek reached out to the Trump re-election campaign for further comment.
Trump, who did not refer to Taylor by his real name during his remarks, said that "Anonymous was a nobody, a disgruntled employee who was quickly removed from his job a long time ago for, they tell me, incompetence."
When Taylor's article in the New York Times was published in September 2018, Trump tweeted that Taylor should be arrested "for National Security purposes."
"Does the so-called 'Senior Administration Official' really exist," Trump wrote, "or is it just the Failing New York Times with another phony source? If the GUTLESS anonymous person does indeed exist, the Times must, for National Security purposes, turn him/her over to government at once!"
Taylor worked for DHS from 2017 to 2019 as chief of staff for both former Secretary Kirstjen Nielsen and current DHS head Chad Wolf.
Suspicions that Taylor had penned the article and the following book were voiced by CNN's Anderson Cooper during an August interview. When Cooper asked Taylor if he was Anonymous, Taylor offered a denial.
"I wear a mask for two things, Anderson," Taylor said. "Halloween and pandemics. So, no."
Taylor is currently employed by CNN as a contributor. Trump tweeted on Wednesday that CNN should fire Taylor.
"They should fire, shame, and punish everybody associated with this FRAUD on the American people!" Trump wrote.
Although Taylor claims to be a Republican, he endorsed Democratic presidential nominee Joe Biden in August. In a Wednesday post on Medium, Taylor encouraged Republicans to place "country over party" by voting for Biden.
"I believe Joe Biden's decency will bring us back together where Donald Trump's dishonesty has torn us apart," Taylor wrote.