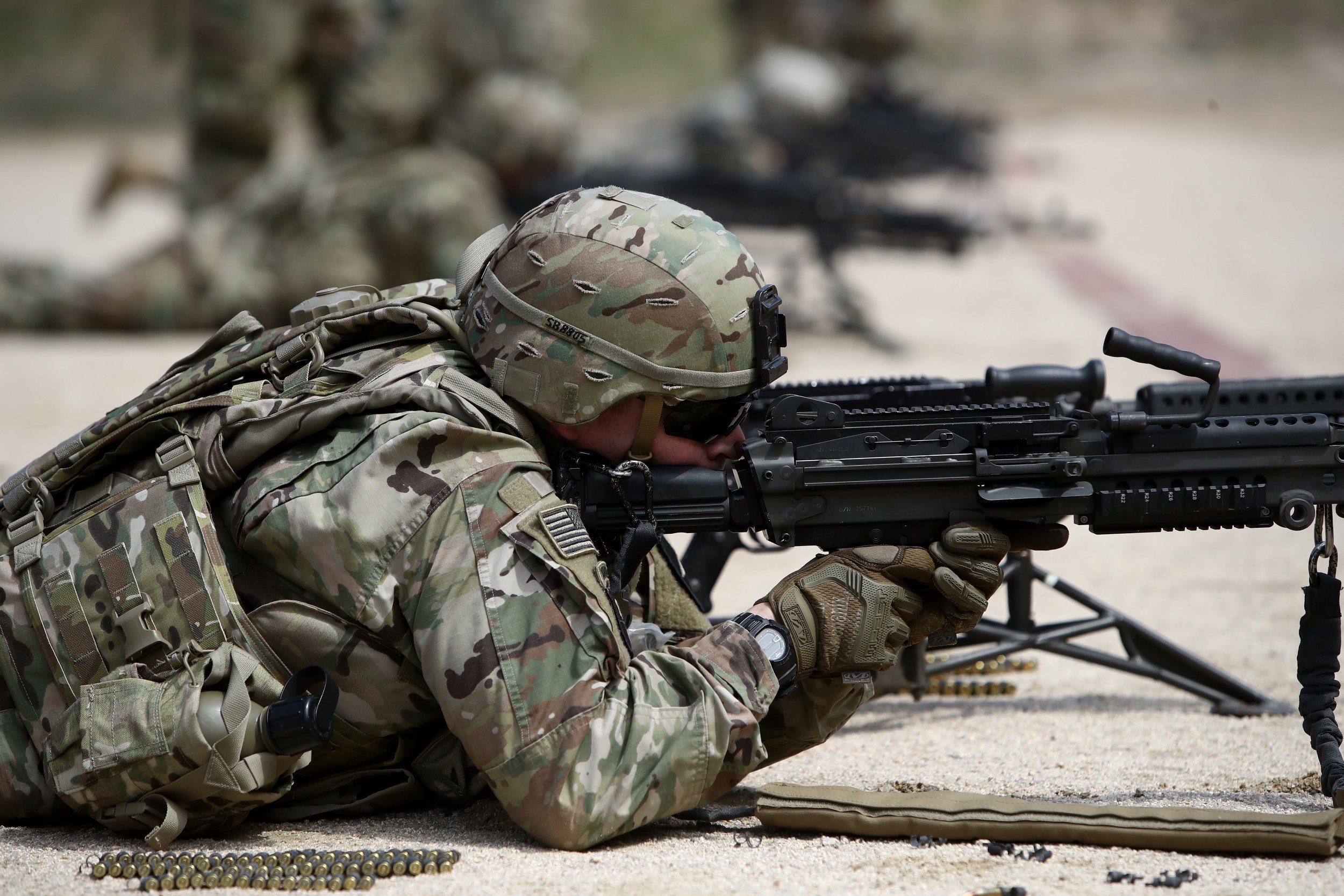 One of President Donald Trump's most evocative promises on the campaign trail was to end what he called the country's "endless wars" that saw Americans deployed across the world in the hunt for an enemy that rarely stood and fought head-on.
Trump's vociferous criticism of the foreign policy strategies pursued by his predecessors resonated with Americans frustrated with almost two decades of war. However, since coming to office the commander in chief has been unable to disengage.
On Thursday, unnamed U.S. officials told Associated Press that the Pentagon was preparing to present plans to send 10,000 more American troops to the Middle East, as reinforcements against a potential threat from Iran.
Though the officials noted that no decision on the deployment had yet been made, the suggestion alone is indicative of how Trump has struggled to draw down American presence abroad, hamstrung by global realpolitik and morphing threats.
Department of Defense data published at the end of March shows the U.S. currently has around 30,000 troops stationed in various countries in the Middle East and South Asia. The majority are in Afghanistan (around 14,000), Iraq (some 5,000), Syria (roughly 3,000) and Turkey (1,600).
Elsewhere, the major U.S. naval base in Bahrain is home to around 4,000 American personnel, while bases in Kuwait account for 2,000. There are 541 troops deployed at facilities in Qatar and another 297 in Saudi Arabia. The remaining personnel in the region are in small deployments in countries including Egypt and the British Indian Ocean Territory, as well as a handful in nations such as Pakistan and Turkmenistan.
Officials said the 10,000 extra troops would be sent in a defensive posture, and that future discussions would look into sending additional Patriot missile batteries, more naval forces and improving monitoring of Iran.
But as Trump has found, once troops are deployed it can be hard to bring them back. In both Afghanistan and Syria, Trump's instinct to withdraw troops have been curtailed by the defense establishment.
In December last year, Trump announced ambitious withdrawal plans for both Afghanistan and Syria. He was later forced to walk back these plans following horrified reactions from international partners and the U.S. defense establishment.
In Syria, the president abruptly announced that the 3,000 troops assisting the fight against ISIS would be withdrawn, leaving the Kurdish-led Syrian Democratic Forces standing alone. Trump claimed U.S. troops were no longer needed, as ISIS had been defeated, though combat operations against the extremist group were still ongoing and did not end until March.
Around the same time, Trump announced he would halve the number of American troops in Afghanistan from 14,000 to 7,000, even as the Taliban inflicted devastating casualties on government forces and became ever more ambitious in their operations.
The two withdrawal plans left senior military figures furious. Secretary of Defense James Mattis—long considered a moderating and "adult" influence on the inexperienced and chaotic White House—resigned, along with Brett McGurk, the special presidential envoy for the global coalition to counter ISIS.
For all the posturing, the administration was quietly forced to retreat on both plans. As the months wore on, it became apparent that far fewer than 7,000 soldiers would actually be leaving Afghanistan, and those who stayed behind would continue to fight in what is now America's longest-running war.
In Syria—where a suicide bomb attack killed four Americans just weeks after Trump's withdrawal announcement—it emerged that hundreds of military personnel would stay behind after the bulk of troops left.
The recent tensions with Iran once again reportedly forced Trump into conflict with some of his senior, more hawkish advisers. While aides, including national security adviser John Bolton, were suggesting a military-led response to perceived threats from Iran, the president reportedly favored a diplomatic solution.
As tensions mounted, Iranian Foreign Minister Mohammad Javad Zarif warned that conflict with Iran would represent another "forever war" for the U.S., something Trump keenly wished to avoid.