Lindsey Graham Suggests Donald Trump's Syria Withdrawal Announcement Led to Killing of U.S. Soldiers in Manbij
After the Islamic State militant group claimed responsibility for a deadly blast in Syria that killed four U.S. servicemen, Senator Lindsey Graham, usually a staunch ally of the president, attributed the incident to Donald Trump's actions, saying he hopes the commander in chief rethinks his Syria policy.
The blast took place just weeks after Trump announced that the U.S. would pull the estimated 2,000 U.S. troops stationed in Syria out of the country because the Islamic State had been mostly defeated. Experts were quick to lambast the president's claim about ISIS's defeat, noting that thousands of ISIS-affiliated fighters are estimated to be in the country.
On Tuesday, Graham, a Republican from South Carolina, spoke in the middle of the confirmation hearing for attorney general nominee William Barr and slammed Trump's Syria policy.
"I hope the president would look long and hard about what we're doing in Syria," Graham said during the hearing. He added that Trump's decision to leave Syria "set in motion enthusiasm by the enemy we're fighting."
"I know people are frustrated, but we're never going to be safe here unless we're willing to help people over there who will stand up against radical ideology. And here's the good news—very few fathers and mothers over there want to turn their daughters over to ISIS, their sons over to ISIS. They just need our help. So to those who lost their lives today in Syria, you were defending America, in my view," Graham said.
Graham had previously warned that a precipitous U.S. withdrawal from the Middle East could lead to another attack on the U.S., like the one on September 11, 2001.
Some Trump administration officials immediately began to walk back the president's previous statements that ISIS had been completely defeated and that the U.S. would pull out of the country in 30 days. The withdrawal is now expected to take place more gradually.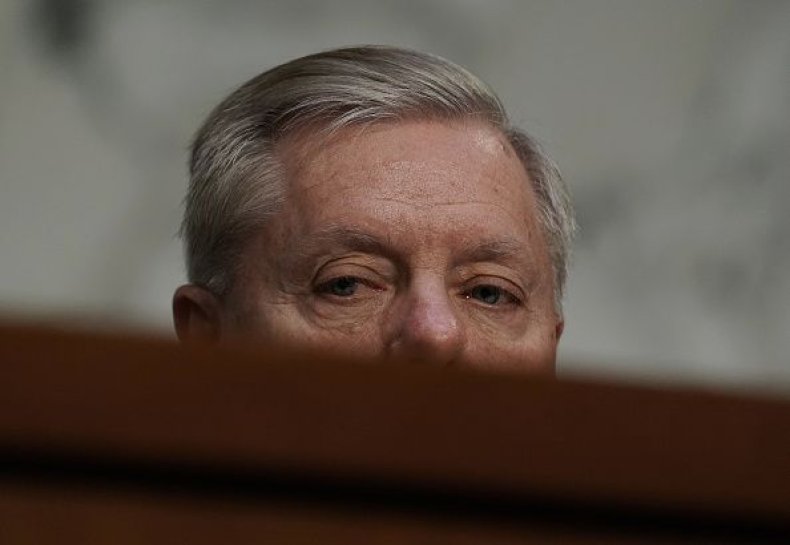 The U.S. has also pledged to protect its allies the Kurds, who have been fighting ISIS with U.S. support, from their enemy Turkey, a NATO ally. Turkey has pledged to strike the Kurds no matter what the U.S. does, and it's unclear how the U.S. administration plans to handle this standoff.
The deadly explosion on Wednesday took place in the Syrian city of Manbij. Trump's White House has not yet released a statement on the attack. ISIS claimed that a suicide bomber set off the blast while coalition forces were patrolling the city. A Defense Department source told Newsweek that four U.S. soldiers were killed and an additional three wounded.
The U.K.-based Syrian Observatory for Human Rights said at least 18 people were killed in the attack, including some civilians, but the number of casualties will likely continue to rise.
James LaPorta contributed to this report.