Trump Says Water Efficiency Standards Mean Showers, Toilets and Dishwashers Don't Work Properly
President Donald Trump has taken another swipe at energy efficiency standards which he says hinder household appliances.
In December, the president claimed during a roundtable with business leaders that Americans had to flush their toilets "10 times, 15 times, as opposed to once" in an apparent criticism of low-flow bathroom fixtures due to Department of Energy (DOE) regulations.
During his rally in Milwaukee on Tuesday, he widened his criticism to how such regulations can impact a range of appliances. He told his supporters he would approve new dishwashers "that give you more water so you can actually wash and rinse your dishes without having to do it 10 times."
Reiterating themes he touched on during his campaign rally last month in Battle Creek, Michigan, the president lamented that other household items do not work properly.
"Sinks, toilets, and showers, you don't get any water… You go into a shower—and I have this beautiful head of hair, I need a lot of water," he said before pausing as the crowd cheered.
He went on: "And you go into the shower, right? You turn on the water. Drip. Drip. Drip. I call the guy, 'Is there something wrong with this?' 'No sir, it's just the restrictor.' We're getting rid of the [water] restrictors, you're gonna have full shower flow."
The president also took aim at how another everyday household item can be affected by the regulations.
"Somebody said, 'Oh, sir, don't mention the light bulb," Trump said. "The new light bulb costs you five times as much, and it makes you look orange. And I was more interested in the orange than I was in the cost," he added.
Minimum water efficiency standards for toilets, showerheads, faucets, and urinals have been in place since the Federal Energy Policy Act was passed under the administration of George HW Bush in 1992.
Household dishwashers, which use about half of the water and energy as those made 20 years ago, cannot not use more than five gallons of water per cycle, according to the Appliance Standards Awareness Project.
The Competitive Enterprise Institute (CEI), a free market group which lobbies for consumer choice, petitioned the DOE in 2018 to revise dishwasher regulations and presented as evidence customer complaints about the appliances.
CEI general counsel, Sam Kazman, told Newsweek that dishwashers used to take one hour to produce a clean load and now "it is two and a half hours and the results are 'neither clean nor dry.'"
"A lot of folks we have spoken to think they have bought a lemon of a machine and they have no idea that the root cause of this is not bad luck, but due to deliberate government regulation," he said.
"On the one hand I think it is entirely natural for the president to take this up as an issue and I think the fact it is catching on like this in terms of public appeal is because it is really touching on the discontent that has been around for a long time," he told Newsweek.
"The mass public out there wants to see reform. People want to have a choice. The folks who criticize our efforts are the sort of folks who eat out a lot and do not do their own dishes," he added.
The Alliance for Water Efficiency sounded the alarm last month at Trump's move to push the EPA to review water efficiency standards.
Citing a study by the Water Research Foundation, it said there was no "significant evidence of multiple toilet flushing" and that the "new generation of plumbing fixtures have been documented to perform very well, and at a very reasonable cost to the consumer."
In a statement to Newsweek, Water Research Foundation president Mary Ann Dickinson said: "As a water efficiency organization, we are understandably very concerned about the president's comments about what he feels is poor performance of plumbing fixtures and appliances.
"We of course disagree with his belief that efficient fixtures don't work."
Meanwhile, the group Plumbing Manufacturers International says on its website that water-efficient plumbing fixtures can lower consumers' water bills and reduces energy usage.
The EPA says that toilets account for nearly a third of water use in the home and new conveniences can use a fifth less water than the standard federal standard of 1.6 gallons per flush. Switching to WaterSense and efficient EnergyStar products can save an average family more than $380 a year, it said.
EPA spokesman Michael Abboud told CNN it is "working with all federal partners, including Department of Energy, to review the implementation of the Federal Energy Management Plan and how its relevant programs interact with it to ensure American consumers have more choice when purchasing water products."
Newsweek has contacted the DOE's Office of Energy Efficiency and Renewable Energy (EERE), as well as the White House for comment.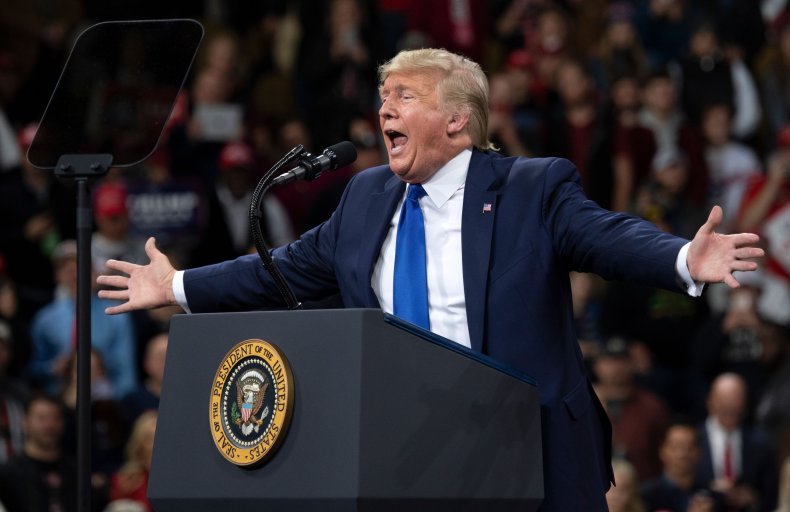 This story has been updated to include a statement to Newsweek by the Water Research Foundation.