What Donald Trump's 45office.com Site Says About His 'Magnificent Legacy'
Amid speculation about what role he might play in the GOP, former President Donald Trump has launched a website which boasts about his time in office and provides a platform for his supporters to keep in touch.
The website 45office.com went live on Monday, according to Fox News, and shows images of Trump with world leaders, outlines his legacy and suggests that he still has a major role to play in the political future of the Republicans.
In the "About" section below an image of Trump as commander-in-chief giving a salute, is a synopsis of what Trump and his supporters have touted as his biggest achievements, such as economic growth, being tough on trade and imposing border restrictions.
There is no mention of the controversies that beset his time in office, such as the two impeachments, accusations of corruption and the charge that he incited a riot in the U.S. Capitol on January 6.
But it does describe how Trump had "launched the most extraordinary political movement in history" in which he "mobilized voters with massive rallies" and "reached America's hearts and minds with his vision for national rejuvenation."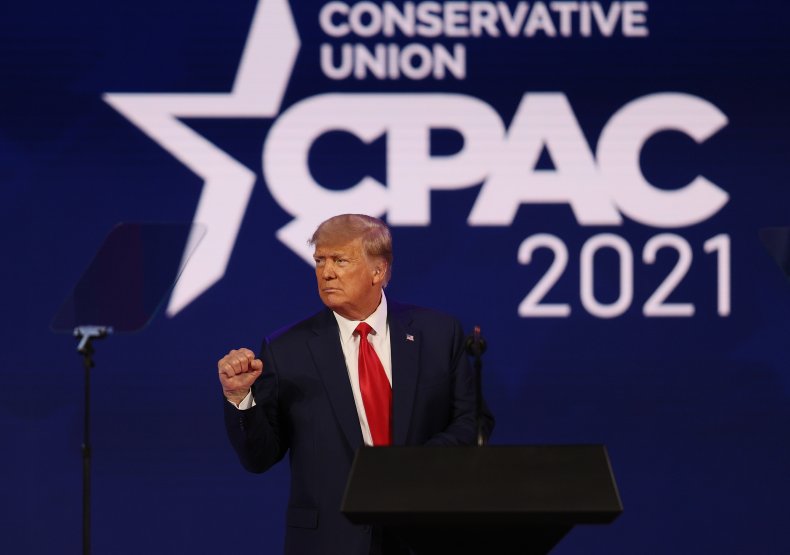 Portraying Trump as an outsider, it said that he "overcame virtually every entrenched power structure," and listed some of his economic achievements.
It said that through his "pro-American policies on trade, taxes, energy, regulation, immigration, and healthcare," Trump had ushered in a period of "unprecedented economic growth, job creation, soaring wages, and booming incomes."
However, referring to what critics would describe as one of his more controversial policies, the website said that Trump had "achieved the most secure border in United States history" and signed agreements with Western partners "to stop smuggling, trafficking, and illegal migration."
It also touted his success in fighting the COVID pandemic, saying that after the "coronavirus plague arrived from China" he imposed travel bans and "launched the greatest national industrial mobilization since World War II."
"Through Operation Warp Speed, the Manhattan Project for vaccines, two different and powerfully-effective vaccine candidates were approved in record time, with more vaccines following quickly on their heels—a true medical miracle," it said.
The website also features the former First Lady Melania Trump and describes her work in classrooms, hospitals and care facilities and that through her "BE BEST" program, she showed her dedication to the "well-being of children."
The website encourages people to get in touch with the former first couple, describing how "Donald J. Trump and Melania Trump enjoy hearing from the American people."
"The Office of Donald J. Trump is committed to preserving the magnificent legacy of the Trump Administration, while at the same time advancing the America First agenda," it said.
The website launch comes as Trump acts as a kingmaker in Republican politics ahead of the 2022 midterm elections.
He has endorsed several candidates and vowed to back primary challengers to target those who challenge his unfounded claims that the 2020 election he had lost had been marred by fraud.
Meanwhile, Trump's former Trump adviser Corey Lewandowski, said this month that the former president planned to launch his own social media platform in the coming months to allow direct communication between him and his supporters.
Trump was suspended from Twitter, Facebook and other social media outlets in the wake of the January 6 attack on the Capitol. Newsweek has contacted Trump's office for comment.