Donald Trump Denies Sending White Nationalist Dog Whistle: 'I've Never Heard That Theory'
President Donald Trump denied Tuesday sending a white nationalist dog whistle when saying at a Texas rally for Ted Cruz the previous night that he was a "nationalist." During a conversation in the Oval Office with reporters, Trump was asked by CNN's Jim Acosta to respond to concerns that his remarks represented coded language. Trump denied he was making any illusion to white nationalism.
"I've never even heard that. I cannot imagine that theory about being a nationalist. I've heard them all," Trump said. "But I'm somebody that loves our country. I don't like it when Germany's paying 1 percent of GDP for NATO and we're paying 4.3 percent. I don't like that. That's not fair."
Trump continued: "I am proud of our country. And I am a nationalist. It's a word that hasn't been used too much, some people use it but I'm very proud. I think it should be brought back. I'm somebody that wants to help other countries of the world but we have to take care of our country. We cannot continue to allow ourselves to be duped on military and also duped on trade."
Trump has frequently been accused by critics of encouraging and siding with white nationalists. After a deadly white nationalist rally in Charlottesville, Virginia, Trump said there was "blame on both sides" and "very fine people" on both sides, referring to white nationalists and counter-protesters.
Trump's one-time chief strategist Steve Bannon formerly ran Breitbart News, a conservative site he once described as "the platform for the alt-right." The alt-right is an umbrella term encompassing white nationalism, racism and populism.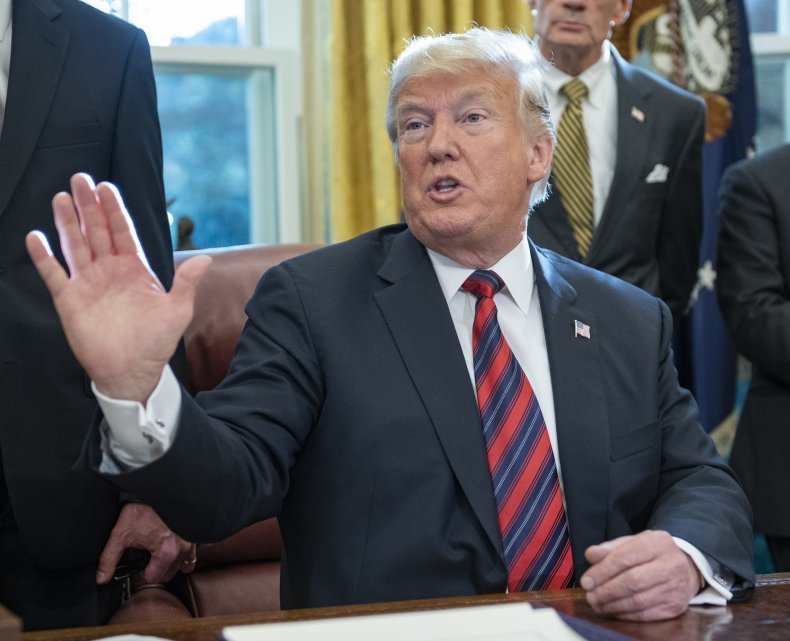 Since the inception of his campaign, Trump has made "America First" and "Make America Great Again" the centerpiece of his rhetoric and policies. Since entering the White House, Trump has withdrawn the U.S. from international treaties he claimed were unfair and imposed tariffs on competitors and allies alike.
But the term nationalism has been criticized over the decades for alluding to divisiveness and provoking conflict.
"Patriotism is when love of your own people comes first; nationalism, when hate for people other than your own comes first," said famous French statesman Charles de Gaulle who led the resistance against Nazi Germany.
Speaking at a rally in Houston on Monday evening, Trump explained for the first time that he was explicitly adopting the term "nationalist."
"You know what a globalist is, right? A globalist is a person who wants the globe to do well, frankly, not caring about our country so much," Trump said. "You know what? I'm a nationalist. Use that word."