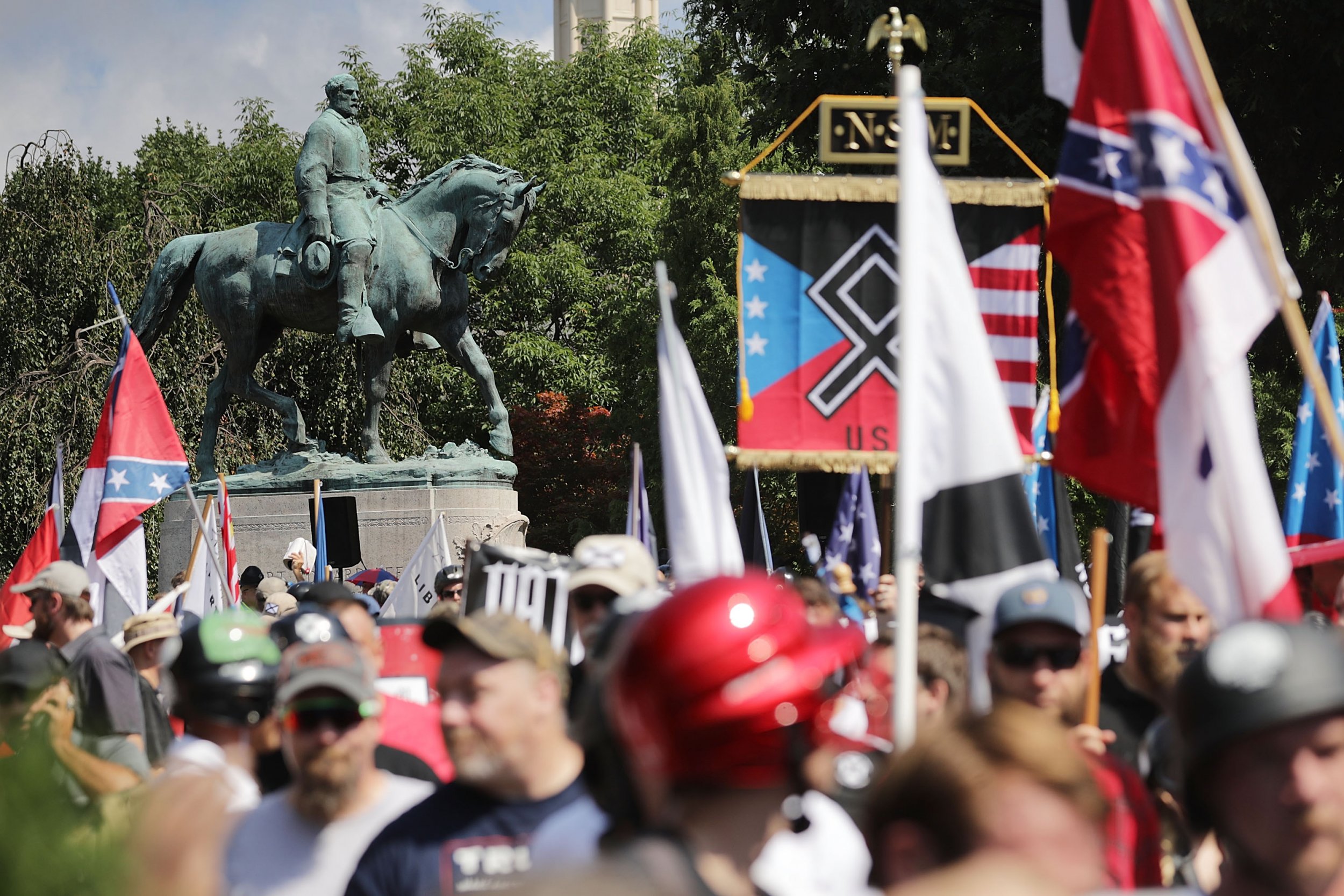 On any given day, the Twitterverse can expect to see a number of tweets from President Donald Trump. An early riser, Trump typically starts his day within the 6 a.m. hour, tweeting about various things like the fake news media, North Korea and most recently Senate Majority Leader Mitch McConnell's apparent incompetence repealing and replacing Obamacare.
Although the president is in the middle of a 17-day working vacation, he's still been up at the crack of dawn, retweeting his pals at Fox & Friends and sharing polls that show he's allegedly a better president than his predecessor Barack Obama.
However, Trump, who is said to be locked into social media and cable news from the moment he wakes up, must have finally decided to sleep in on Saturday, which just so happened to be the day white nationalists caused civil unrest in the tiny town of Charlottesville, Virginia.
Alt-right leaders, neo-nazi groups and white rights activists had organized the "Unite the Right" rally on Saturday in an effort to prevent the removal of a statue of Confederate leader Robert E. Lee. However, the rally was shut down before it could even begin due to a wave of violent clashes between white nationalists and counter-protesters.
The event was supposed to kick off at noon, but by 11 a.m. the city declared a state of emergency after several were injured from fighting, including a University of Virginia police officer. Forty minutes later, Virginia Governor Terry McAuliffe made his own declaration, condemning the hateful rhetoric and violence.
Trump, on the other hand, was ghost. In fact, not long after a state of emergency was declared in the city, Trump's wife First Lady Melania Trump managed to comment on the violence taking place in Charlottesville before her husband, using the nationally trending hashtag #Charlottesville to say, "no good comes from violence."
It wasn't until 12:19 when Trump finally gave some sort of response to the violence occurring in Charlottesville, which he didn't initially attribute to the white nationalists rally specifically.
"We ALL must be united & condemn all that hate stands for. There is no place for this kind of violence in America. Lets come together as one!" Trump wrote.
Some time later, the president made a comment vaguely mentioning Charlottesville directly, calling the incident "sad." However, he failed to criticize white nationalist groups specifically for sparking the violence engulfing Charlottesville, despite the fact that former Ku Klux Klan grand wizard David Duke attributed the rally to Trump's vision for America.
While speaking to reporters on Saturday morning, Duke, who has been a strong advocate of Trump since he first launched his campaign, said the rally was an effort to "take our country back."
"We are going to fulfill the promises of Donald Trump. That's what we believed in. That's why we voted for Donald Trump, because he said he's going to take our country back," he said.
Trump has received vocal support from alt-right and white supremacist groups since announcing his campaign in 2015, and hate groups in America have grown exponentially following his campaign. A Southern Poverty Law Center report released in February regarding extremism in America found the number of hate groups in the nation increased in 2016 to 917 organizations compared to 892 in 2015. The report found anti-Muslim groups, in particular, had nearly tripled, increasing from 34 groups in 2015 to 101 in 2016.