Donald Trump Will Not Recognize Russia's Annexation of Crimea, John Bolton Tells Reporters in Moscow
The U.S. government does not plan to recognize Russia's annexation of the Crimean peninsula from Ukraine, National Security Adviser John Bolton confirmed during a press conference in Moscow on Wednesday.
Russia is currently under international sanctions due to its interference in Ukraine and the annexation of the Crimean peninsula in 2014. Congress has continuously pushed for more sanctions on Russia and Kremlin-linked individuals in response to Russia's interference beyond its borders, despite President Donald Trump's evident lack of enthusiasm for these measures.
Trump has repeatedly stated that he wants to improve relations with Moscow, and recently he advocated for Russia to be readmitted into the Group of Seven, which brings together the world's most advanced economies. Russia was forced to leave what was previously the G-8 due to its annexation of Crimea, which the international community views as illegal.
Reports have suggested, however, that Trump agrees with Moscow's position that Crimea should belong to Russia. On Wednesday, Bolton refused to confirm reports about Trump's comments that Crimea must belong to Russia because people there speak Russian. But when a journalist asked whether Trump would recognize Russia's annexation of Crimea, Bolton responded negatively, but without mentioning the president. "That's not the position of the United States," Bolton confirmed to reporters.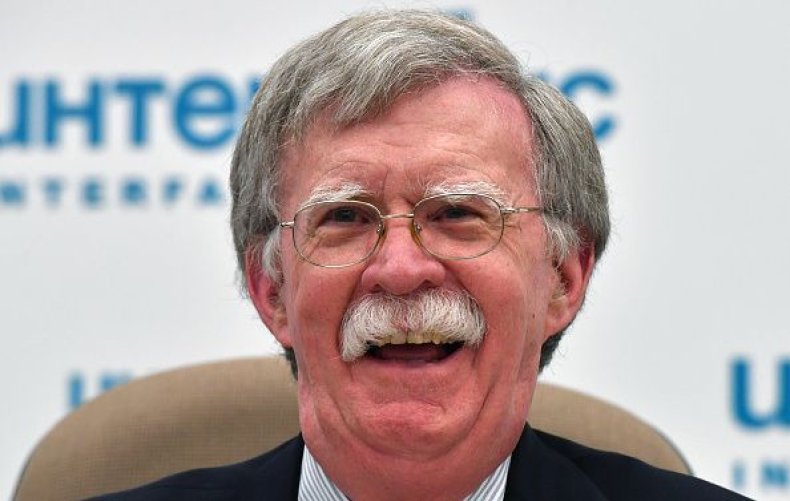 Bolton met with Russian President Vladimir Putin prior to Wednesday's the press conference, where he confirmed that the two men had discussed the anti-ballistic missile treaty, a 1972 arms control deal signed between the U.S. and the Soviet Union that is still in force today.
"We did discuss the ABM treaty and a number of other arms control treaties. Our position remains clear and is exemplified by Trump's budget request for additional arms for the U.S., which Congress approved," Bolton told reporters.
The press conference was held shortly after officials in the U.S. and Russia announced that Trump and Putin had decided on a date and location for a future meeting. During the event, Bolton, a foreign policy hawk known for having lashed out at Russia repeatedly throughout his decades-long career, fielded questions about why it is appropriate for the two leaders to meet when Russia is accused of interfering in the 2016 U.S. presidential election and supporting pro-Russian separatists in Ukraine. Several journalists also called Bolton out for contradicting his previous statements about Russia.
"I appreciate all of this research into my prior writings.… Right now I'm an adviser to President Trump, it's his agenda we're pursuing," Bolton told reporters. "It's important for these two leaders to meet. President Trump and President Putin might be able to find constructive solutions on a number of issues."
The Kremlin issued a vague statement about Putin's meeting with Bolton, saying only that officials were "satisfied."
"It was especially useful precisely in the context of preparing a summit meeting [between Trump and Putin]," Kremlin aide Yuri Ushakov said. "This is actually what John Bolton's visit was planned for, and it yielded the results we had expected."