'Liar' Putin and 'Boorish' Bolton Meet After Years of Hostility: What's the Agenda?
U.S. President Donald Trump's national security adviser John Bolton, is meeting Russian President Vladimir Putin, the Kremlin has announced.
The encounter is the first since Bolton took up the job in the Trump administration. The meeting comes after years of Bolton trading barbs with Moscow in so many areas that Russian Senator Alexey Pushkov called him "a committed adversary of Russia."
Recalling their meeting while Bolton worked for President George W. Bush's White House, senior Russian diplomat Sergei Ordzhonikidze said the Trump adviser's underlying traits were "a hawkish approach towards our country and a boorish attitude towards people."
"He did not have good relations with (Russian Foreign Minister) Sergey Lavrov," Ordzhonikidze told radio station BFM.ru in March, after Bolton's appointment. "An unpleasant character, let's put it that way."
Bolton in return has repeatedly called for a more confrontational stance with Russia and said as recently as last summer that Trump's first meeting with Putin was important, because "Trump got to experience Vladimir Putin looking him in the eye and lying to him directly."
"This is the nature of this regime," he told Fox Business in July. "That is what they do…. They lie."
Related: Giant baby Trump could fly over London as "little Donald" visits U.K. capital
In past comments Bolton has called Russian interference in the U.S. election "a true act of war," branded the idea that Moscow can help counter terrorism "delusional" and demanded Washington push back against Russia by reviving a plan to fast-track Ukraine for NATO membership, USA Today reported.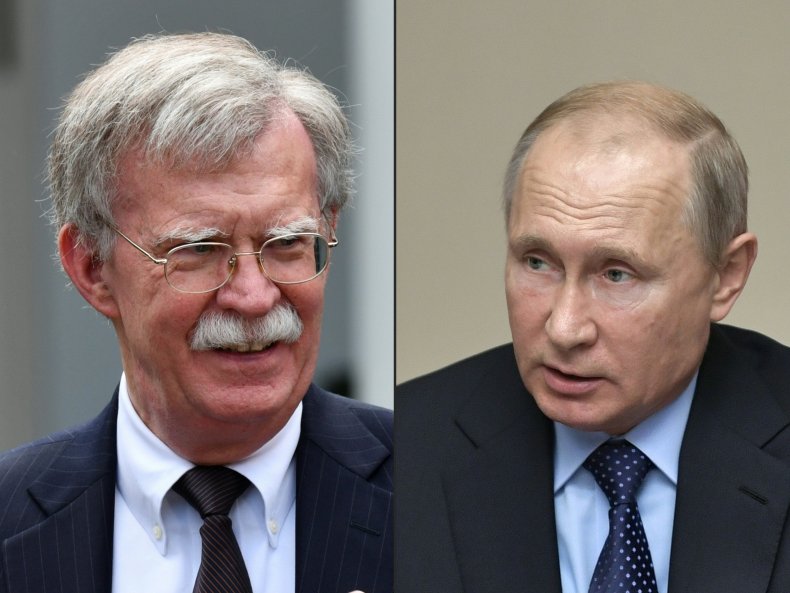 The Kremlin announced Bolton would meet Putin during his one-day visit to Moscow, after the initial reveal that he would meet Lavrov generated speculation about the Russian president also taking part.
The agenda, according to Putin's spokesman Dmitry Peskov, will focus partly on the U.S.-Russia relationship, state news agency Itar-Tass reported. Asked about other issues on the discussion table, Peskov was tight-lipped.
"Such contacts are used to exchange opinions on the main international problems" Peskov said, according to broadcaster RBC. "The selection is pretty clear and obvious. And the discussion [will focus] on this sorry state in which our bilateral relations find themselves."
Putin's former ambassador to the U.S. and now adviser to his administration, Yuri Ushakov, will take part in the meeting and so will members of the Russian security council.
Prodded for more details, Putin's spokesman did not budge, saying: "Let us wait for this meeting first. We will ask Ushakov to briefly inform journalists about the proceedings of Bolton's reception."
Ushakov has voiced frustration with the fact Putin and Trump have not yet conducted a summit, meeting only on two occasions at larger events attended by other leaders.
"On this issue at the moment the calendar is still on March 20th," Ushakov told Russian broadcaster RBC earlier this month, when asked about a presidential tête-à-tête. "That is when, during a telephone call, Trump suggested looking at the possibility of conducting such a meeting. The question of where and when is still up in the air."
Bolton will hold a conference from Moscow at 7:30 p.m. local time (12:30 p.m. ET) on Wednesday, during which he will reveal what, if anything, has been agreed about the potential summit.
Trump already has a scheduled visit to Europe next month, when NATO is holding a summit in Belgium, and he is likely to take a detour to make his first presidential visit to the United Kingdom.
A senior U.S. official, speaking to Reuters on the condition of anonymity, said the White House was already looking at Finland's capital, Helsinki, as the likeliest place for Trump and Putin to meet, but it was Bolton's visit to Moscow that could decide the matter.
Although personally Trump has claimed he wants to improve ties with Russia, the relationship has only deteriorated, owing to evidence of Russian involvement in several incidents of varying nature that the U.S. has repeatedly responded to with sanctions.
Russia's annexation of Crimea from Ukraine in 2014 began the tide of sanctions against Russia under President Barack Obama. But the Kremlin's support for the regime in Syria, alleged interference in the U.S. presidential election and alleged poisoning of former double agent Sergei Skripal in the U.K., has compounded the issues on which Washington and Moscow disagree.