Donald Trump on Wiretapping, and Four Other Times He Didn't Mean Exactly What He Said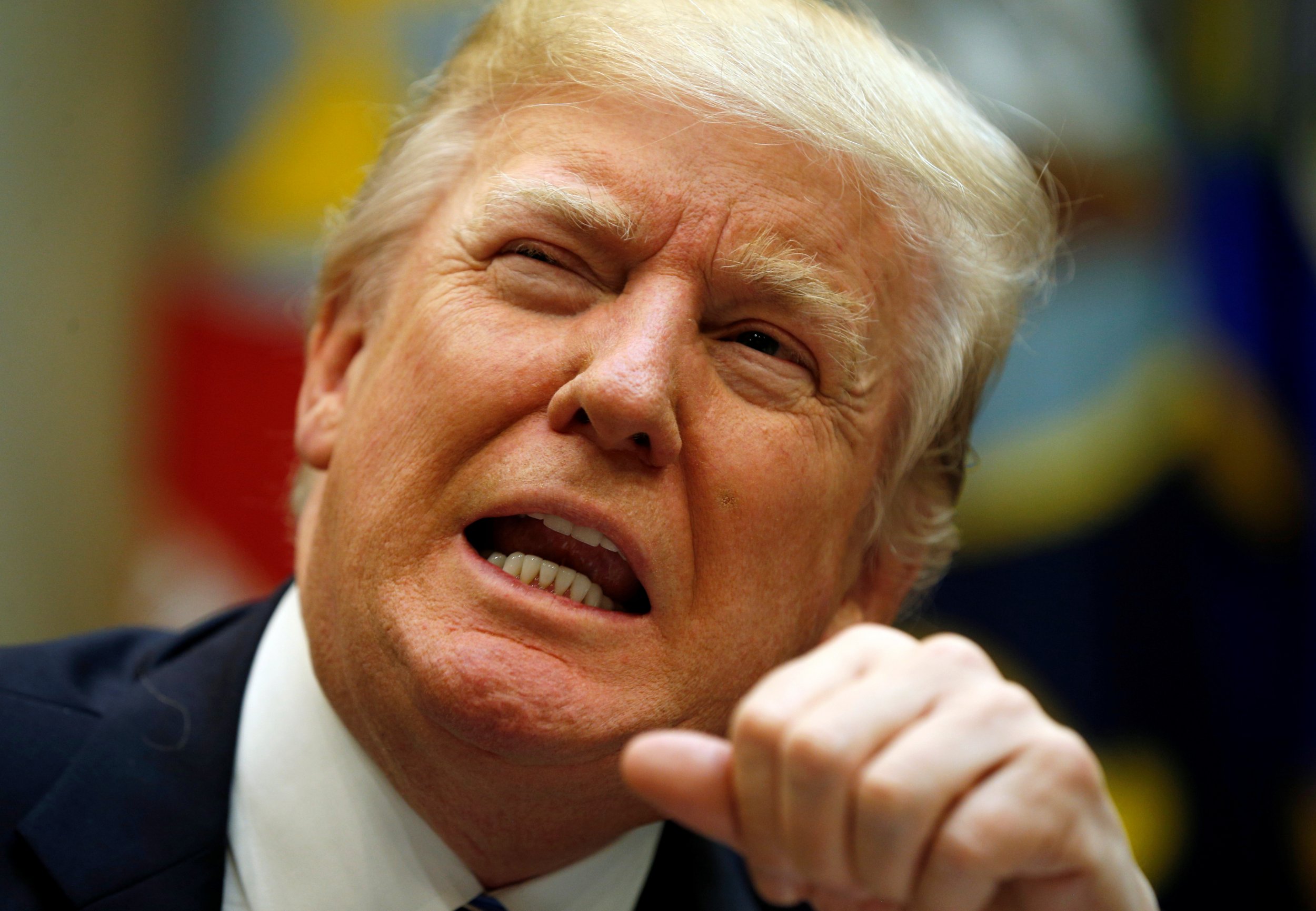 Welcome to the world of alternative facts. Where sometimes, to paraphrase George Orwell, two and two isn't four. Sometimes it's five, three or all of them at once. In the same way, just because the president claimed his predecessor wiretapped him, doesn't mean he actually meant it. You might have thought he did if you saw his tweet of March 4:
But White House press secretary Sean Spicer explained on Monday. "He doesn't really think that President Obama went up and tapped his phone personally," Spicer said. "The president was very clear in his tweet that it was, you know, 'wiretapping.' That spans a whole host of surveillance types of options."
This isn't the first time that Trump has said something that his aides have had to explain the meaning of afterwards. Here are four other times the president has been misunderstood.
Manmade climate change—is it real?
On November 22, Trump met with The New York Times for an on-the-record interview. During the lengthy, and often rambling conversation, he touched briefly on the issue of climate change. "I think there is some connectivity [between human activity and climate change]," Trump said. Vowing to keep an open mind on the issue, the then-president-elect added: "It's a very complex subject. I'm not sure anybody is ever going to really know."
Luckily, Reince Preibus was able interpret Trump's message. Preibus said that Trump was sympathetic to climate change denial, despite the masses of scientific evidence that says global warming is manmade. "As far as this issue on climate change, the only thing he was saying, after being asked a few questions about it, is, 'look, I'll have an open mind about it,'" Priebus told Fox News. "But he has his default position, which is that most of it is a bunch of bunk. But he'll have an open mind and listen to people."
Trump wants more nukes—or does he?
Ah, the rarest of alternative facts. Trump says one thing; his aides say he didn't mean it—and then he says he did. The date was December 23, and by that point we were all down the rabbit hole. It began, as these things often do, with a tweet from Trump:
Trump's then-senior communications adviser Jason Miller scrambled to explain that his boss didn't want to increase America's nuclear arsenal but instead was referring to combating nuclear proliferation. "President-elect Trump has also emphasized the need to improve and modernize our deterrent capability as a vital way to pursue peace through strength," Miller added.
Crisis averted. That is until December 24 when Morning Joe host Mika Brzezinksi said Trump told him: "Let it be an arms race. We will outmatch them at every pass and outlast them all."
Thankfully Spicer was on hand to have the final word. There wouldn't be an arms race, he told NBC anchor Matt Lauer "because [Trump] is going to ensure other countries get the message he is not going to sit back and allow that. What's going to happen is they will all come to their senses and we will all be just fine."
Health insurance for everyone?
In January, in an interview with the Washington Post, Trump made a bold promise. "We're going to have [health] insurance for everybody," Trump said. "There was a philosophy in some circles that if you can't pay for it, you don't get it. That's not going to happen with us."
This was Obama's goal, and something he failed to achieve. Many Republicans, however, strongly disagree with universal insurance, opposing further government intervention in the healthcare. Many republicans believe universal access to insurance rather than universal provision. And these Republicans were at pains to point out that that's what Trump really meant—John Thune, the third-ranking Senate Republican claimed that Trump's statement on universal insurance was in line with the Republican line. "I think that syncs up with what our members have been saying, that we think everybody ought to have access to affordable health care insurance," said Thune. "I assume that's what he means by that statement and that's how we're proceeding."
Trump's taxes—to be released or not to be?
Back in September, during the first presidential debate, Trump told viewers he would divulge his tax return. "It'll be released," he said. "As soon as the audit is finished, it will be released."
The months slipped by and he revealed no tax return. Kellyanne Conway explained what was going on. On January 22, she told ABC that Trump wasn't going to release his return, because "people didn't care." This was in response to being questioned about a petition with over 100,000 signatures calling for Trump to make his return public.
A day later, however, and Conway had changed her mind. Perhaps she had misunderstood Trump because on January 23 she tweeted : "On taxes, answers (& repeated questions) are same from campaign: POTUS is under audit and will not release until that is completed."
Almost two months later, and there is still no tax return.