Video Resurfaces of Trump Saying George W. Bush Should've Been Impeached and Praising 'Very Impressive' Nancy Pelosi
In a resurfaced interview from 2008, President Donald Trump praised House Speaker Nancy Pelosi and shared reasons why he felt then-President George W. Bush should have been impeached.
CNN anchor Wolf Blitzer shared the clip on Twitter ahead of the House of Representatives' impeachment vote on Wednesday. Trump is expected to become the third U.S. president in history to be impeached by the House.
"We spoke about House Speaker Nancy Pelosi and he then offered his thoughts about impeachment," Blitzer captioned the clip. In the 11-year-old interview, Trump spoke highly of Pelosi, telling Blitzer that he'd met Pelosi and was "impressed by her." Trump also called her "a very impressive person" and said he liked her "a lot." .
Trump went on to criticize Pelosi for not impeaching Bush. "I was surprised that she didn't do more in terms of Bush and going after Bush," he said. "It just seemed like she was going to really look to impeach Bush and get him out of office, which personally, I think would've been a wonderful thing."
Trump elaborated on Bush's offenses. He cited false claims that Iraq held weapons of mass destruction being used to enter the Iraq War. "He got us into the war with lies," Trump told Blitzer. "Bush got us into this horrible war with lies, by lying, by saying they had weapons of mass destruction, by saying all sorts of things that turned out not to be true." A 2004 Senate report had found the Bush administration's statements on weapons of mass destruction to be misleading.
Trump also compared Bush's offenses to President Bill Clinton's. "Look at the trouble Bill Clinton got into with something that was totally unimportant, and they tried to impeach him, which was nonsense," he said. The articles of impeachment brought against Clinton, the last U.S. president to face impeachment prior to Trump, cited perjury and obstruction of justice.
The 2008 interview bore little resemblance to Trump's 2019 comments about Pelosi. On Tuesday, Trump penned an open letter to the Speaker of the House, claiming that "instead of putting our country first, you have decided to disgrace our country further" by proceeding with the impeachment inquiry. Trump also accused Pelosi of pursuing the impeachment for "selfish personal, political, and partisan gain."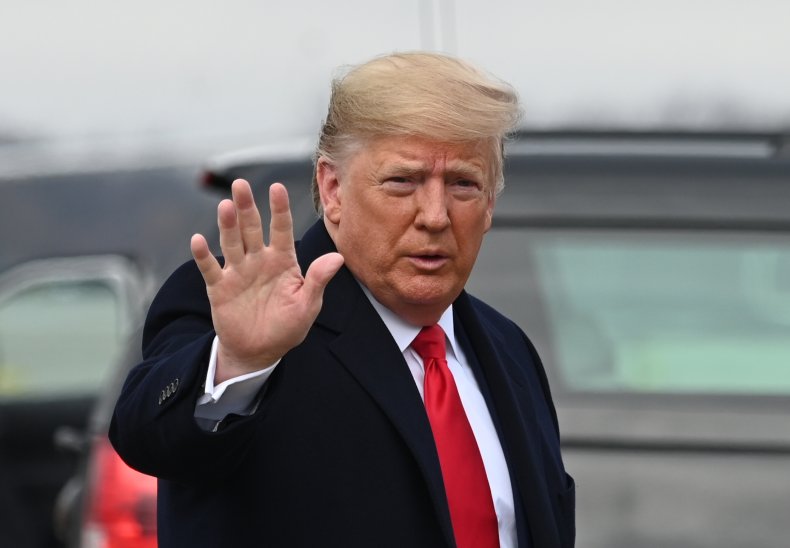 In a Wednesday tweet, Trump wrote that Pelosi would "go down in history as worst Speaker." The president also used the platform to once again proclaim his innocence in the scandal stemming from his requests to the president of Ukraine to launch investigations into Democratic presidential candidate Joe Biden and his son ahead of the 2020 election. "Can you believe that I will be impeached today by the Radical Left, Do Nothing Democrats, AND I DID NOTHING WRONG," he wrote.
On Tuesday, Pelosi encouraged House Democrats to vote for impeachment, in a letter. "Very sadly, the facts have made clear that the President abused his power for his own personal, political benefit and that he obstructed Congress as he demanded that he is above accountability, above the Constitution and above the American people," she wrote. "In America, no one is above the law."
Trump's, Pelosi's, and Bush's offices did not immediately respond to request for comment.