Why Donald Trump's Women's Health Week Statement is Full of Hypocrisy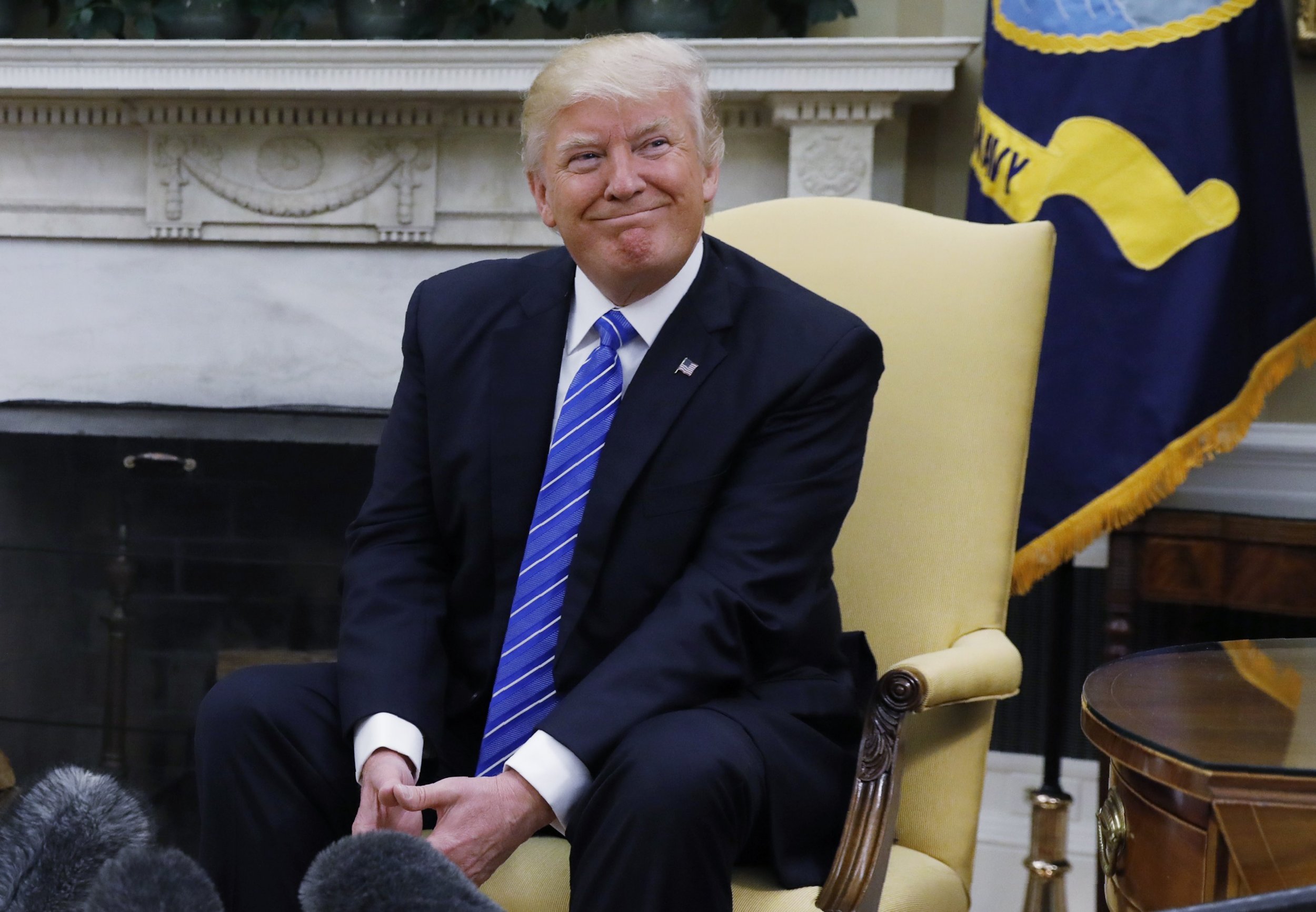 President Donald Trump and standing up for women's health aren't two things you'd put together. Yet on Sunday night, Trump released a statement to mark Women's Health Week, detailing how his 2017/2018 federal Budget will "enable access to the critical healthcare services women need."
Published on Sunday night shortly after 6 p.m., the statement was easy to miss. National Women's Health Week begins each year on Mother's Day and is, according to the Centers for Disease Control and Prevention, "a reminder to women to take care of themselves, and to make their health a priority."
In his statement, Trump says: "We recognize the importance of providing women access to the best, evidence-based health information and care." This might strike some as strange, given that one of the first things Trump did as president was sign an executive order barring federal funding for international organizations that discuss abortion as a family planning option. Known as the Mexico City Policy (because President Ronald Reagan announced it in 1984 during a United Nations population conference in Mexico City), and also called the "global gag rule," Trump is the latest president to enforce it. (Democratic administrations have typically rescinded the policy while Republicans have reimposed it.) The January decision seemed symbolic of Trump's desire to show solid anti-abortion credentials from the very beginning of his presidency.
Trump's statement Sunday was particularly poorly timed. On the same day as its publication, the Christian Broadcasting Network reported that Trump is seeking to expand the Mexico City Policy. The new law, called "Protecting Life in Global Health Assistance," will reportedly provide nearly $9 billion to programs that discourage abortion and family planning.
Trump also stated: "Ensuring affordable, accessible, and quality healthcare is critical to improving women's health and ensuring that it fits their priorities at any stage of life." Dr. Anne Davis, consulting medical director at Physicians For Reproductive Health, asks: "Is anything happening that would make that true?"
Related: Oklahoma House declares abortion murder
"It seems that those are some noble ideas," she says. "I would say that they sound broadly appealing to women and the people who take care of them, but there is a giant chasm between those principles and outcomes and the reality of who has been appointed to lead the health care agencies in our country and the nuts and bolts and guts of the new health care legislation that's been put together in the form of the American Health Care Act."
Davis speaks of three Trump appointees who form the "royal flush of trouble for women's health." Tom Price, Secretary of Health and Human Services, "has stated clearly that he opposes contraceptive coverage for women, which is really the backbone of most medical care that women get when they're in their reproductive years," says Davis. Price, himself a physician, said last week that he prefers a faith-based solution to America's opioid crisis rather than a medication-assisted one.
Additionally, Teresa Manning, who was tapped by Trump to be the Department of Health and Human Services' deputy assistant secretary for population affairs, is an anti-abortion activist who has said that birth control doesn't work. Charmaine Yoest, now the assistant secretary of public affairs at HHS, is a former president and CEO of anti-abortion group Americans United For Life and is someone who, Davis, "has built her entire career on dismantling abortion rights in this country."
The three are examples of positions filled by people who are "completely outside the mainstream of medicine," says Davis. "We don't have people who are in some way disinterested or uninformed or neutral, these are people who are actively hostile and antagonistic to women's health care and they are being put in charge. That puts us in a dire situation."
Critics of the American Health Care Act, a so-called "replacement" of the Affordable Care Act that was passed by the House of Representatives on May 4, say women will be affected in a number of ways. That could be through proposed caps to Medicaid spending; according to the Kaiser Family Foundation, one out of five women in the U.S. currently uses Medicaid for health coverage. Access to contraceptives and abortion would be further restricted than it already is.
In his statement, Trump also points out that: "Today, women are living longer, healthier lives than their mothers" and "The number of women dying from heart disease and cancer—the top two killers of women in America—has been decreasing for decades." While true, he forgets to mention the high rates of maternal mortality in the U.S., a "national shame," according to Davis.
While Trump states that "women should have access to quality prenatal, maternal and newborn care," the maternal mortality rate in the U.S. is among the highest in developed nations, and is one of the few countries where the rate has risen in recent years. It more than doubled between 1990 and 2013, from 12 deaths per 100,000 births to 28 deaths per 100,000 births, according to the World Health Organization.
The burden of maternal mortality in the U.S. primarily falls on black women and poor women. "It hasn't improved. It is higher than it needs to be," says Davis. "When we look at what happens when women lose their lives during the pregnancy, much of it is preventable and we're not going to be able to improve it if women don't have health insurance. How do you decrease maternal mortality without health insurance?"