What Does Donald Trump's Writing Style Say About the 45th President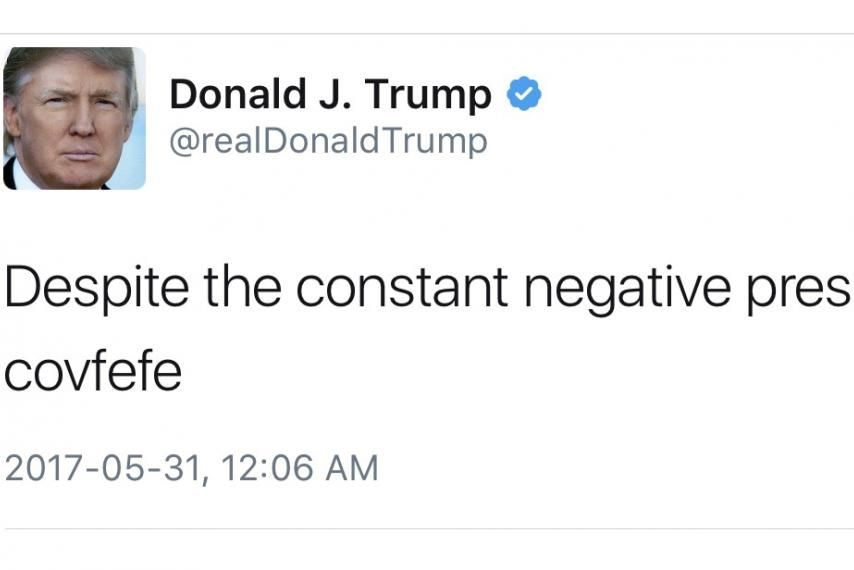 President Donald Trump, perhaps over-caffeinated from his twelfth can of Diet Coke, took to Twitter on Tuesday to address accusations of sexual misconduct:
Much has been written (and rightly so) of the rank misogyny underlying this swipe at Democratic Senator Kirsten Gillibrand. Less egregious, but still baffling, is his application of quotation marks to the word 'begging.' Quotation marks serve various purposes — such as signaling direct speech, unusual usage or ironic intent — none of which seem to apply here. This could be dismissed as one of Trump's many amusing typos, but for the frequency with which he makes the error:
Interpretations differ regarding these scariest of scare quotes. Are they intended to give Trump room to walk back his wilder claims, a la Sean Spicer's squirmy defense of the 'wire tap' libel? Are they an attempt to strengthen his argument with the implied words of some unnamed source? Or are they merely there for emphasis, allowing Trump to take a break from his beloved capitals and exclamation marks? (SAD!) Given the deranged strategy that somehow resulted in his election, it is tempting to search for method in Trump's punctuation madness. Occam's Razor, however, suggests a simpler explanation: the president has no idea how to use quotation marks and, never one for self-improvement, opts instead to chuck them in and hope for the best.
There's a good amount of evidence to support this reading: we generally pick up grammatical rules not from rote learning, but rather by the example of the books we read. And, of the many accusations that could be leveled at the commander-in-chief, biblophilia is not one of them. Donald J. Trump is a man credited with writing more books than he is likely to have read (nineteen, to be precise, including 1987's The Art of the Deal and 2007's Think Big and Kick Ass). His antipathy towards the written word is widely reported. According to the Washington Post, he does not feel a need to read, considering himself able to make good decisions "with very little knowledge other than the knowledge I [already] had, plus the words 'common sense,' because I have a lot of common sense and I have a lot of business ability." In fact, Trump has gone so far as to suggest that, for him, reading is not only unnecessary, but would actively be a hindrance: "A lot of people said, 'Man, he was more accurate than guys who have studied it all the time.' "
Trump's aversion to literature is unusual in POTUS-es of the modern era. The famously studious Barack Obama said that reading afforded him an invaluable chance to "slow down and get perspective " and "get in somebody else's shoes." Even George W. Bush, the previous gold standard for presidential dumbness, consumed books with pretzel-like rapidity, engaging Karl Rove in a years-long read-off. In contrast, Trump prefers to chat on the phone with acquaintances and watch copious amounts of cable news. This can be attributed, in part, to his notoriously short attention span: White House aides have taken to providing Trump with single page documents featuring plentiful pictures, maps and graphs, while the National Security Council sprinkles reports with his name in order to keep the President engaged on the subject of America's defense.
If I could somehow force The Donald to read one book (presumably with the aid of the eyelid-hooks from Kubrick's Clockwork Orange) it would be Charles Dickens' timeless A Christmas Carol.* It was the many similarities between Trump and heartless rich guy Ebenezer Scrooge that inspired my parody, Trump's Christmas Carol (tagline: 'God Help Us, Everyone!') Rereading Dickens' original, I was particularly struck by its resonance in the Trump era. Take the following, in which the Ghost of Christmas Present smacks down Scrooge's suggestion that the poor should die and decrease the surplus population:
"Will you decide what men shall live, what men shall die? It may be, that in the sight of Heaven, you are more worthless and less fit to live than millions like this poor man's child. Oh God! To hear the Insect on the leaf pronouncing on the too much life among his hungry brothers in the dust!"
While a Scrooge-style redemption is probably off the cards, I would like to believe that Dickens' tale might just give Trump pause in dismantling Obamacare, or instituting a Tax Bill to siphon wealth from the working class. At the very least, it might help him to avoid writing like this:
*Incidentally, former Press Secretary Sean Spicer seems to be under the impression that A Christmas Carol is literally a collection of Christmas carols:
Lucien Young is a comedy writer and author based in London. His latest book, Trump's Christmas Carol, can be purchased here.