Donald Trump Is Misjudging China, Wall Street Analyst Says: 'They're Not Going to Change Their System'
President Donald Trump's efforts to alter relations between Chinese businesses and the government will fail, a veteran Wall Street economist warned, and recent U.S. escalations in the trade war are making an agreement less likely.
"The odds are slipping," Yale University senior fellow Stephen Roach, who was previously the chairman of Morgan Stanley Asia, said Wednesday while speaking with CNBC's Trading Nation.
"To the extent that we're attempting to get China to negotiate on some of these big structural issues, like the role of state-owned enterprise, like its focus on providing industrial policy support for leading technology industries, they're not going to back down on that. They may change the words, they may change their rhetoric, but they're not going to change their system. And I think a lot of hard-liners in the Trump administration are looking for them to do that," he said.
Last week, Trump declared a "national emergency" and signed an executive order prohibiting transactions involving information and communications technology posing "an unacceptable risk to the national security of the United States." (The order did not explicitly name China.)
The Commerce Department's Bureau of Industry and Security also said last week it would add Chinese telecommunications and electronics company Huawei to its "Entity List," thereby prohibiting U.S. companies from selling or transferring technology to Huawei without government approval. The administration loosened restrictions slightly this week, saying it would permit some 90-day exemptions on the blacklist, but the government continued to take aim at Huawei. Secretary of State Mike Pompeo accused the company of lying about its ties to Beijing on Thursday.
Responding to Huawei being placed on the Entity List, China implied the U.S. was abusing claims of national security. "China has emphasized many times that the concept of national security should not be abused, and that it should not be used as a tool for trade protectionism," said Gao Feng, a commerce ministry spokesperson. "China will take all the necessary measures to resolutely safeguard the legitimate rights of Chinese firms."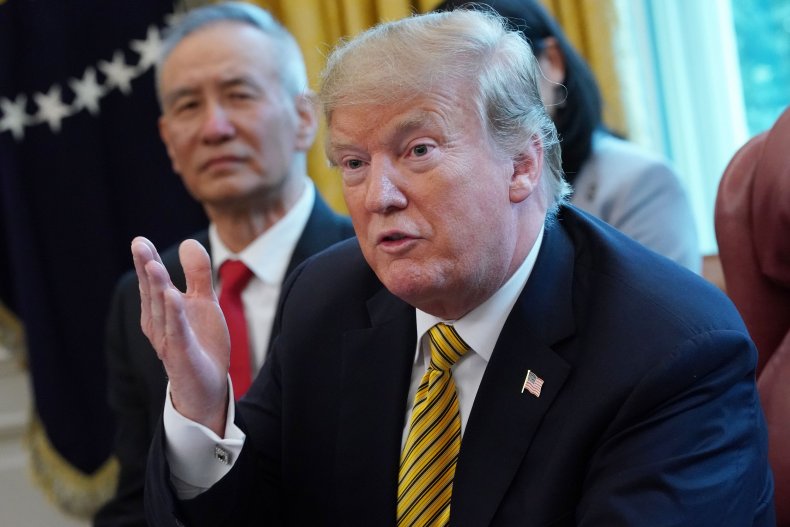 Analysts have warned that the measures taken against Huawei, which distributes more phones worldwide than Apple and shipped 59 million phones in the first three months of 2019, could further inhibit a trade deal between Beijing and Washington.
The Trump administration is reportedly also considering placing Chinese video surveillance company Hikvision on the Entity List. Last month, more than 40 bipartisan lawmakers wrote a letter to members of the Trump administration urging sanctions for China's alleged human rights violations of ethnic Uighurs, a mostly Muslim group, who are being held in mass detention centers. The letter also said Hikvision was possibly "complicit in gross violations of human rights" for providing training or equipment to officials involved in the internment actions, which United Nations experts said resulted in the detainment of over 1 million Uighurs and other Muslims.
Roach said that U.S. measures against private companies signaled that the trade war, which intensified earlier this month, was moving away from being settled.
"We have to be less hopeful now because not only do we have the breakdown of the bilateral negotiations between the two countries, but we have this escalation of country specific moves by the U.S. against Huawei and the latest one against this video surveillance company," Roach said. "As we really tighten the noose on China company by company, as well as in these broader framework negotiations, I think, the odds of a deal are rapidly receding."
Donald Trump Is Misjudging China, Wall Street Analyst Says: 'They're Not Going to Change Their System' | U.S.