Donald Trump's Company Fired At Least 18 Undocumented Workers From 5 Golf Courses In Past Two Months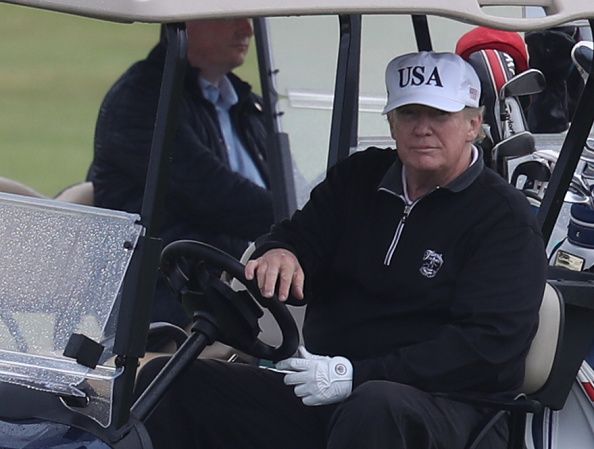 President Donald Trump's company has reportedly purged numerous undocumented workers from five golf courses in the past two months after it was accused of hiring employees lacking legal immigration status.
On Monday, the Washington Post reported that the Trump Organization fired at least 18 undocumented immigrants across five New York and New Jersey golf courses in the months after a December report revealed that several worked as housekeepers at the president's National Golf Club in Bedminster.
Eric Trump confirmed the dismissals to the Post on Monday, which included three undocumented staffers at the Trump National Golf Club Philadelphia in Pine Hill, New Jersey and three others from the Trump National Golf Club Colts Neck near Montrose, New Jersey.
The president's second son—who has taken over day-to-day control of the company along with Donald Trump Jr.—added that another undocumented firing was made at Trump National Golf Club Hudson Valley in Hopewell Junction, New York, and 11 others from Trump's club in Westchester, New York. The Post claims there were also additional dismissals at the Bedminster golf course but the allegation was not confirmed by Eric Trump.
In a statement to Newsweek, a Trump Organization spokesperson confirmed they "initiated a comprehensive review of employee eligibility across all of our properties" after the "press reported on two individuals who had allegedly falsified documents to gain employment at one of our golf courses."
"As a result of this review and to ensure our absolute compliance with the law, any employee who provided falsified documents was immediately terminated," the spokesperson said. "Terminating one's employment is never something we wish to do. Many of our employees have been with us for years and are an extension of our family. Still, after being confronted with this issue, we had no choice."
"To prevent this from happening again, we will soon be instituting E-Verify at all applicable properties and will continue to take swift and appropriate action where necessary."
Throughout his campaign trail and presidency, Donald Trump has aggressively attacked illegal immigration and demanded the construction of a physical wall along the southern U.S.-Mexico border. In December, a partial government shutdown went into effect after the president refused to sign a stop-gap measure to keep it running through to February on the basis that it didn't include funding provisions for his proposed wall.
A continuing stalemate between Trump and congressional Democrats over $5 billion worth of funding for the structure caused the shutdown to last 35 days, the longest in recorded U.S. history. Late last month, the shutdown finally came to an end when the president signed legislation to temporarily reopen the government until mid-February. Although the stop-gap measure didn't include provisions for Trump's proposed wall, it did allow time for bipartisan lawmakers to negotiate border security.
The recent firings came after the New York Times published an article which revealed that the president's company employed undocumented housekeepers. In a statement last month, Eric Trump announced that the Trump Organization was working to purge all staffers who have provided the company with "false and fraudulent documents to unlawfully gain employment." "Where identified, any individual will be terminated immediately," he added.