Donald Trump's First Thanksgiving Tweet: The World Is 'Mean and Nasty'
President Donald Trump used his first tweet on Thanksgiving to admonish the world, and particularly the Middle East, for being so "mean and nasty."
Quoting Secretary of State Mike Pompeo early Thursday morning, Trump tweeted: "It's a mean & nasty world out there, the Middle East in particular. This is a long and historic commitment, & one that is absolutely vital to America's national security."
"I agree 100%," Trump said of the comments, which Pompeo made to reporters on Tuesday while defending his administration's decision to continue to support Saudi Arabia after the killing of journalist Jamal Khashoggi.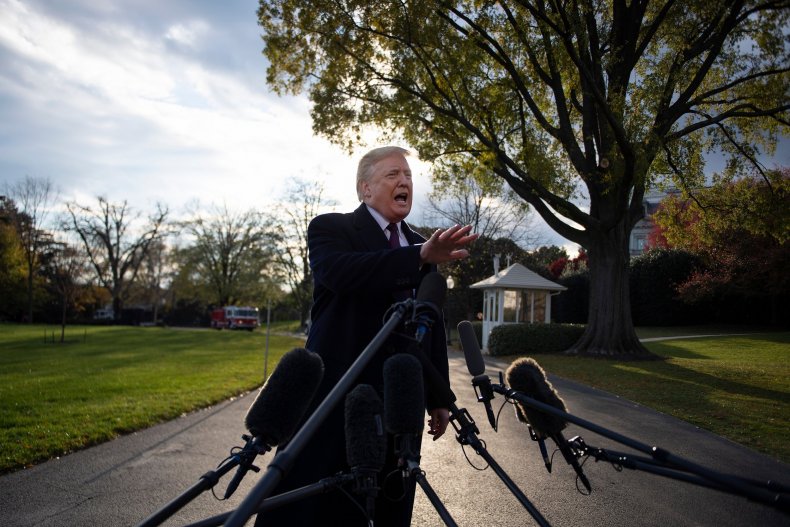 "In addition, many Billions of Dollars of purchases made in U.S., big Jobs & Oil!" Trump tweeted.
Just a few minutes later, the president, who is spending his Thanksgiving break at his Mar-a-Lago resort in Palm Beach, Florida, with his family tweeted: "HAPPY THANKSGIVING TO ALL!"
But the U.S. leader quickly reverted to form, hitting back at Supreme Court Chief Justice John Roberts after the chief justice took the extraordinary step of rebuking the president's criticisms of the 9th Circuit judge who ruled against the president's asylum ban, which sought to deny asylum protection to anyone who failed to make the request at a legal port of entry.
He also warned that there would be "bedlam, chaos, injury and death" if judges were allowed to make decisions affecting immigration policy.
"Justice Roberts can say what he wants, but the 9th Circuit is a complete & total disaster," Trump wrote, shortly after his Thanksgiving tweet.
"It is out of control, has a horrible reputation, is overturned more than any Circuit in the Country, 79%, & is used to get an almost guaranteed result," Trump said, repeating a claim he made before, with the U.S. leader previously asserting that the 9th Circuit had a "close to 80%" record of "being overturned."
Analyzing the claim, Politifact said that an overturned record could be considered in at least two ways, and that by one measure—if only examining cases reviewed by the Supreme Court—Trump's claim was correct.
But it said Trump's claim was only "half true": If factoring in cases reversed over the total number of cases ruled on by the circuit court, then the percentage would be significantly smaller, at less than 1 percent.
Still, in his Thursday Twitter spree, Trump wrote that "judges must not Legislate Security and Safety at the Border, or anywhere else.
"They know nothing about it and are making our Country unsafe," he said. "Our great Law Enforcement professionals MUST BE ALLOWED TO DO THEIR JOB! If not there will be only bedlam, chaos, injury and death. We want the Constitution as written!"
While the U.S. leader railed against judges hampering his immigration policy plans, Trump faced criticism for spending Thanksgiving at his Mar-a-Lago resort while thousands of American troops are being kept away from their homes and families to carry out a deployment at the southern border ordered by Trump in anticipation of the arrival of a caravan of thousands of Central American migrants.
Speaking to reporters before heading off to his Mar-a-Lago on Tuesday, Trump said Americans should not "worry" about the more than 5,000 troops at the southern border.
Read more: Obama says Trump's vision for America isn't about a 'successful, multi-racial, multi-religious democracy'
"These are tough people, they know what they're doing and they're great and they've done a great job," he said. "You're so worried about the Thanksgiving holiday for them.
"They are so proud to be representing our country on the border. Where if you look at what's happening in Mexico the people from Tijuana are saying, 'Wow these are tough people, they're fighting us.' They're in fist fights all over the place," the president said.
Despite his ordering the deployment to the southern border, Trump has significantly toned down his rhetoric around the caravan since the November 6 midterm elections.
The Department of Defense has not responded to a request from Newsweek on what activities they will be undertaking during that time.
Trump spoke with troops via teleconference on Thanksgiving Day, praising them for their efforts.
He also visited a nearby Coast Guard center, where sandwiches were served, according to CBS News.
"If you were doing a brand, they would say this is one of the great brand increases," the president said, according to the broadcaster. "Nobody has gone up more than the Coast Guard."
This article has been updated with more information.