Obama On Trump's Vision Of America: He Doesn't Want A 'Successful, Multi-Racial, Multi-Religious Democracy'
Former President Barack has hit out at his successor's "vision," for the United States, asserting that President Donald Trump lacks his interest in a diverse and pluralistic democracy for America.
"I think what's unique about America is our aspirations to be a large, successful, multi-racial, multi-cultural, multi-ethnic, multi-religious, pluralistic democracy," Obama said, during an interview with David Axelrod for "The Axe Files."
"Do you think that's President Trump's vision?" Axelrod, who is also Obama's former top strategist, asked.
"No, obviously not," Obama said plainly.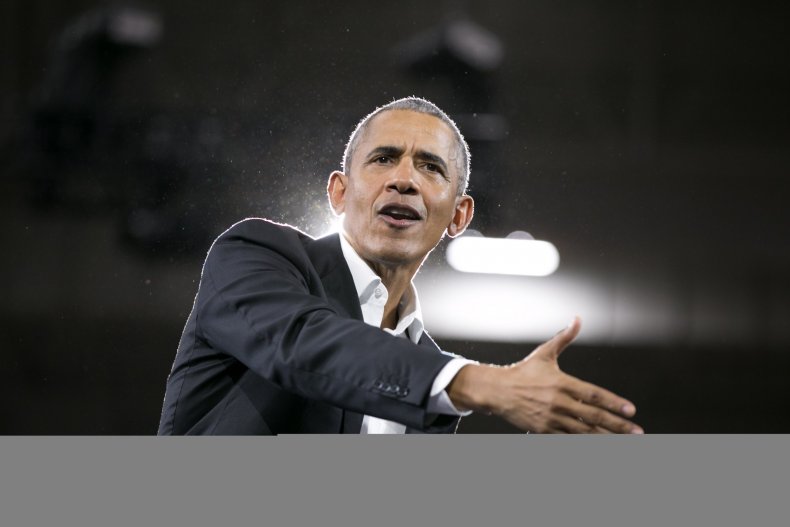 "We have contrasting visions about what America is," the former U.S. leader said. "And, you know, that's self-apparent. But what I would say is that the majority of Americans believe in that story. And there is power in that story."
Obama also appeared to take aim at Trump on Monday evening at his foundation's second annual summit, appearing to insinuate that his successor was blinded by racism, hate and "mommy issues."
"You literally can remake the world right now, because it badly needs remaking," Obama told a crowd at the event.
The former world leader said solutions to problems in education, agriculture and energy sustainability are not out of reach, but said the reason we haven't found them is "because we are still confused, blind, shrouded with hate, anger, racism, mommy issues."
While Obama did not name Trump while making the accusation, his comments were widely interpreted as an indirect jab at the current U.S. leader.
And while the 44th president appeared to draw a clear line between himself and Trump in the "Axe Files" interview, there was at least one Democratic politician that he suggested he did see a bit of himself in who could potentially seek to unseat the president in 2020.
In the same interview, Obama appeared to compare himself to Texas Democrat Beto O'Rourke, calling the politician an "impressive young man who ran a terrific race in Texas."
Despite losing his Senate bid to Republican incumbent Ted Cruz, many Democrats have called on O'Rourke to make a presidential bid in the next general election.
Asked about the "Betomania" that seems to have overtaken Democrats in the U.S., Obama said "it felt as if [O'Rourke] based his statements and his positions on what he believed."
"And that, you'd like to think, is normally how things work," Obama said. "Sadly, it's not."
Read more: Beto 2020? Obama compares himself to 'impressive' O'Rourke
"The reason I was able to make a connection with a sizable portion of the country was because people had a sense that I said what I meant," he later continued. "What I oftentimes am looking for first and foremost is, do you seem to mean it?"
Asked by Axelrod if O'Rourke seemed like that kind of person, the president said "yes."
However, the former U.S. leader did say that he thinks O'Rourke is not alone in possessing that quality, adding: "I think there are others."
"We've got a number of people who are thinking about the race who fall in that same category," he said.
If O'Rourke does run for president, he is likely to face a crowded race, with a number of Democrats being floated as potential candidates, including Senators Elizabeth Warren, Kamala Harris, Cory Booker, Bernie Sanders and former Vice President Joe Biden.