FBI Search of Donald Trump's Mar-A-Lago Could Be 'Perfect' for 2024 run
Reports of a potential 2024 White House bid by former President Donald Trump have ramped up in recent months and Monday's FBI raid at Mar-a-Lago could be what sets up Trump for an announcement.
As the nation waits to see what will come from the materials confiscated in Palm Beach, Florida, experts predict that the raid won't be all bad news for Trump. For a candidate trying to figure out when to announce a run for the presidency, the FBI search might actually help.
"Trump's base is loyal and grievance filled, making the FBI raid the perfect event to whip them into a political frenzy," Brandon Rottinghaus, a political science professor at the University of Houston, told Newsweek.
The search of the former president's residence sent Trumpworld into an uproar late Monday as his supporters and allies rallied behind him and expressed outrage with federal law enforcement agencies.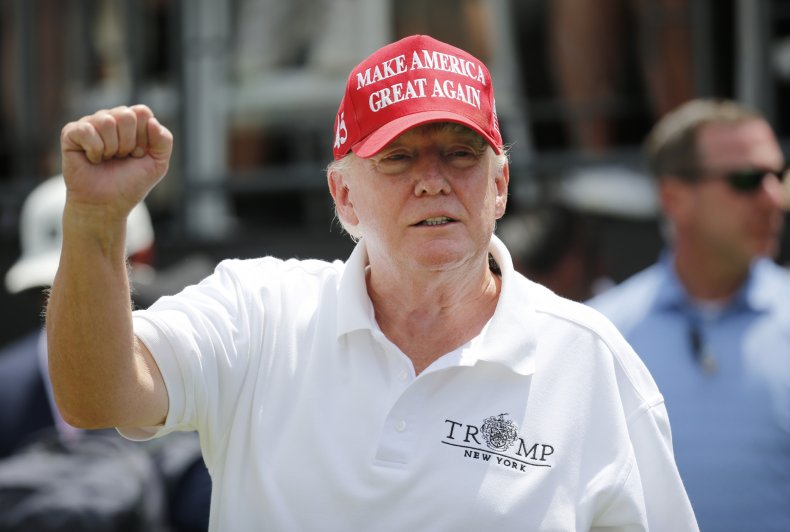 "The fury and swiftness of the response on the right in support of [Trump], and against 'overreach' by the feds is quite something," British journalist Jon Sopel tweeted. "Best day he's had since leaving office."
In a statement confirming the raid and comparing it to the Watergate scandal, Trump called it "prosecutorial misconduct, the weaponization of the Justice System, and an attack by Radical Left Democrats who desperately don't want me to run for President in 2024."
The search, and Trump's response to it, has set him up to remind voters of his successful 2016 campaign—one that paints him as an "underdog fighter," Rottinghaus said. By blaming the FBI search on politics, Trump will be able to bolster his image of an outsider trying to "drain the swamp" he has worked to build over the last six years.
In a tweet shared Tuesday, former Democratic presidential candidate Andrew Yang wrote that the juxtaposition of Trump and "a corrupt government establishment" is a "fundamental" part of the former president's appeal.
"This raid strengthens that case for millions of Americans who will see this as unjust persecution," Yang said.
Rottinghaus said that while the search likely will generate enthusiasm among Trump's base, his attacks on the FBI are "unlikely to have sway with the larger electorate."
Rottinghaus described Trump's supporters, who are known to side with the former president in any case, as a "committed" and "active" group whose backing will be critical to the GOP's ultimate nominee in 2024, but he noted that they aren't the only Republican voters whose voices will matter in the next election.
"Some of these other activists may prefer another candidate to Trump, especially after the search," Rottinghaus said. "Most other Republicans will proceed with some caution in backing the former president considering the severity of the implications of the search."
Jay Townsend, a Republican strategist, told Newsweek that although much remains unknown about the federal investigation, it's worth noting that the FBI director, Christopher Wray, is a Trump appointee who was unanimously approved by Senate Republicans.
"Those doing the howling are the same people who said the January 6th committee would never uncover anything we did not already know," Townsend said. "Until more is known about what the FBI was looking for, what was found, and what it proves, it is hard to speculate on the political impact it will have."
Republican strategist Alex Patton told Newsweek that the next 24 hours will be "critical." If the FBI doesn't turn up anything from their search, it could cement great news for Trump, granting him an even bigger platform for his defense.