Donald Trump's Most Outrageous Quotes, Performed by Dancers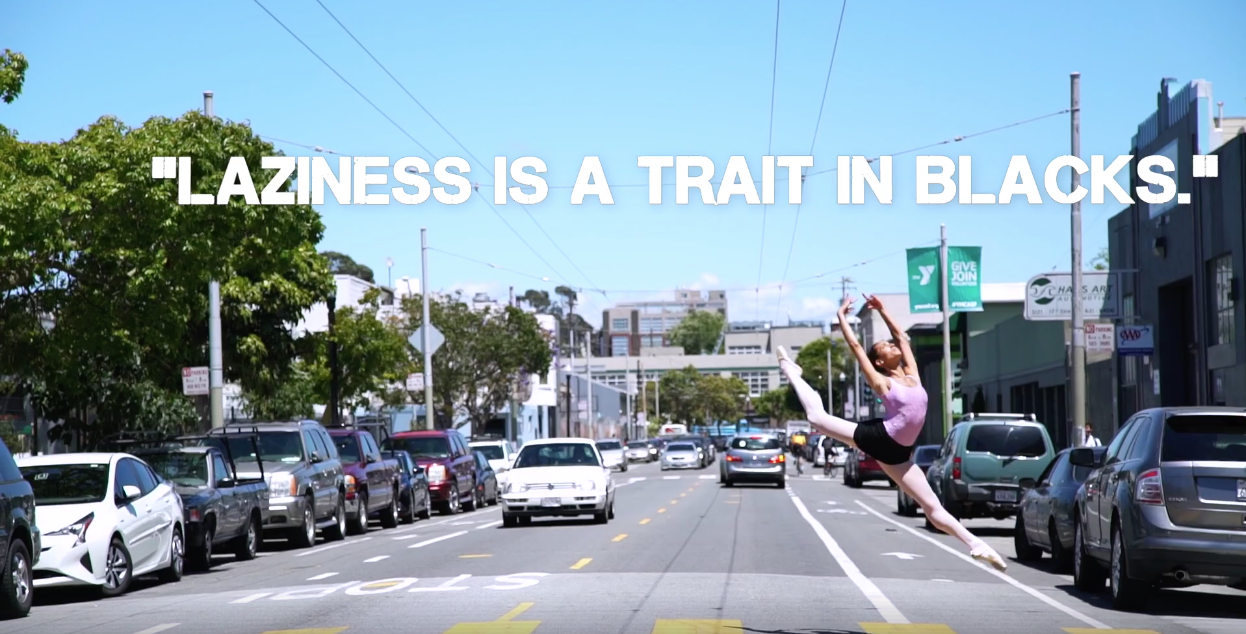 Donald Trump once said he believed "laziness is a trait in blacks." Years later, in an old tape revealed during the 2016 election, the future president was recorded saying, "Grab them by the pussy. You can do anything."
Americans and observers all over the world have heard these and other outrageous statements from Trump at a fast clip. Though he's long been in the public eye, the scrutiny of his words past and present has intensified over the last two years as he announced his candidacy for president, became the Republican nominee, won the election and entered the White House.
Now, the public can also see a handful of the most shocking quotes from Trump—and at least one connected to another member of his administration, Steve Bannon—interpreted in dance form. A video titled " Dancers vs. Trump Quotes," posted to Facebook on Friday, has already garnered more than 850,000 views.
"For me it's really about the feeling that people have had since the election, from the travel ban to everything that happened," says Redha Medjellekh, a dancer and choreographer who created and hosted a French TV show called "Dance Around the World" and now produces short dance videos to post and share online. The two-minute Trump video was his way of using what he calls the "powerful tool" of dance to "kick the ass of the stereotypes" that the president and his administration have espoused.
Born and raised in France and of Algerian origin, Medjellekh started dancing as a kid when his grandmother would take him to weddings. He learned hip hop in the suburbs of Paris, salsa at clubs in the city and African and Indian dance forms while traveling. His previous videos include "Paris is Kissing," filmed in honor of the city in the aftermath of the November 2015 terror attacks, and "Dancers in the Subway," in which he captured dancers as they surprised subway musicians by joining their underground performances.
His goal is "not just to make a beautiful video," he tells Newsweek over the phone from Paris. "The dancing art—I love it as a dancer, but there is a little bit of artistic masturbation sometimes," he says. Rather than being content with beauty, he says he wants "to find a way to express things that are important for people, in physical form," so that viewers, "no matter where they're from, what language they speak, they will understand it."
Medjellekh spent most of June as an artist in residence at 836M, an art gallery in downtown San Francisco that will be showing his work through September. He made his most recent video about Trump's remarks during his stay in California.
"We are French and we just love to make fun of you guys," he jokes about his countrymen's attitude toward Americans, "even if we have our own problems." The November election for the presidency was a "super occasion to make fun of you," Medjellekh says.
He arrived in the United States at the end of May with the idea of doing a video about uniting the divided country. "I was going to be the French guy saving you," he says. But he quickly realized Americans he met weren't quite ready for that.
Instead, he spoke to people about statements from Trump that shocked them or had become emblazoned in their memories and reached out to Bay Area dancers to set up shoots. He worked with dancers whose backgrounds ranged from ballet to voguing, and co-choreographed movements that demonstrate, juxtapose or otherwise play with each of the president's quotes.
The video opens with the "laziness" and "pussy" quotes and continues with others, drawn from several decades-worth of options. "26,000 unreported sexual assults [sic] in the military-only 238 convictions. What did these geniuses expect when they put men & women together?" Trump tweeted in 2013. "I think that putting a wife to work is a very dangerous thing," he said back in 1994. "Women: You have to treat them like shit," he said in 1992. "When Mexico sends its people, they're not sending the best… They're rapists," he said as he announced his run for president in 2015. "I think Islam hates us," he said on CNN last year. "I believe in clean air. Immaculate air… But I don't believe in climate change," he said in 2015.
The video, shot in studios, offices and the streets of San Francisco, moves to Berkeley's campus for a headline from a story written by Milo Yiannopoulos for Breitbart, the website once led by Bannon, now the White House chief strategist: "Gay rights have made us dumber, it's time to get back in the closet."
"It was very important to me to have this feeling that it could be any city and any kind of dancer," Medjellekh says, explaining he wanted people across the country and around the world to be able to relate. The video features men and women who are white, black, Mexican, Muslim, gay and more, and the filmmaker believes none of them want to put in the boxes Trump's statements have cast them into.
"Art is always more relevant in opposition or in oppression," he says. "It's really important to move our ass right now no matter where you are from, not just in a gallery, not just for yourself," he adds, but in a more public forum. "We need it."