Donald Trump's Pardon List Doesn't Include Himself or His Children
President Donald Trump did not include a pardon for himself or his family members in his list of pardons on Tuesday.
In the early hours of Wednesday morning, Trump granted pardons to 73 individuals and commuted the sentences of an additional 70 individuals, including former White House chief strategist Steve Bannon and rapper Kodak Black.
On January 7, Reuters reported that Trump had suggested to aides that he wanted to pardon himself, citing anonymous sources, following a similar report earlier that day by The New York Times. On Sunday, Reuters reported that Trump has no plans to pardon himself or his immediate family members.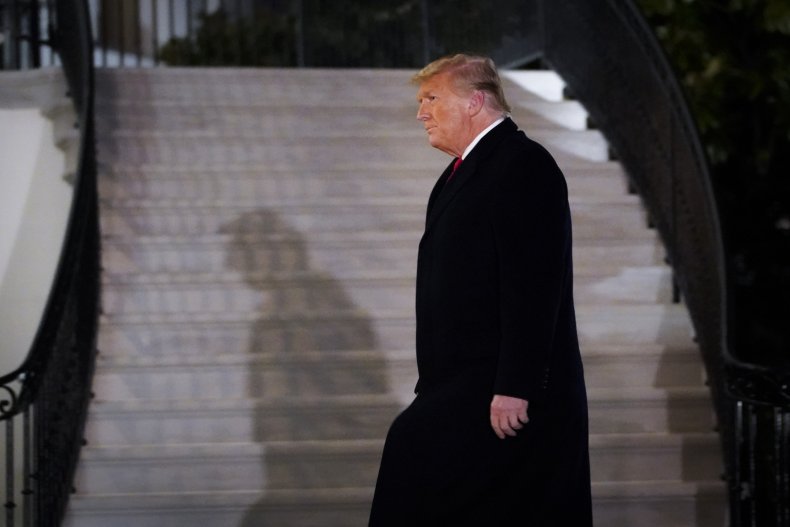 Reports from CNN on Tuesday suggested that Trump had been talked out of issuing pardons for himself and his children.
In an October NPR interview, Andrew Weissmann, a deputy to former special counsel Robert Mueller, said, "I suspect strongly that if the president does not win re-election, that he is going to pardon a lot more people related to the Trump Organization, his family, people who work there, and even himself."
In 2018, Trump tweeted that he has "the absolute right" to issue a self-pardon.
Trump's legal issues in regards to a potential self-pardon stem, in part, from the January 6 riot at the U.S. Capitol. Critics have alleged that the president's rhetoric helped incite the violence.
If Trump had pardoned himself, he would have become the first president in history to do so, which would have left the courts to determine whether he has the legal authority to issue a self-pardon under the Constitution.
If Trump had pardoned his children, he would not have been the first president to pardon a family member. Former President Bill Clinton pardoned his brother, who was convicted for cocaine possession, in Arkansas in 2001.
A pardon eliminates a person's 5th Amendment right against self-incrimination, which could have contributed to Trump's decision not to pardon himself or his children.
Speaking with Vanity Fair's The Hive podcast, Trump's former lawyer Michael Cohen discussed the possibility of the president pre-pardoning his son-in-law Jared Kushner, who has not been charged with any crimes. "That means that Jared could be compelled to testify in a court of law or even have to appear before a hearing before Congress," Cohen said, adding that he would be asked questions "against Donald Trump."
The presidential pardon is laid out in the Constitution and gives the president the authority to issue "reprieves and pardons for offenses against the United States."A pardon can only be issued for federal crimes, not state crimes.
Prior to the slew of pardons on his final night as president, Trump had issued pardons to about 90 people, including allies and former aides involved in the investigation into Russian interference during the 2016 election.