President Donald Trump's Twitter announcement about his positive coronavirus test has become his most liked and retweeted tweet ever.
Early Friday morning, Trump tweeted, "Tonight, @FLOTUS and I tested positive for COVID-19. We will begin our quarantine and recovery process immediately. We will get through this TOGETHER!"
The tweet quickly surpassed more than 1 million likes and had over 750,000 retweets, despite being sent out at around 1 a.m.
Previously, the president's most shared tweet was from August of last year, when he announced rapper A$AP Rocky's release from detention in Sweden.
"A$AP Rocky released from prison and on his way home to the United States from Sweden. It was a Rocky Week, get home ASAP A$AP!" Trump tweeted on August 2. The tweet garnered 310,000 retweets and over 818,700 likes.
The president's most liked tweet of this year, before his coronavirus announcement, was from May 31, when he said, "The United States of America will be designating ANTIFA as a Terrorist Organization."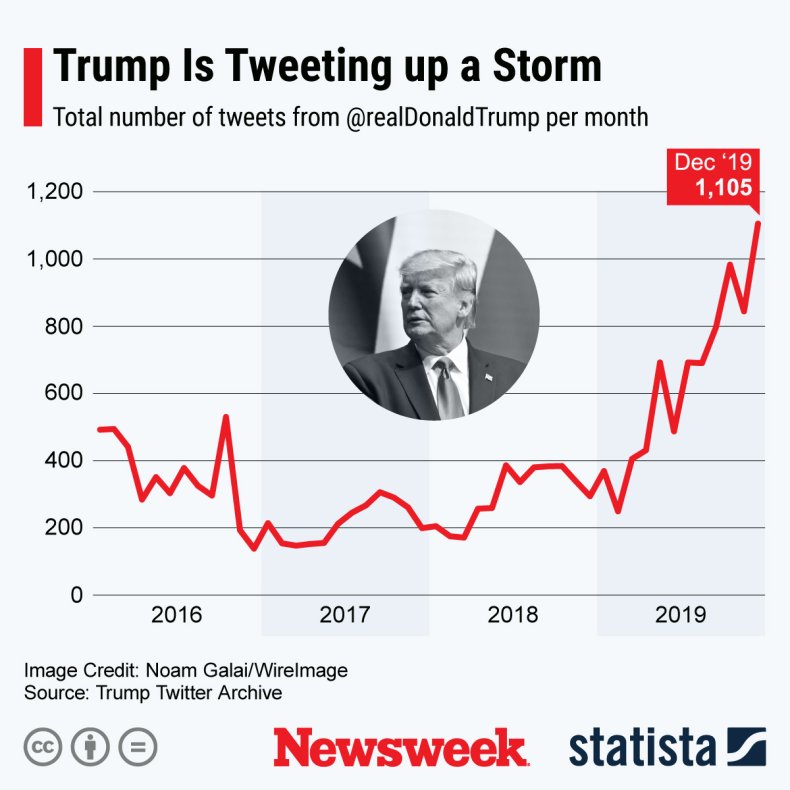 Since redefining the use of Twitter with the launch of his presidential campaign in 2015, Trump has used the platform extensively to communicate with the public.
Ahead of this year's election, Trump declared himself on Twitter the "law and order" president, amid the months-long racial justice protests in the wake of George Floyd's death in Minneapolis police custody in May. Trump's announcement of his coronavirus diagnosis was a shocking development that came months into the global pandemic and just weeks before Election Day.
Newsweek reached out to the Trump campaign for comment but did not hear back before publication.
Many public figures flooded Twitter with well-wishes messages for the president, including his election opponents, Joe Biden and running mate Kamala Harris.
Biden said that he and his wife wished Trump and the first lady "a swift recovery" and "will continue to pray for the health and safety of the president and his family."
Shortly after, Harris tweeted, "Doug and I join Joe Biden and Dr. Biden in wishing President Trump and the First Lady a full and speedy recovery. We're keeping them and the entire Trump family in our thoughts."
The president's most shared tweet has also ignited a number of conspiracy theories on the social media platform, with a number of users pushing a theory that Trump is lying about his positive test to get out of the upcoming presidential debates.