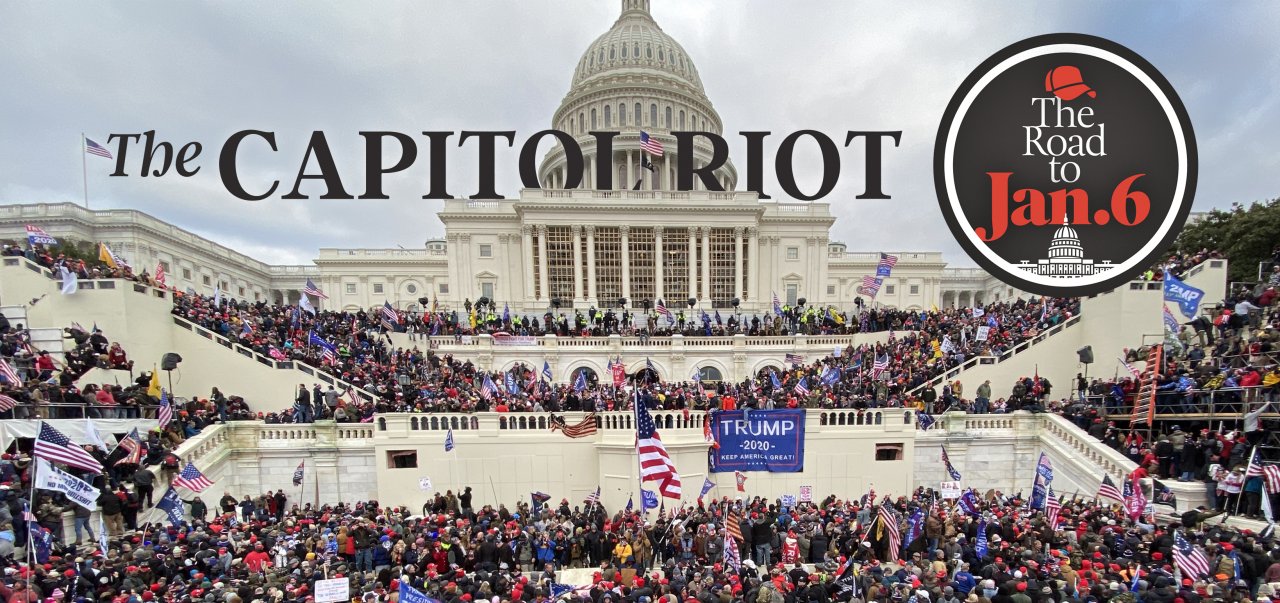 Donald Trump's Post-Election Fury Prompted a Warning from His General
In this daily series, Newsweek explores the steps that led to the January 6 Capitol Riot.
Joint Chiefs Chairman Army General Mark Milley spent December 4 at the White House, attending meetings with the national security team and principals—all the while, thinking he'd be fired. The chain of command, and the entire national security leadership had been disrupted.
Secretary of Defense Mike Esper had been fired by Donald Trump, and a line of national security officials followed, terminated or forced to resign: Pentagon chief of staff, undersecretaries for policy and intelligence, chief of the nuclear weapons program, head of the cybersecurity agency, a gaggle of deputies and assistant secretaries at defense and homeland security.
CIA director Gina Haspel and FBI director Christopher Wray were waiting to be axed as well.
And there was the beginning of public rumbling that "the military" would do something if Donald Trump refused to leave office, which left Milley to hold the line.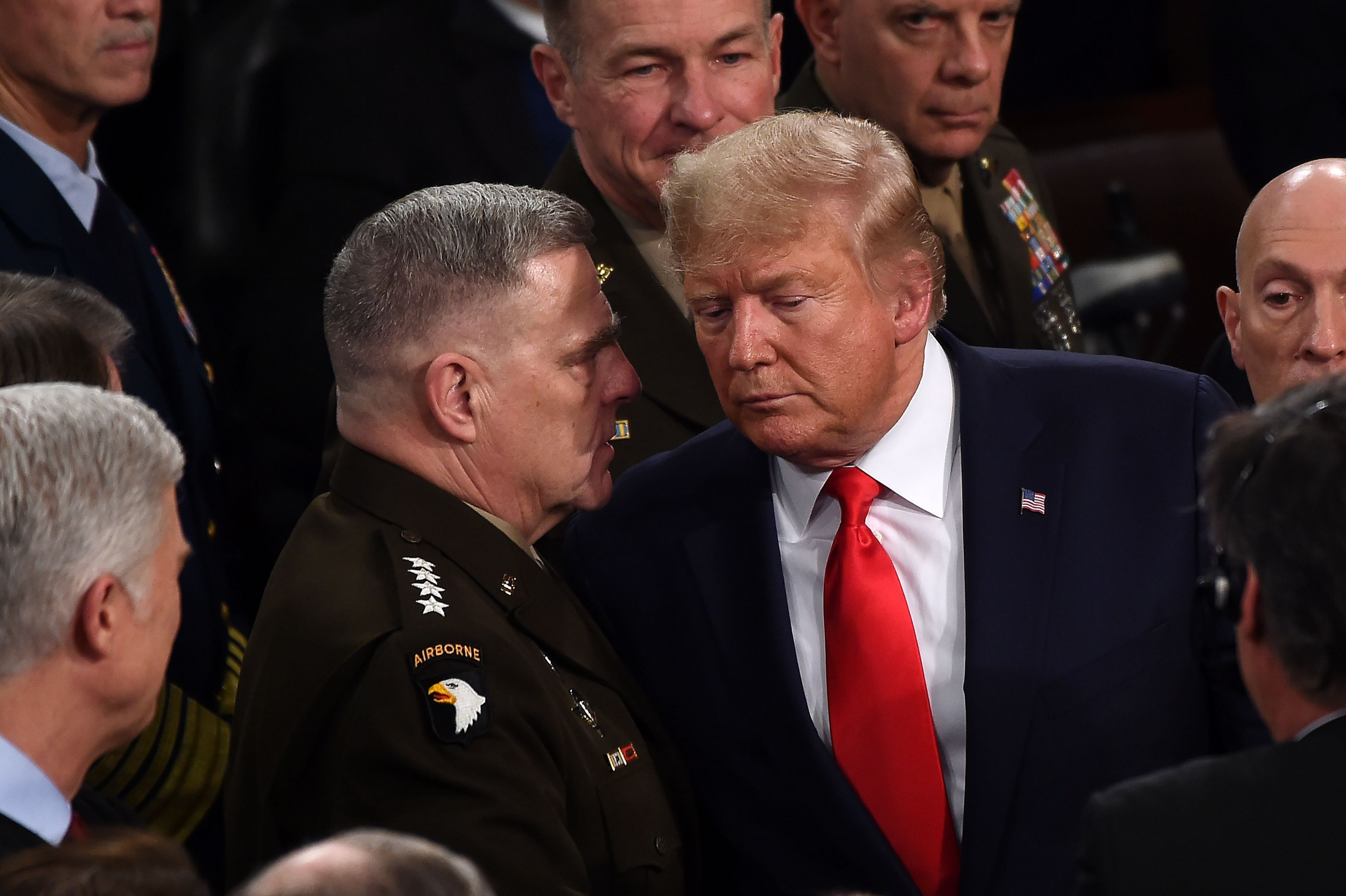 Two days earlier the general had given an un-rosy assessment about the state of the U.S. armed forces, as gloomy a view as any president's primary military advisor could publicly speak. In a virtual event to the liberal Brookings Institution in Washington, Milley circumnavigated the globe in talking about the hazardous state of the world, concentrating as well on the progression of technology, and the changes that had happened in the information society since he joined the military in 1980.
As expected—virtually required, in fact—Milley said no one should underestimate the might and determination of the U.S. military.
"The United States military is a very powerful military," he said. "No one should ever mistake it for anything other than that: adversaries, friends, foes. The United States military is extraordinarily capable. We are very, very powerful."
While the United States military had been involved in what he called "counterinsurgency warfare" for almost two decades—the perpetual war on terror in the Middle East—China and Russia had modernized their conventional forces, closing the gap. China, the general said, was now as big a military adversary, or bigger, than Russia.
At the same time, Milley said, the U.S. was moving towards a "relatively small footprint" overseas, one with greater risk. "We need to adjust our global footprint," he said. U.S. deployments in the Middle East and even Europe were being reconsidered and were shifting towards a few major bases supporting smaller satellite bases. With only 2,500 troops in Afghanistan (President Donald Trump's directive) the United States would be able to continue "our train, advise, assist mission and continue our counterterrorist mission."
When pressed about this mission in Afghanistan, and the overall success of U.S. operations over 20 years, Milley said: "We went to Afghanistan ... to ensure that Afghanistan never again became a platform for terrorists to strike the United States. We believe that now after 20 years—two decades of consistent effort there—we've achieved a modicum of success.
A modicum of success. As long as we are supporting the government. China and Russia closing the gap. Nothing in Milley's speech approached the usual bravado about America being number one, nor did it promise that there was a path to get there. Milley didn't lay out some numerical comparison of the military balance. Everything in the future depended on advanced technologies—space, artificial intelligence, robotics—and a healthy United States, he said.
It wasn't a fundraising speech per se. To prepare the military to meet the future while continuing the war on terror would require about three to five percent real growth year, he said. "But that's also not necessarily going to happen, and I don't anticipate that it will happen," he said, predicting that defense spending was going to decline or at best start flattening out in the future.
And on the question of strengthening the armed forces, he gave a particularly unmilitary answer. To be a great power, he said, certainly requires a strong and capable military. But it also requires a strong and capable economy, and a strong country internally, he said. "You have to have a very resilient country as a whole; you have to have a great education system; you've got to have great infrastructure. You have to look at it as a whole, of which the military is one piece of the whole."
"Your military is dependent upon a national economy," Milley said. "And we have had a significant pandemic, we've had a downturn, and an economic situation nationally for almost going on a year now. We've got significant unemployment, and so on. So the most important priority that you need is to take care of the COVID piece, get that behind us, and breathe new life into the economy."
At the beginning of his talk, in addressing the strength of the military and the future, Milley also pledged: "We are determined to defend the U.S. Constitution and to protect the American people and their way of life. No one should doubt that."
"Part of the job I'm in right now as the chairman is to communicate with our adversaries in very close hold, classified back channels," Milley said, "but I do that, and so do a few other members of our government in order for our opponents to clearly and unambiguously know that if action A were to be then reaction B would happen as a result."
Was it a message for Donald Trump's ears?
James Webb, former Secretary of the Navy and Senator from Virginia, and accomplished novelist wrote in Responsible Statecraft: "General Milley appears to have spoken as much truth to power as one on active duty can, short of resigning in protest. While acknowledging the accomplishment of our primary mission in 2001—eliminating al-Qaeda in Afghanistan—and then tactfully laying out the reality on the ground, he provided policy-makers and Congress the information and space to bring the conflict to an honorable and expedient close."
There's no question that Milley had changed, both in his own post-9/11 framework of the future, and in pondering the role of the military in domestic affairs. He had already apologized for being in Lafayette Park in June 2020, and had spoken with Chinese General Li Zoucheng, his counterpart in Beijing, on October 30, 2020 and January 8, 2021, the first time to communicate reassurances that President Trump—"the United States"—was not planning any "October surprise" to provoke a crisis with China to win the election. The second follow-up was coincidental to January 6: planning for it had begun in early December.
Milley's calls were more routine military-to-military engagements with his counterpart, coordinated with the State Department and both Secretaries of Defense, Mark Esper and Chris Miller, and White House Chief of Staff Mark Meadows was briefed soon after. "I believe that I was faithfully executing the intent of the president, the United States at the time, because I knew with certainty that President Trump was not going to attack the Chinese just out of the blue," Milley later told a Congressional committee. By Milley's own admission though, they were never coordinated with Trump.
In Bob Woodward and Robert Costa's "Peril," which first brought attention to the calls, the calls are labeled urgent. "I want to assure you that the American government is stable and everything is going to be okay," Milley told his Chinese counterpart, according to the book. "We are not going to attack or conduct any kinetic operations against you."
"If we're going to attack," Milley went on, "I'm going to call you ahead of time. It's not going to be a surprise."
Woodward and Costa write that on January 8, Milley called to reassure his Chinese counterpart about January 6. If true, a routine call turned into a private message. "We are 100 percent steady. Everything's fine. But democracy can be sloppy sometimes," Milley is reported as saying.
Trump, speaking to the Newsmax television network after Woodward and Costa's book was published in September 2021, labeled Milley's actions "treason."
For Milley to say Trump "was going to attack China is the most ridiculous thing I've ever heard, and everybody knows it. That is a treasonous statement."
"The way I look at Milley," Donald Trump later said in a statement, "he's just a better politician than a general, trying to curry favor with the Radical Left and the absolute crazy people espousing a philosophy which will destroy our Country!"