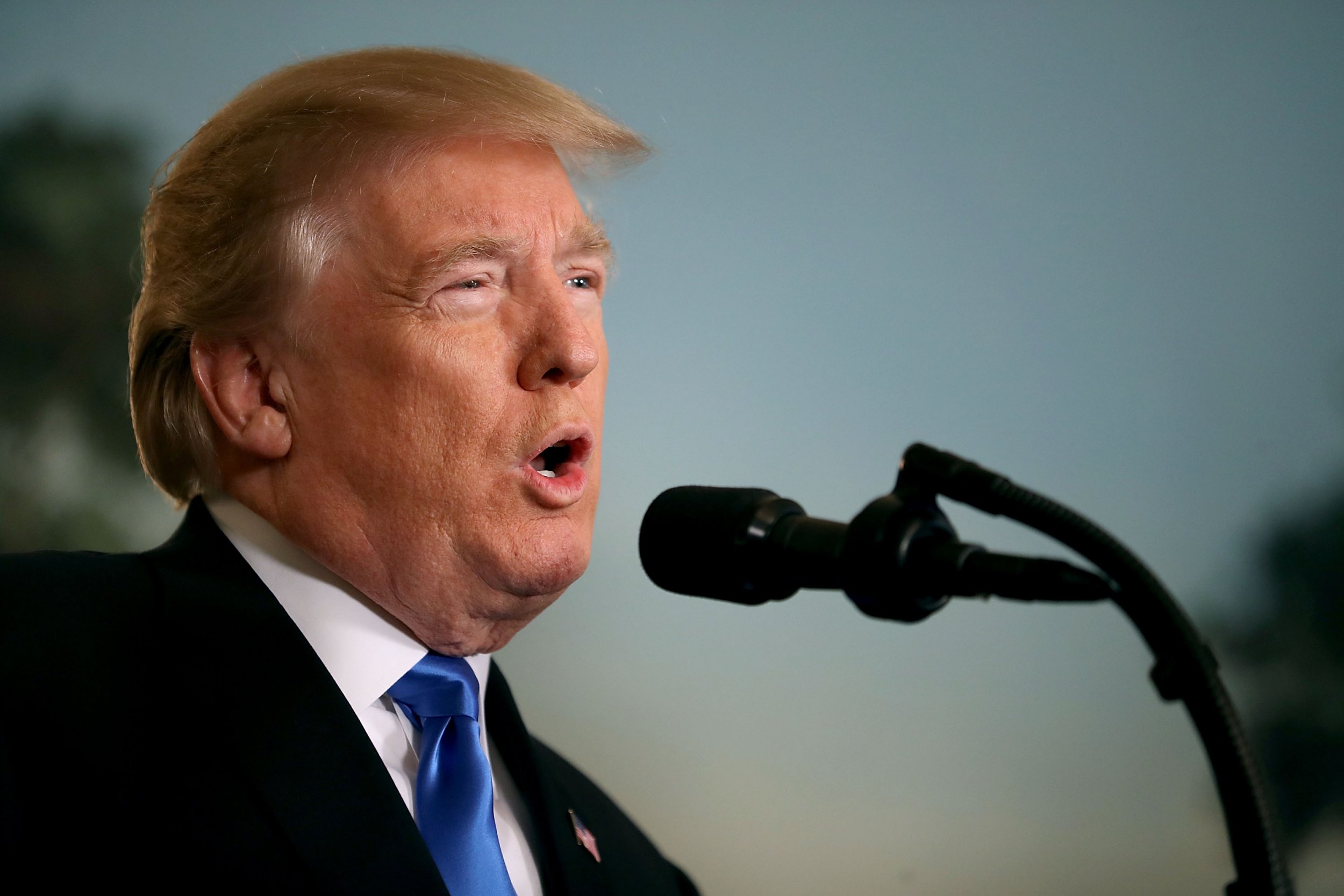 One of the women who has accused President Donald Trump of sexual misconduct claimed the Republican groped her and then called her a c**t on their next meeting.
The accusation was made by Jessica Leeds, one of 19 women who have accused Trump of sexual misconduct. She was joined by two other accusers—Rachel Crooks and Samantha Holvey—on NBC's Megyn Kelly Today on Monday morning to speak about their alleged experiences involving Trump.
Leeds described having dinner on an airplane with Trump more than 30 years ago, and said the alleged incident occurred afterward. "After the meal was cleared, all of a sudden, he was all over me, kissing and groping and groping and kissing, and believe me—my memory of it was, nothing was said," she told Kelly.
"He didn't say, 'Oh, by the way,' and I didn't go, 'Eek,' or 'Help' or whatever. It was just this silent groping going on," she added.
Leeds, a businesswoman at a paper company, said the next time she saw Trump was at a corporate event when he insulted her in front of a room full of people.
"He stands there as I am handing him his table assignment and he says: 'I remember you. You were that... woman from the airplane.' He called me the worst name ever," she told Kelly. The host followed up by asking, "What do you mean? There was a descriptor before 'woman?'"
When Leeds confirmed this was the case, Kelly asked her about the word. Leeds described is as "the worst one. It really is."
Kelly tried again, asking if the insult began with a "C," and Leeds confirmed: "Yes, and the room cleared. It was like everyone just sort of disappeared."
"Does it end with a T?" Kelly continued. "I'm just making sure we are on the same page."
"Yes," Leeds replied. "It was shocking. It was like a bucket of cold water being thrown over me."
Crooks described a similar experience to that of Leeds, in which Trump kissed her repeatedly during an introduction with him.
"I worked at Trump Tower at a company that actually did business with Trump, and I saw him frequently because I sat right out front behind glass doors and he used the elevator bank to get to his residence, right outside our office," she told Kelly.
"So I would see him almost daily, waiting for his elevator, and on one day, I decided to introduce myself because I did see him regularly," Crooks recalled. "And he shook my hand and he kind of gave me the normal double-cheek kiss, but then he held onto my hand and he kept kissing me. He kept asking me maybe a question, 'Where you from?' Kissing me again and again. It was right outside the elevators, right outside my office."
"I don't know how many times back and forth, multiple," she added, "and then he kissed me on the lips and I was shocked. Devastated."
Trump has repeatedly denied the allegations against him. On Monday, the White House provided a statement to Kelly's show responding to the allegations made by Leeds, Crooks and Holvey.
"These false claims, totally disputed in most cases by eyewitness accounts, were addressed at length during last year's campaign, and the American people voiced their judgment by delivering a decisive victory," the statement read. "The timing and absurdity of these false claims speaks volumes and the publicity tour that has begun only further confirms the political motives behind them."