Where to Watch Women Who Accuse Trump of Sexual Misconduct Tell Their Stories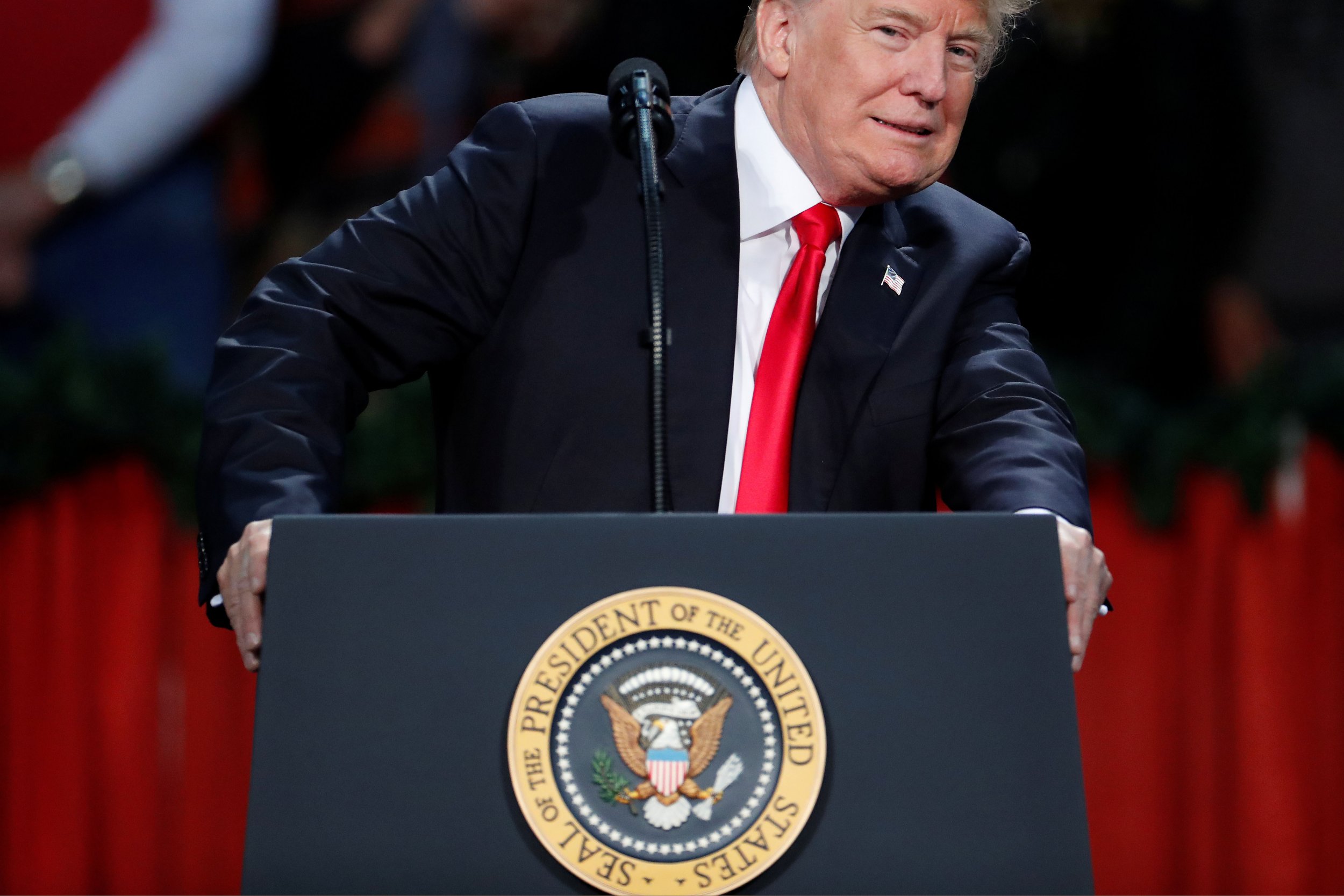 Multiple women who have accused President Donald Trump of sexual harassment and assault will gather together for the first time at a press conference in New York City on Monday to share their stories.
"The women will share their first hand accounts of President Trump groping, fondling, forcibly kissing, humiliating and harassing women," according to Brave New Films, which has produced a documentary featuring 16 women's stories. The event will be live-streamed.
Ahead of the event, three of the women—Jessica Leeds, Samantha Holvey and Rachel Crooks—will talk about their encounters with Trump in an early-morning interview with NBC News host Megyn Kelly.
Leeds says that she met Trump when she was upgraded to first class during a flight in the 1980s and that after talking to him for about 45 minutes, the real estate mogul began grabbing her "like an octopus" and that his "hands were everywhere"—including her breasts and reaching up her skirt. "It was an assault," she told The New York Times when she came forward in October 2016.
Crooks came forward at the same time with details about how, uninvited, Trump kissed her on the mouth in 2005 when she was 22 and working as a receptionist at a New York real estate firm. Both women have had their stories backed up by people they told at the time.
Read more: Trump lawyer says sexual harassment case would have undue "control" over the president
During the press conference, which will start at 10:30 a.m. EST, the women "will call for accountability and an investigation by Congress of sexual misconduct by the President," according to Brave New Films, which released the film 16 Women and Donald Trump in November.
The women first began to speak out last October during the 2016 election, soon after the release of an outtake from a 2005 Trump Access Hollywood interview. In the video, Trump is heard saying that "when you're a star" you can do whatever you want to women: "Grab 'em by the pussy. You can do anything." He also told a detailed story about a sexual assault.
At the time, Trump dismissed the video as "locker-room banter." Last month The New York Times reported that Trump has privately cast doubt that the tape is real. Early this month Access Hollywood and its former host Billy Bush, who also appears in the video, confirmed that the tape is authentic.
The women are now speaking out against the president as one of his accusers, Summer Zervos, pushes forward with a defamation suit against him. Zervos claims that Trump groped and kissed her during a meeting in 2007 and that he defamed her while campaigning in 2016 when he tweeted "I never met [Zervos] at a hotel or greeted her inappropriately" and said that "every woman lied when they came forward to hurt my campaign, total fabrication" during a rally.
"Women who accuse anyone should be heard," said Nikki Haley, the Trump administration's ambassador to the United Nations during an interview on CBS's Face the Nation on Sunday.
Haley was asked about how the public should view the long list of accusers against the president.
"They should be heard, and they should be dealt with. And I think we heard from [Trump's accusers] prior to the election. And I think any woman who has felt violated or felt mistreated in any way, they have every right to speak up."
Member of Congress are also facing accusations. Last week Democratic Congressman John Conyers and Republican Trent Franks resigned amid ethics investigations into allegations of sexual harassment. Democratic Senator Al Franken also resigned after he was accused of sexual harassment by multiple women. Their resignations follow a wave of sexual harassment allegations that has washed across American society in recent months, leading to multiple resignations and dismissals.
"Seeing these women's stories, one after another, is incredibly powerful—it's time to listen and act accordingly," Brave New Films has said of its documentary featuring Trump's accusers. "As a society, we need to do a better job of holding men liable for harassment and abusive behavior."