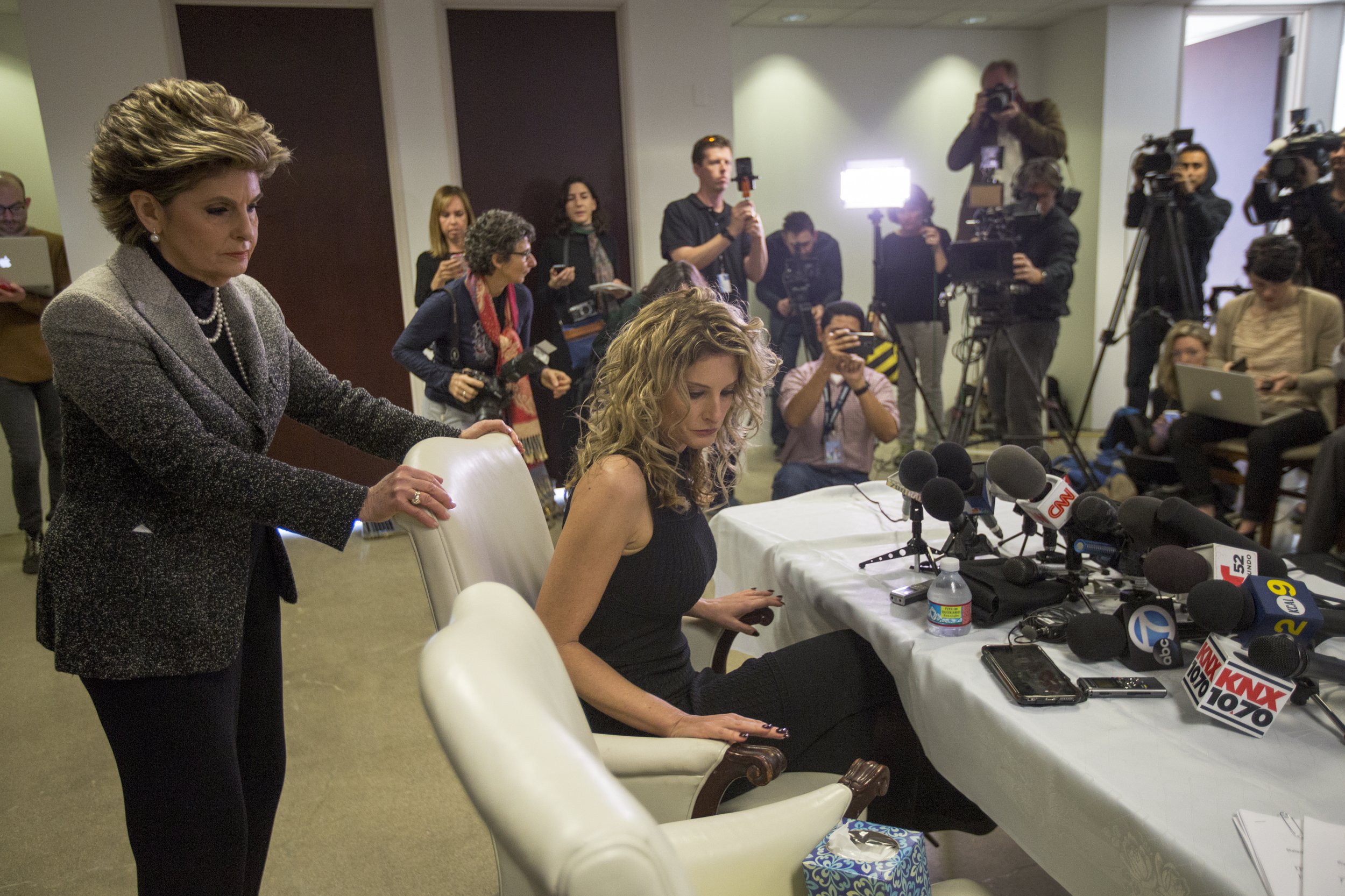 A lawsuit involving Donald Trump's alleged sexual misconduct with an ex-contestant on his reality show The Apprentice will be discussed in court next week, potentially moving the president one step closer to having to testify à la Bill Clinton.
Discrimination lawyer Gloria Allred confirmed to Newsweek that oral arguments are scheduled Tuesday over the Trump team's bid to dismiss a lawsuit filed on behalf of Summer Zervos. Court records confirmed the appearance, which will be overseen by a New York state Supreme Court justice at 2:30 p.m.
Zervos' complaint accuses Trump of defaming her after she announced last year that he'd groped and kissed her during a meeting in 2007. Trump, as a candidate facing a slew of similar allegations, said that "every woman lied when they came forward to hurt my campaign, total fabrication," and tweeted that "I never met [Zervos] at a hotel or greeted her inappropriately." Zervos, who is also represented by Cuti Hecker Wang, LLP, is demanding only about $3,000 in damages but wants broader payback, as well. Allred has said she hopes Trump will be asked "many questions he may not wish to answer, but will be required to answer."
Trump's attorneys, led by Marc Kasowitz, are trying to get the complaint thrown out. They argue that the president's case shouldn't proceed in state court because local governments have to "refrain from interfering in the operations of the federal government," as the Wall Street Journal reported in July. If their bid to dismiss fails, they want the proceedings delayed until Trump is out of office.
Experts have compared the case to that of Clinton, who was sued by Paula Jones decades ago for sexual harassment—and ultimately impeached for lying under oath after denying a relationship with Monica Lewinsky in a sworn deposition.
Trump's legal team also has argued that Zervos' suit is politically motivated, that the president's statements are covered by the First Amendment and that his remarks amount only to political opinions, according to the Washington Post.
Zervos' attorneys have remained undeterred, earlier this year subpoenaing Trump for "all documents concerning any accusations that were made during Donald J. Trump's election campaign for president, that he subjected any woman to unwanted sexual touching and/or sexually inappropriate behavior." In October, Allred told BuzzFeed News she was "hopeful that the court will deny President Trump's motion to dismiss, so that we may move forward with discovery and obtain relevant documents and testimony."
The hearing comes as dozens of women have claimed that they were sexually harassed or assaulted by politicians like Alabama Senate candidate Roy Moore and Democratic Senators Al Franken and John Conyers.
Kasowitz did not respond to Newsweek's request for comment on Thursday.